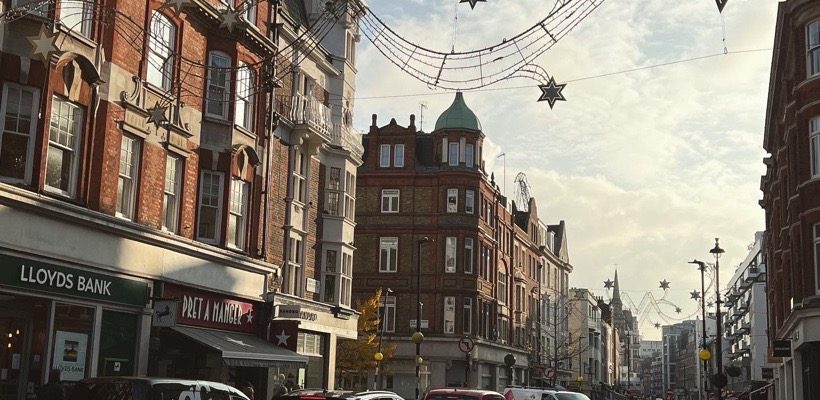 Hi there! My name is Giulia and I am a Marketing Communications BA student at the Westminster Business School. As an International student, I didn't always have the chance to go back home for the Christmas holidays – sometimes because of work, or sometimes tickets to fly back home were just too expensive and I had to take the difficult decision to stay here in London at Christmas. What matters is to take this as an opportunity to best enjoy this experience in London and transform it into something magical! Here's my favourite things to do in London at Christmas on a budget! 
1. Get out to see the Christmas lights
I love November because the Christmas lights are being slowly turned on, and you can start feeling the Christmas vibe in the air! My favourites are definitely the golden angels in Regent Street, they are just beautiful. But there are more lights in London and you can admire them from every angle of the city. These are the most beautiful in my opinion and are free to see: the 5,000 dangling stars in Oxford Street, the ones in Bond Street, and the unique lights and decorations in Carnaby Street which are different every year. Also, don't forget the Marylebone Christmas lights, you can see them within a 5-minute walk from our Marylebone Campus. Marylebone village is actually pretty nice to visit at Christmas, and I go almost every time I am on Campus, to have my coffee break. I love walking through these streets and seeing all the little shops, pubs and flower shops decorated with beautiful lights.
London offers lots of ice rinks, and these are definitely the best ones: Somerset House, Hampton Court Palace Ice Rink, Canary Wharf Ice Rink, Alexandra Palace Ice Rink, and of course the most beautiful Hyde Park Winter Wonderland. I have done this activity only a few weeks ago for the very first time because I have always been scared of ice skating (too afraid of falling with my face on the ice, which actually did happen, but it was all worth it!). It's such an amazing experience, though it seems difficult at first it's actually easy and you can learn quickly. You will have so much to laugh about with your friends.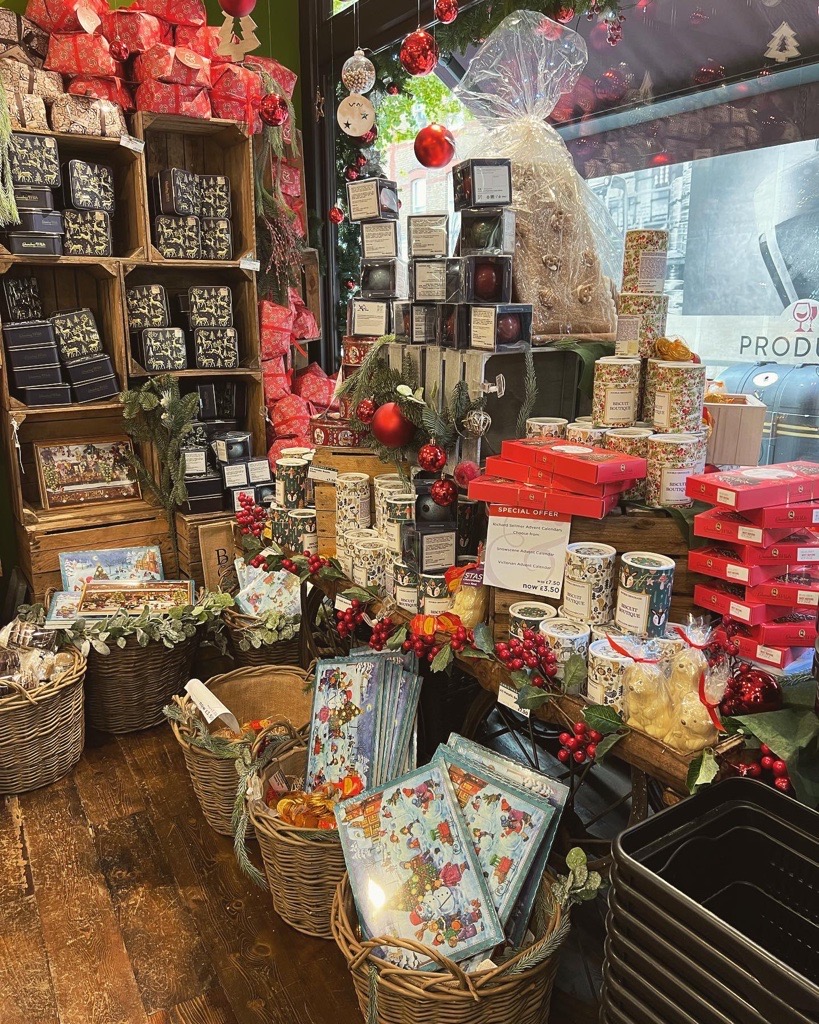 Well, for all food lovers like me and that also love the Christmas vibe, Christmas markets are a must during these holidays! You can find a Christmas market in almost every area of the city at Christmas, and it's worth visiting all of them because they are magical in a different way. For example, Christmas by the River in London Bridge is beautiful because it has the unique vibe of being next to the river which makes the experience totally different from the other markets. My other favourite markets are the Covent Garden Christmas market with thousands of lights and decorations, but also the Southbank Centre Winter Market, the Borough Market that at Christmas becomes even more beautiful than usual, the King's Cross Christmas Markets, and finally the Kingston Christmas Market.
I wait for Winter Wonderland to open every year because it's one of the most magical places in London at Christmas. Here you can do literally any Christmas activity: from ice skating and then walking through its Christmas market eating Nutella Waffles or Churros to listening to live music! There is more: you can admire ice-crafted sculptures, take part in ice sculpting workshops or have a drink at the Bar Ice, and of course, take a ride on the Roller Coaster if you are brave enough. I am not one of those brave people… so I just go to enjoy the games, the live music, the nice food, and of course the Christmas-movie atmosphere.
5. Cook dinner with your friends!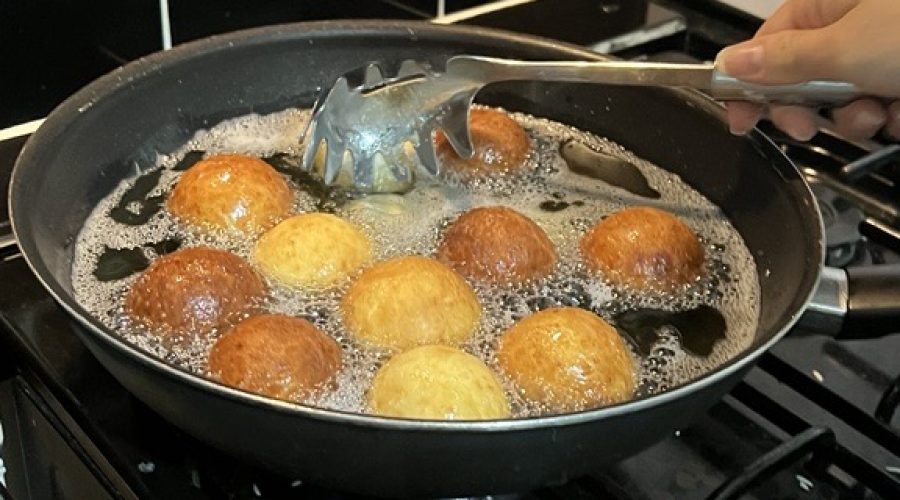 Christmas for me means eating nice food: I love food, and I am sure you got that. I also love everything about Christmas so I often try to recreate the magical atmosphere for example by baking cakes and Christmas cookies when I am home, and I can confirm this is a fun thing to do with your friends. I also think it's worth it to spend a night trying something new with your friends: I love organising dinner with my friends where we share and experiment recipes with different new flavours. Living in such a multicultural city, gave me the chance to meet people from different countries and cultures, and I love sharing my Italian Christmas recipes with my international friends, who also share with me their recipes and during these holidays I cooked for the very first time Colombian BuNuelos, which are now one of my favourite Christmas treats.
When the Christmas holidays arrive, we don't necessarily have to go out and leave our warm house, especially if it's snowing or it's just too cold. Watching a movie or my favourite series on Netflix and eating my snacks is another thing I love to do during the holidays. Netflix has so many Christmas movies and new series coming every year that I like to watch, but my favourite tradition, that I follow every year, is to watch all the Friends Christmas episodes while eating a pizza, and as a gift to all of you I am leaving you a list of the Christmas episodes for each season:
Season 1, Episode 10: The One With The Monkey

Season 2, Episode 9: The One with Phoebe's Dad

Season 3, Episode 10: The One Where Rachel Quits

Season 4, Episode 10: The One with the Girl from Poughkeepsie

Season 5, Episode 10: The One with the Inappropriate Sister

Season 6, Episode 10: The One with the Routine

Season 7, Episode 9: The One With All The Candy

Season 7, Episode 10: The One with the Holiday Armadillo

Season 8, Episode 11: The One with Ross's Step Forward

Season 9, Episode 10: The One with Christmas in Tulsa
These were my favourite things to do in London at Christmas, without spending too much money, and actually, most of them are free. Some of them get you out of bed, which is good, others are more cosy and chilled, for when you want to spend time only by yourself, but still want to feel the Christmas spirit. If you stay in London during the Christmas holidays don't be shy or afraid to ask your friends to hang out and go somewhere. Finally, enjoy your holidays and the break from uni and the assignments you have waited for so long. I wish you a Merry Christmas, and eat nice food!

Marketing Intern
at
University of Westminster
I am a Marketing Communications student in my third year of university.

👉 Currently on my placement year as Marketing Intern!

Latest posts by Giulia Pilleri (see all)