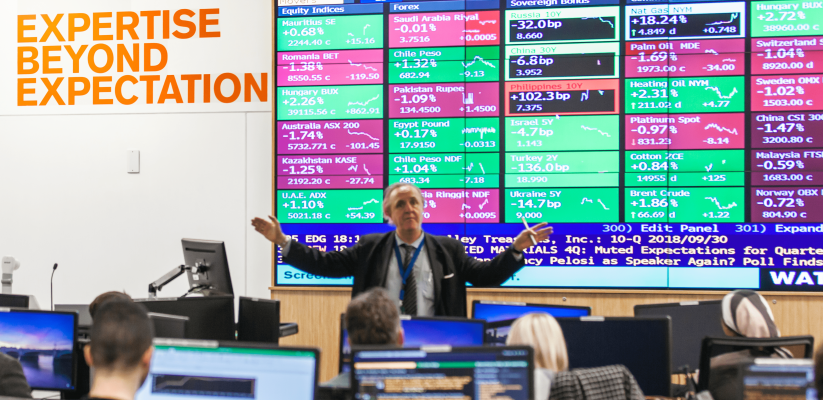 What makes our courses different and how will we support you to become a work-ready graduate? This blog will reveal five reasons why you should choose the University of Westminster for your Accounting and Finance degree.
1. Our state-of-the-art Bloomberg Financial Market Suite
At Westminster, you'll have access to one of the largest financial databases in our state-of-the-art Bloomberg virtual trading room and be able to take part in real-time financial and trading simulations.
This means you'll gain firsthand exposure to technology widely adopted in all the leading global investment banks in the major financial centres of the world. 
This experience will open up a wealth of employment opportunities in areas such as financial and management accounting, commercial and investment banking, financial risk management, wealth management, FinTech (including blockchain, artificial intelligence and machine learning applications) and financial planning.
2. Study in the finance capital of the world
Where better to study Accounting and Finance than in the financial capital of the world? 
Home to some of the world's largest companies, as well as HSBS, Goldman Sachs, Citi, London Stock Exchange and The Bank of England, studying in London means you'll benefit from an array of businesses, work experience and networking opportunities right on your doorstep.
London has also been ranked the best student city in the world, and our location means there are so many more adventures and discoveries for you to make outside of the classroom. 
3. Graduate with more than just a degree
We promote a real-world experience that will give you the skills, connections and knowledge to forge the career you want by preparing you for the future. 
Our Accounting and Finance courses will give you the opportunity to gain invaluable experience through work-based learning, get industry experience on a year-long work placement and take on a new challenge by embarking on a study abroad as part of your degree.
In addition, each of our Accounting and Finance courses is accredited or professionally recognised by leading bodies such as the Chartered Institute of Management Accountants (CIMA), Association of Chartered Certified Accountants (ACCA), Chartered Institute for Securities and Investment (CISI) and the Chartered Financial Institute (CFA), enabling you to accelerate your career aspirations and increase your earning potential.
4. Build your network and make connections around the world
Westminster is one of the UK's most diverse and internationally connected universities, with over 19,000 students from more than 160 countries – meaning you'll graduate with friends and peers from around the world. 
You'll benefit from being exposed to industry practitioners, with many of our Accounting and Finance courses hosting regular guest lecturers from industry professionals such as seasoned entrepreneurs, asset managers and senior business managers from Barclays. 
Through our Careers and Employability Service, you'll also have access to a network of over 3,000 global employers, which will help you to explore and connect with exciting opportunities whilst starting to build your professional network.
5. Equality and diversity is at the heart of what we do
The University of Westminster is dedicated to helping students from all backgrounds achieve their potential. We are proud to have recently been ranked 2nd across all English universities for the proportion of students from lower-income families who go on to have well-paid careers. 
We are also incredibly proud of our culture of inclusivity and want to ensure all of our students go on to positive next steps after graduating.