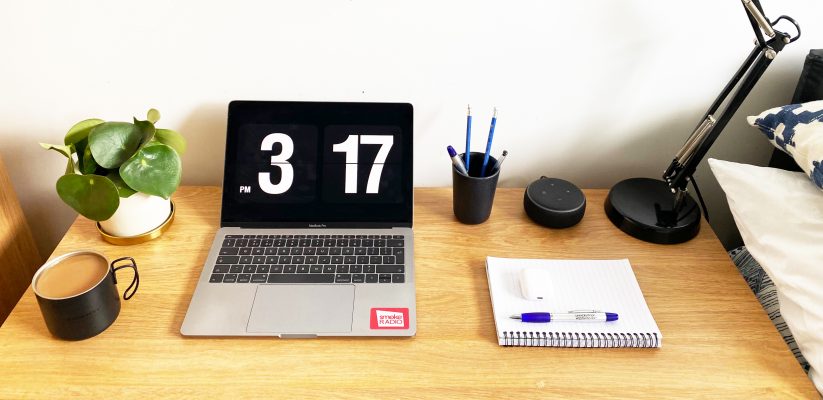 Here are some tips for keeping on track with your studies from two of our current students, Sam and Jessica. Sam is a Marketing Communications BA student in his final year and Jessica is a Marketing Communications MA student.
Having a dedicated workspace (and a tidy one) is really important.  It's key to work somewhere that allows you to be productive, having a clean desk or workstation will reduce stress and increase your focus.
If you're a visual learner try using post-it notes to jot down ideas as they come and stick them up somewhere you can see. This way you won't forget any important bits of information, and it definitely helps when it comes to revision season.
If you're not a pen and paper sort of person, you might want to use OneNote or Google Drive which will allow you to collate all your notes in one place. This might also help keep your workspace tidy as all your notes will be digital rather than physical.
When studying from home it can be easy to lose some of the structure that you get from your usual timetable. We'd recommend splitting your day into 90 minutes or 2 hour blocks. By structuring your day like this you're more likely to stay on task and motivated because you know by the end of that 90 minutes you'll be due a well earned break. 
One thing we would say from personal experience is that it can be easy to feel overwhelmed by all the topics you need to study, so it's important to make time for things other than just work. Take a short walk outside and get some fresh air, read a few pages from a book, or catch up on your favourite TV series! 
As much as we enjoy catching up with films and TV series, we still try to do some form of exercise during the day. Exercise is a really important part of staying focused. Without it, you'll find yourself fidgeting and getting distracted. Try using your breaks to do some form of physical activity. I like to go for a walk or do a short yoga session from YouTube. 
If you can, try to schedule your activity or exercise earlier in the day. In addition to improving your focus, it is reported that morning exercise improves attention and visual learning. 
Keep in touch with peers and academics
If you need help and support, talk to your peers and your academic lecturers. Regular contact through Facetime, Email, Skype or Whatsapp are great ways to keep in touch with peers. If you get stuck or need help, always reach out. There's always an open line of communication!
Wellbeing and mental health
Your mental health and wellbeing is just as important as your physical health. Regular breaks and staying active can help but there are also ways to support your wellbeing online and through apps. We'd recommend Calm and Headspace, but there are plenty of other options. The NHS also has a list of recommended online tools and apps that can help with mental health and wellbeing.