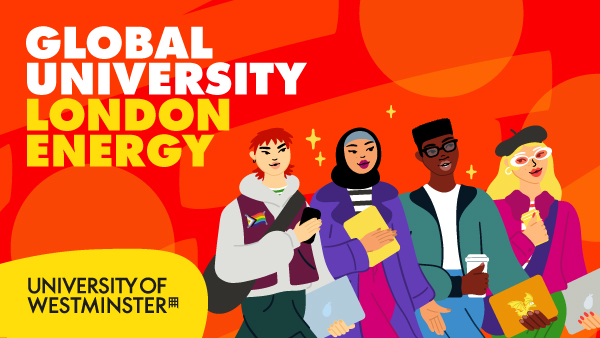 Clearing is part of the UCAS application process helping students who have not yet secured a university place to find and apply for a course.
You can apply through Clearing if:
You haven't met the conditions of your offers from your firm or insurance choice university.
You have changed your mind from your original choice of course or university.
You haven't yet applied to university but would like to start a course this September.
You have done better in your exams than expected and want to secure a place on a different course or at a different university through Clearing and Adjustment.
Why Westminster
We could list one hundred reasons why you should apply to study with us through Clearing, but don't take our word for it. Hear what our existing students have to say about us.
We interviewed Jamila Abdullahi, one of our students who applied to study with us through Clearing, about her experience with the Clearing process. Jamila reflects on her student journey, from applying through Clearing as a nervous newbie applicant to becoming a confident Psychology student. She tells us why studying at Westminster was the best option for her.
Why did you apply through the Clearing route?
Although I didn't get the grades required for my original choice, I decided to apply to a different course. I think I was under a lot of pressure to get my UCAS application in on time so I sent it in without really thinking through what I would have been truly happy studying.
Did you have a place at another University?
I did apply to another university through Clearing, and I did secure a place, but I ended up declining it and choosing Westminster instead. The course at Westminster was better suited for me.
There are so many universities out there, what made you choose Westminster?
I did some research before applying. I chose Westminster because I saw that it is known to be great for Psychology. I also wanted a university that was close enough to my home, so that I could easily commute. It didn't hurt that my campus is in central London and just a few minutes away from Oxford Circus.
What was your experience of applying through Clearing on the day?
I was pretty nervous about applying through Clearing. I remember trying to steel my nerves at first, but the Clearing service team member was incredibly helpful and kind. I was speaking to a current student which made things less nerve-wracking, and she was really patient and friendly. It just felt like I didn't need to stress so much. I think that's what made me feel like everything would be okay. I spoke about my concerns, and she was reassuring and calm which helped me feel calmer too. By the end of the call, I had my offer and I felt reassured that this was the course and university that I wanted to join.
How did you prepare for making your call to the Clearing hotline?
Before placing my call to the Clearing hotline, my sister and I sat down and made a list of questions I had. We went through the pros and cons of different universities and different courses, and what paths I would be interested in. I called up the hotline after that. I was nervous, but it was easier once I thought about it through the lens that I had nothing to lose but everything to gain. It felt more hopeful and less scary that way.
How easy was it to arrange or modify your student finance application after you obtained a place in Clearing?
It wasn't too hard to modify my student finance application. As I applied as soon as I could, it became easier for it to come in. It also helped knowing that I could call the Student Finance team if I did encounter any problems.
Tell us a bit about your course, what do you like about it?
My course is Psychology BSc. I think what I like most about it is that it is always surprising. The modules are always interesting, and the concepts are fun to explore. It's a really broad topic, so the course covers a variety of areas. I hadn't studied psychology before, so it was all new to me, but I never felt out of my element.
Have you taken part in any extra-curricular activities outside your studies?
Over the years, I've certainly taken advantage of what Westminster has to offer. I applied for the mentoring scheme in my first year, which helped me understand different pathways and what life during and after university was like.
I also took part in the Westminster Working Cultures UK (WWC) programme in my second and third years. One of the speakers had previously studied my course and is now a life coach, which was really interesting to hear. All the WWC UK speakers gave inspiring, motivational talks and they helped me understand that there are hundreds of paths available after graduation.
I'm part of a few societies; the Boba Society, the Baking Society, the Islamic Society and the Somali Society. They've all been very interesting and a great way to connect with people with the same interests and hobbies as me.
Do you think applying through the Clearing route has held you back in any way in the long run?
I think applying through the Clearing route has done the opposite of holding me back. I've discovered so much about myself that I don't think I would have if I'd stuck with my original choices. I feel like by applying through Clearing, I realised there is always an alternative, there's always a way to get to where you want as long as you're determined to try.
Now that you've completed your degree and are about to graduate, what would be your advice to anyone this year applying through Clearing?
My advice to anyone applying through Clearing this year would be to not worry too much. Just take a deep breath and dive right in – as long as it's a course that interests you. All the module details for the courses are on the university website, so make sure you look through them and if you can see yourself enjoying it, do it.
And remember having a particular degree doesn't mean there's only one path for you. There are a lot of different ways to end up with the future you want. If you're unsure right now about which path to take, the Careers team can help you refine your choices during your studies. I think what really matters is that you enjoy what you study. As long as you apply for something that you are going to be happy with, do it. And do it before you psych yourself out!