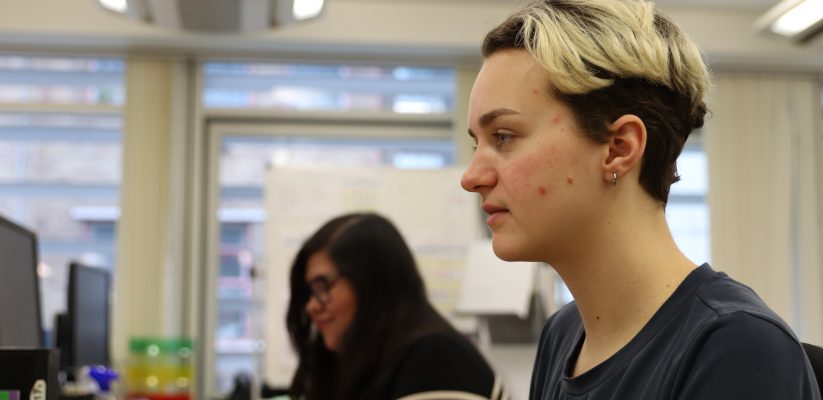 If you are looking to change careers, enhance your employability or increase your knowledge of a subject area then postgraduate study might be your next step.
Katrin Perry, a student on our Psychology MSc course shares her reasons why postgraduate study was the right decision for her career.
"I wanted to take my career in a different direction"
I completed my undergraduate Bachelor of Arts degree at The University of Melbourne, Australia. This was an incredible and formative experience for me as I was able to study a wide range of subjects due to the flexibility of university programmes in Australia. Alongside my major in Media and Communications and minor in English Literature, I took electives in Gender Studies, History, English, Nutrition, Criminology and many more.
Shortly after graduating, I worked for a start-up consultancy as a Technical Writer and then for a university as a Communications Adviser. It was great to work as part of a team to create engaging content for students, not to mention the full-time salary! After working in this area for two and a half years, however, I started to realise that while I enjoyed the work for the most part, it wasn't the career I wanted in the long run.
"I'm passionate about mental health"
My interest in mental health had been growing for several years. This was in part due to personal experiences, conversations with friends who were very open about mental health and my volunteering experience. I regularly listened to All in the Mind podcast which covers different topics in mental health each week with insights from experts and those with personal stories.
My volunteer role was for The Big Issue as part of their Women's Soccer Programme. This programme provided weekly training sessions, social events and support for women from disadvantaged backgrounds. My favourite part of the role was developing one-on-one relationships with the women and offering support where I could. I started to think about how this could translate into a career through a role as a therapist.
"I needed to gain accreditation for my profession"
When I began my research into going back to university to become accredited, I was quite overwhelmed. There were many things to consider, with academic requirements dependent on the type of role and country of practice. For example, to become a psychologist in the UK, you are required to complete a BPS accredited degree followed by a doctorate. For psychotherapist or counsellor roles, however, there are multiple accrediting bodies and many different potential pathways to becoming qualified. Additionally, for any work in the mental health industry, there is a strong emphasis on gaining practical experience as well as fulfilling the academic side.
"Why did I choose to study at the University of Westminster?"
I had already decided I wanted to study my postgraduate in London as I have friends and family here and wanted to live in a city with lots of events and opportunities. Many universities in London offer the Psychology MSc conversion and I applied to three of them. I was particularly interested in the degree at Westminster because it is the only Psychology MSc in London that has a work experience module integrated into the programme. After attending the Postgraduate Open Evening where I was able to ask all the questions I had about the work experience opportunity; I was set on going!  
I am now in my second year of part-time study and have really enjoyed the course so far. I have been impressed with how approachable the academics are – something that feels very different to my undergraduate experience! You feel as though you can drop in and speak to them anytime and they are genuinely interested in helping you.