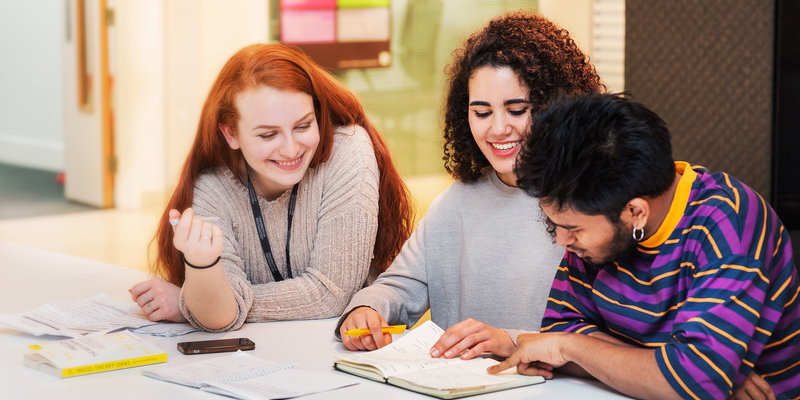 Deciding to go to university is a big decision and investment in your future, but there are many reasons why more and more students choose to go to university each year. 
From studying something you love and improving your career prospects, to meeting new people and exploring a new city, we've listed some of the benefits of going to university to help you decide whether it's the right option for you.
Improve your career prospects and increase your earning potential
In such a competitive job market, having a degree can significantly increase your employability, with 86.7% of graduates in employment compared with 70.2% of non-graduates.
As well as improving your career prospects, a degree will have a significant impact on your earning potential. Recent reports from the Department of Education show that graduates earn £10,000 more per year than those who don't go to university.
University is your chance to study what you love, whether that be a subject you've studied before or something you didn't even think could be a degree. Whatever you choose, a degree will help you build self-confidence and develop a range of transferable skills such as problem-solving, communication, time management, presenting and teamwork.
Access world-class specialist facilities
At university, you'll have access to a range of facilities that you otherwise wouldn't be able to take advantage of.  For example, at Westminster, you'll have access to state-of-the-art science labs, architecture studios, 3D printers, fabrication labs, Bloomberg-powered financial market suites, XR labs and purpose-built art, design, photography, TV and recording studios – just to name a few!
Get the support and guidance you need
Studying at university can seem daunting, but we're here to support you every step of the way. At Westminster, you'll have access to a wealth of support, from academic support to student advice, wellbeing, counselling, disability learning support, faith and spirituality and many more.
Our Careers and Employability Service also offer a range of advice and guidance on all things careers and employability related –  from help finding work experience, placements and part-time work, to helping you write a CV, draft job applications and prepare for job interviews.
Make friends from around the world
Going to university is a great way to make friends and meet other students with similar interests to yourself. Inside and outside the classroom you'll be exposed to an entirely new network of people, through seminar groups, societies and sports teams – meeting new people from various backgrounds and cultures. At Westminster, we're home to home to over 19,000 students from more than 160 countries, meaning you'll leave university with friends from all over the world.
Going to university is an excellent opportunity to develop your independence, regardless of whether you chose to commute to university or move away from home. From managing your own time and money to learning how to cook for yourself, budget and pay your own bills, university will help you grow as a person, build self-confidence and prepare you for the next step in your career.
Experience the student lifestyle
Going to university will open up lots of exciting opportunities outside the classroom too. Whatever your interests, you'll have the chance to join a range of clubs and societies through the Students' Union, so you'll be able to take up a new hobby or keep up with an activity you already love. 
You'll also be exposed to a lively social scene, with  Students' Unions hosting events throughout the year such as club nights, pub quizzes, freshers events and a whole host of events that don't involve alcohol. You'll never be short of something to do after a day of studying. Check out the range of clubs and societies you can join at Westminster.
But don't just take our word for it, see what our current students have to say about their experience at university.