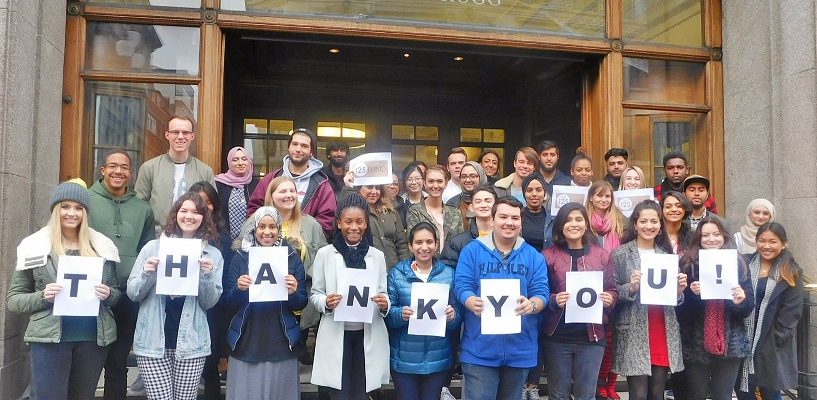 Alumni raised over £60,000 in our annual telephone campaign in November 2016, raising vital funds that will support University of Westminster students with their personal and professional development. During the three-week campaign, our team of 40 student callers spoke to over 1000 of you, our alumni, updating you on exciting developments at the University and inviting you to support current Westminster students by volunteering or donating to The 125 Fund.
We have been overwhelmed by the generous support of our alumni and we'd like to thank each and every one of you who took the time to speak with our students. The student callers enjoyed sharing experiences of Westminster past and present and were delighted to gain valuable career advice from experts in their field.
Lottie Walsh, Biochemistry BSc and second-year student caller, told us: "Thanks to the conversations with alumni, I've gained a good insight into the variety of opportunities that are available to me after graduating. I've also been given a lot of great career advice and tips on applying for internships."
In total, 262 of our alumni generously pledged a gift to The 125 Fund and over 250 of you expressed an interest in signing up to our volunteering programme and helping our students through career talks, mentoring or offering work placements.
Harriet Powell, a second year architecture student, said "My course is very intensive and has high costs associated with it. A grant from The 125 Fund would help me develop my current project, which is a design for low cost, flood resistance housing along the Thames. The grant would help me pay for the equipment and materials needed to test and develop my design through model making.
"I'm really grateful for the support of alumni, who are creating opportunities for students that otherwise wouldn't be possible."
The telephone campaign is now over, but there is still time to get involved and help students today. The Quintin Hogg Trust has generously pledged to match all donations made to The 125 Fund this year up to a total of £125,000, meaning a donation of £20 from a UK tax payer would be worth £45 once gift aid and matched funding was included.
Please help us take advantage of this unique matched-funding offer by making a donation today – every pound counts and, with your support, hundreds of students will be able to pursue their dreams and fulfil their ambitions.
To find out more about The 125 Fund, visit westminster.ac.uk/the-125-fund or contact the Development and Alumni Relations Office on +44 (0)20 3506 6495 or by email at development@westminster.ac.uk.
Latest posts by Heather Ridal (see all)