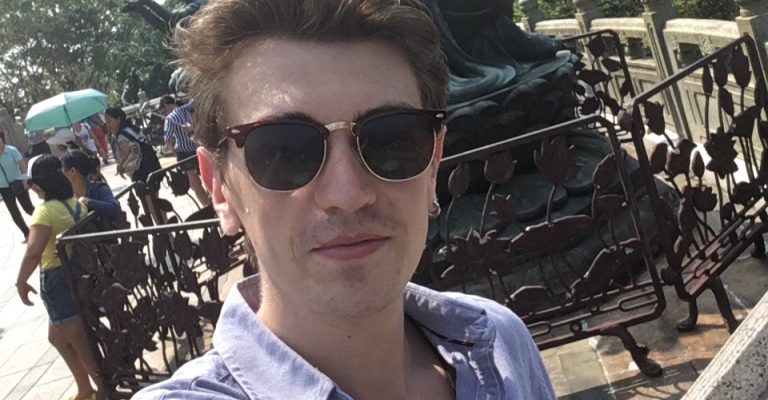 Tell us about yourself…
My name is Jordan Robertson, I'm 24 and I am studying BA Marketing Management and Spanish at Westminster Business School. I am half English, quarter Irish and quarter Dutch, although I was born and raised in South London which is where I still live today. My main interests are business and marketing and I am currently trying to bring my own creations to market, as well as generate revenue streams from my own companies. Outside of business, I love to keep fit and go to the gym, watch football, listen to music and go travelling.
You recently took part in the outward mobility experience in Hong Kong – can you tell us more about this project?
A friend told me about the Westminster Working Cultures trip to Hong Kong not long before the application deadline! I decided to apply straight away because I thought it was a once in a lifetime opportunity and I was lucky enough to be selected to go.
A group of twelve of us (nine students and three staff) went to Hong Kong for ten days to learn about working cultures. We visited offices, agencies, design studios and Westminster alumni who taught us some key employability skills. For example, how to build your CV and LinkedIn profile, how to appear professional and competent during job interviews and how to create a strategic vision for your career with achievable goals.
We also had opportunities to network and present what we had learnt to industry professionals which was a character building experience. Our time in Hong Kong provided us with opportunities to learn, grow, and adapt, and I feel as though I have developed as a person. Meeting new people has made me more diverse, visiting Asia has heightened my cultural awareness and networking with professional people has increased my confidence.
What was the highlight of your trip?
Lead 8 is an architecture and interior design studio based right in the heart of Hong Kong. We visited their workspace and were given a free drink by their friendly designers.
Lead 8 prepared a presentation for us and showed us some large-scale commercial retail outlets that have recently been built around the world. This was very interesting as we got to ask questions about how they operated in different countries and different cultures.
We also learnt that populations are continuing to increase and that businesses must learn to increase revenues from smaller spaces (especially in city centres). A tour around the office followed the presentation as well as a chat with some of the people that worked at the studio. This was an eye-opening experience, and it was refreshing to see a highly productive workforce conduct business in a relaxed atmosphere.
Asides from business and employability…if you are going to Hong Kong then take the cable car to the giant Buddha. Then take the bus down to Tai O which is a small fishing village. You will have a great day and see a slightly less commercial side to Hong Kong.
We hear you are developing a new app! Can you tell us more about it?
MobiFit is an app that provides mobile Personal Trainers who conduct sessions at times and locations 100% decided by the customer.
MobiFit brings personal trainers to your doorstep. You choose the time and the location, and within four clicks the personal trainer is on their way. There is no longer a need to go to the gym or work around somebody else's timetable…our trainers will come to your park, your street, your office or even your home!
We have streamlined the whole personal training process and re-energized the entire industry, making health and fitness not only easier to achieve, but also maintain.
When did you realise there was a gap in the market for your app?
I joined the company about six or seven months ago when I realised there is a gap in the market because the current personal training process is inefficient and non-flexible for customers.
Customers currently have to book personal training sessions at set locations and times decided by the gyms and personal trainers. With our app, customers can decide exactly when and where they want to train and the personal trainer will come to their desired location.
MobiFit means there is no longer a need for customers to work around anybody else's timetable except for their own! Health and fitness now slots conveniently into people's busy schedules.
Any advice to students who are thinking of setting up their own app?
People are always at the heart of every business. If you need a developer then there's always someone out there who can do it, there are loads of designers looking to build their portfolio and if you need help on the marketing then there will always be someone willing to help out.
Everything you need to create an app is already out there and readily available. It just comes down to you as a person and how motivated you are to pick up all of the pieces and put them together in a strategic fashion. If you quit because you couldn't find a developer or a marketing person, then you quit because you didn't try hard enough.
Also, it is surprising how much you can get for free by talking to people and involving them in your project. If you are short on cash then do not be scared to pay people in equity, but make sure they are highly-skilled individuals and do not invest in anybody who you do not view as long-term assets to the business. If you can't see them there in twenty years then they should not be there today. Invest in people.
---
Thank you to Jordan for taking the time out to answer our questions. A great insight into what it takes to develop an app, and the outward mobility experience in Hong Kong sounds amazing! Find out more about MobiFit and find out more about Westminster Working Cultures. You can also find out more about Jordan's course subject, Marketing Management BA Honours.
Written by Faye Murphy, Social Media Officer at Westminster Business School
Latest posts by Heather Ridal (see all)