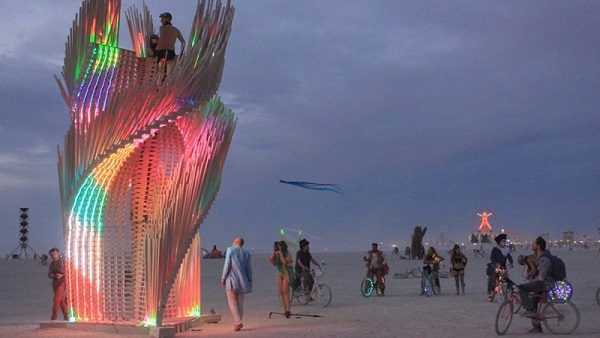 University of Westminster alumni, staff and students brought to life a visionary sculpture at this year's iconic Burning Man festival in the Nevada desert, the biggest celebration of interactive art in the world, which took place from 28 August to 5 September 2016.
Tangential Dreams was the result of four years of building projects at the Burning Man festival with WeWantToLearn.net, a Westminster architecture student group. The team, led by Westminster lecturer Arthur Mamou-Mani of the award-winning Mamou-Mani architecture practice, included alumnus Hamish McPherson (Master of Architecture RIBA part II) as Burn Lead, Senior Lecturer Dr John Goodbun as Perimeter Lead and a dedicated group of students.
Inspired by the idea of producing a physical manifestation of our collective dreams, Tangential Dreams was a stunning temporary interactive tower digitally designed by algorithmic rules. One thousand "tangent" think pieces of wood rotated gently around a central axis, which formed a staircase to be explored by participants. Each tangent was stencilled with an inspiring sentence from people around the world, collected through the group's crowdfunding campaign and hand-written by burners throughout the festival.
Hamish told us: "It was probably the best experience of my life. The most important thing was to be able to be part of the project from design to conclusion. Also, I organised the entire burning process, and so learnt a lot about the bureaucratic part of it as you have to account for every possible risk. It's quite dangerous burning stuff on that scale.
"The most incredible part without doubt is building the project and then actually seeing it being used by people and getting feedback, and then having the experience of seeing it burning to the ground.
Hamish continued: "With regards to employment, the fact that we built it ourselves is very important. In architecture, how can someone do something without practical experience? So having more experience on site is great – first-hand experience in construction is invaluable. Also, working with third parties, organising the timber, working with transportation, even working with the festival to ensure we had all the correct equipment as we were in the desert, and learning about collaboration are all very useful."
Latest posts by Heather Ridal (see all)