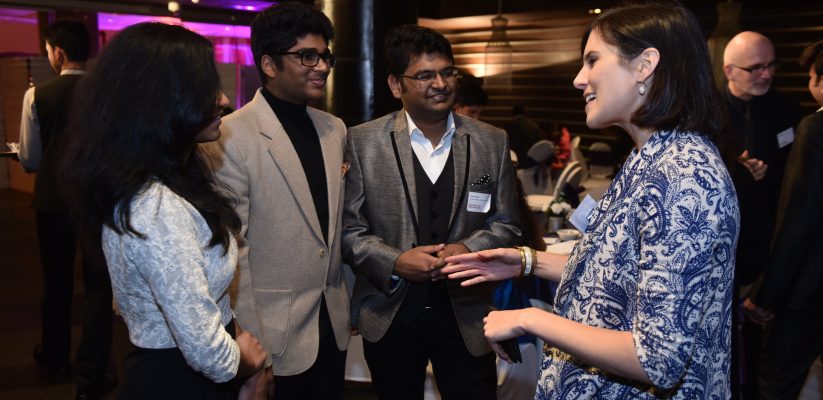 Professor Alexandra Hughes, Deputy Vice Chancellor (Global Engagement), recently hosted two successful alumni events in Delhi and Mumbai on 15th and 19th Jan 2016 respectively.
Prof Hughes announced that University of Westminster has now been named as one of the top 100 most international universities in the world, and among the top 10 in London, following the release of the Times Higher Education's global university rankings. She emphasised the importance of networking events and encouraged everyone to share their positive testimonies about their university experience with peers. She also encouraged alumni to support prospective students looking to study at the University.
Plans were then unveiled to grow the alumni association in India. Prof Hughes invited alumni to become a part of this expanding network by becoming an active member of a new committee. The Alumni Team is currently appointing a group of alumni volunteers who will work with us to grow our alumni engagement in India.
Both events were well-attended by alumni, who had the opportunity to network with both old classmates and new alumni, meet staff from the University of Westminster and celebrate plans for the future expansion of the India network. The Delhi event was held in Le Meridian and the Mumbai event was held in JW Marriott. The Alumni Team led by Laura Garman (Alumni Relations Manager) and Alyssa Martin (Senior Alumni Officer), along with Anju Singh (Regional Advisor, South Asia) and her team based in Delhi, worked hard to make the event successful.
Please do connect with us if you would like to be a part of the Westminster India Alumni Network or to share your thoughts/ideas. Please write to Anju at a.singh1@westminster.ac.uk or call 01142124112. You can also join Alumni Online to become a part of the global network, or complete an alumni profile where you can also register to become an alumni volunteer.
We also have many photos for both the Mumbai and Delhi events on our University of Westminster Alumni Association Facebook page.
Latest posts by Heather Ridal (see all)