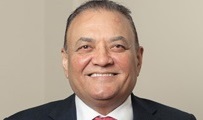 On 4 November last year, University of Westminster welcomed alumnus and Chief Executive Officer of the Day Lewis Group, Kirit Patel, back to campus as part of Westminster Talks.
Kirit, who graduated with an MBA from Westminster Business School in 1988, was awarded an MBE by Her Majesty the Queen in 2005 for his contribution to pharmacy and public service, and has been recognised as one of the Top 100 Entrepreneurs by Management Today Magazine.
During his talk, he shared with us the secrets that have made him such a successful entrepreneur, including the eleven principles that he has founded his achievements on. These principles include the belief that entrepreneurial skills are not innate but acquired, to have faith in yourself and the courage and persistence to carry out your vision, to have the ability to be innovative and think laterally, and to never be put off by failure.
In this recording of his talk, discover all eleven principles and be inspired to become the next entrepreneur. Find out in these short videos how the MBA saved Kirit's business and how team spirit carried him through.
Latest posts by Heather Ridal (see all)