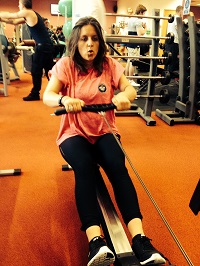 Like many of us, Meg Dyos wasn't sure what she wanted to do with her life when she finished university. But unlike the rest of us, the 2014 English Literature graduate has found herself about to become part of the crew rowing 8,446 miles across the Pacific Ocean to raise £25,000 for women's charities.
The Coxless Crew is a team of six women rowing from America to Australia in support of Breast Cancer Care and Walking with the Wounded's fund for injured service women. By the end of their journey they hope to have achieved three world firsts: the first all-female team to row the Pacific Ocean, first team of four to row the Pacific Ocean, and fastest Pacific Ocean row.
Meg is due to join them for the last leg of their journey in mid-October. In 8 questions, she tells us about rowing the dawn shift, sleep deprivation and sharks.
1. What motivated you to take on this huge challenge?
To be honest, I just didn't know what to do with my life. I have no idea why I applied for the challenge. It's a question that I am being asked more and more, and I am trying to find the answer to it myself.
The fact that it is all about women in adversity appealed to me. It is all women who are doing this and aiming to break those records, and Breast Cancer Care and Walking for the Wounded are charities that are close to my heart. The team has a belief that "everyone crosses their own Pacific".
2. Can you describe the training that you have been doing in the lead-up to the row?
Yes; I have had to put on 10-15 kilos for the row! Training itself is all weight lifting with no cardio involved. It's all about growing muscles and being prepared that we'll lose all the weight on the boat.
3. What are you most excited about the row?
The stars. And at the minute there is a shark circling the boat. I don't know what type of shark it is – hopefully not a man-eating one! So stuff like that is absolutely terrifying but it's also amazing to see that kind of wildlife.
We also need to have so many different checks on our body like stress levels and sleep deprivation, so I am excited about pushing my body to the limit to see how far it can go.
4. What do you think will be the hardest part of the challenge and how will you motivate yourself to carry on when the going gets tough?
I really think the hardest part is going to be sleep deprivation, as we are rowing two hours on, two hours off for the whole journey. And not eating fresh fruit and vegetables. Facing the unknown will be a challenge because it's really difficult to prepare for it, you just don't know how you are going to feel – apparently as soon you can't see land anymore, some people freak out.
But we've got a psychologist who works with us really closely to prepare us for the unknown things that are going to happen to our bodies.
5. What are you most and least looking forward to about life on the boat?
I'm really looking forward to getting to know the four girls and spending so much time with them. And I'm least looking forward to going to the toilet in a bucket! Also, motivating myself to get back behind the oars and row the dawn shift between 3-5am, which is the worst shift.
6. How do you feel about becoming part of a possibly record-breaking team?
Really freaking excited. I think it blows my mind a bit that I've been included in this when I've never rowed before. I don't really know why they chose me. I had to go through a lot of psychological tests and it's all about how you bond as a team. I'm just so happy to be given this opportunity.
7. With an all-female team and the row dedicated to women's charities there is a big message being sent. What message do you have for other women hoping to take on similar challenges?
I've been reading all these different quotes to keep me empowered. I think the biggest one is "choose your attitude" – you can do it and don't ever let anyone tell you that you can't. It doesn't matter what gender you are.
8. And when you reach land what will be the first thing that you do?
A shower! A shower and then a drink. To be honest, it will be seeing my family again. I can't even imagine what that will feel like. There will be a big reception with the media when we reach land, but to be honest, at this stage I can't even see that far into the future. It's more about just getting onto the boat!
You can follow the Coxless Crew's journey via a live tracker on their website, coxlesscrew.com or on their Facebook and Twitter pages. Text DORIS to 70300 to donate £3 to support their fundraising efforts on behalf of Breast Cancer Care and Walking With The Wounded.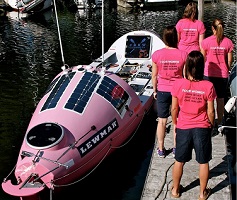 Latest posts by Heather Ridal (see all)