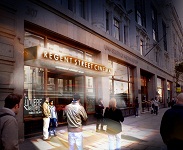 The team at the Regent Street Cinema have hand-picked their must-see films from the eclectic programme for January and February.
Did you know that as an alumnus of the University of Westminster you are entitled to a free membership? Simply visit the website, add the membership to your basket and enter the promotional code 'alumni' when prompted to 'apply promo code' at the checkout. There is also a limited time offer for anyone to claim a free membership so make sure your friends and family take advantage!
Aghbalou: The Source of Water
Wednesday 20 January 2016
Written and produced by alumna Anna Sowa (Arabic with International Relations BA, 2010), Aghbalou: The Source of Water is a local story of struggle and neglect with a global call to action against the growing challenges of sustaining water. Anna's production company, Chouette Films, will also be participating in a Q&A at the screening.
The Rules of the Game
Sunday 24 January 2016
One of the greatest films ever made and the only film to appear in the top 10 of every single one of Sight and Sound's decennial polls. A comedy of manners, with a biting satirical edge, it contrasts the romantic entanglements of rich and poor during a weekend at a country estate.
My Neighbours the Yamadas
Saturday 30 January 2016
A rarely screened Studio Ghibli film in quite a different style from their usual fare, the film follows the adventures of the wacky Yamada family through a series of pastel vignettes.
Blade Runner
Monday 1 February 2016
Needs to be seen on the big screen, with big sound. Perhaps Ridley Scott's greatest achievement, thanks to an unforgettable script, soundtrack, performance and visual effects, it passes the test of time with grimy flying colours.
The Shining
Tuesday 9 February 2016
Stephen King isn't a fan of this Kubrick adaptation, but that doesn't stop it from being the finest horror film ever made. When a family agree to take care of a hotel for the winter, they don't know what they're letting themselves in for.
Sweet Smell of Success
Wednesday 10 February 2016
Widely considered a masterpiece, this is a scabrous take on New York from one of Britain's finest directors, Alexander Mackendrick. Powerful newspaper columnist J.J. Hunsecker uses his connections to ruin his sister's relationship with a man he deems unworthy of her.
Room
Saturday 27 February 2016
Harrowing and uplifting in equal measure, this is a film you may only want to see once, but will hold in your heart. Told through the eyes of 5-year-old Jack it reveals the life of a boy and his Ma who live in a single, squalid room.
See the full programme for the Regent Street Cinema over the coming months.
Latest posts by Heather Ridal (see all)