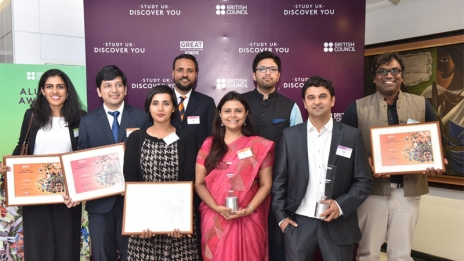 Two University of Westminster alumni have won coveted British Council Study UK Alumni Awards this year.
Faisal Abbas (Marketing Communications MA, 2006) was announced as the winner of the Social Impact Award for Saudi Arabia on Wednesday 1 March 2017. Currently Editor-in-Chief of Arab News, the Middle East's English-language daily newspaper, Faisal won the award for his work in addressing misconceptions of the Middle East and explaining the complexities of the area to an international audience. Unable to attend the ceremony, he recorded a message thanking the University of Westminster and his lecturers.
On Friday 24 March, Sameer Pitalwalla (Media Management MA, 2006) won a further award for the University with the Entrepreneurial Award for India. He received the award from Sir Dominic Asquith, the British High Commissioner to India at a prestigious ceremony. Sameer is CEO and Co-Founder of Culture Machine, a digital media company, and has previously been Director of The Walt Disney India Company. The award recognises his pioneering approach to digital media.
Faisal told us: "Winning the Social Impact Award is a great honour but more importantly, it is a great responsibility, which I will not take lightly.
"I was also very lucky to have been blessed with not merely lecturers but life-mentors at the University of Westminster and on that front, I especially wish to thank Westminster Business School's Jonathan Pike and Trevor Wright."
The British Council Study UK Alumni Awards celebrate the outstanding achievements of international alumni and showcase the impact and value of a UK higher education. They recognise and reward alumni who have used their UK education to make a positive contribution to their communities.
For each eligible country there are three awards available – the Entrepreneurial Award, the Professional Achievement Award and the Social Impact Award – with finalists being judged on their impact, the influence of a UK education on their success, media traction, and their potential to influence and inspire.
Latest posts by Heather Ridal (see all)