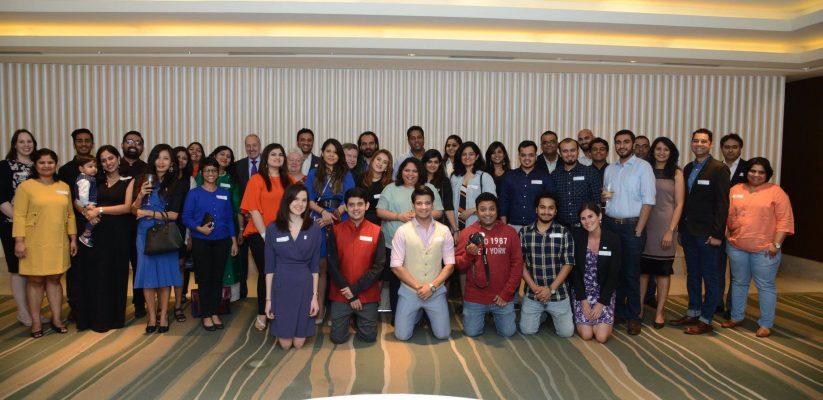 What is WIAN?
WIAN is the Westminster India Alumni Network (WIAN). You are all a part of WIAN: anyone who graduated from the University of Westminster and lives in India is a part of our 900-strong community.
WIAN exists to support you in achieving your own goals and ambitions – but we also need WIAN to help the University become a truly global, forward-thinking and ambitious institution, creating the next generation of leaders, entrepreneurs and creatives.
Meet your India committees
We have established two committees in India – run by alumni volunteers – to strengthen WIAN and help bring alumni together. Their ambitions are to create strong links between Westminster alumni, increase local events and activities, and help us to gather volunteers for important University initiatives, such as recruitment fairs and marketing campaigns.
The New Delhi Committee is headed by President Jigar Mehta (Marketing Communications MA, 2010) and Vice-President Akshay Khullar (Computer Animation PGDip, 2007). You can find out more about Jigar in our Meet Your WIAN President Q&A.
In Mumbai, Alumni Ambassador Joyanto Mukherjee (International, Social and Political Studies MA, 2008) is establishing a committee in this region.
Our events
In January we held two successful WIAN events in New Delhi and Mumbai to meet some of you and find out what you would like from WIAN. Hosted by Professor Alexandra Hughes (Deputy Vice-Chancellor of Global Engagement) and members of the Alumni Team, India Office and our Committees from New Delhi and Mumbai, we had a great turn out of alumni. We would like to thank all of those who attended; we enjoyed talking to you and took away many new ideas about how we can support you.
Would you like to attend the next event? Our informal receptions are a great opportunity to enhance your professional network, make new friends and reminisce about your Westminster days. Keep an eye out for our e-invites and read further about how to keep in touch below.
We need you
Do you remember being a new student about to leave India to live in London, perhaps living away from home for the first time? Or returning after your studies and the support you needed to establish yourself in your career?
We are always looking for people to volunteer for key activities. We need alumni like yourself to mentor recently returned graduates and current students, speak to prospective students at recruitment fairs, support students about to make the big step of leaving India for London, and also to offer work placements and internships.
Our New Delhi and Mumbai committees are also looking for new members to help them create a vibrant, engaged Westminster community in India. If you have time to meet regularly, either in a café or over Skype, and would like to help with organising social and networking events, running social media and coordinating volunteers, then they want to hear from you. Not only is this a great way to volunteer, it's also an opportunity to widen your network and enhance your employability skills!
Get in touch!
The best way to keep in touch and find out about events, news and opportunities is by joining the Westminster India Alumni Facebook group or the WhatsApp groups for New Delhi and Mumbai. Simply email alumni@westminster.ac.uk and outline which region you are interested in and we can add you to the WhatsApp group. You can also email us directly to let us know if you are interested in volunteering.
Alternatively, if you would like to set up a new committee to represent another region in India, then please get in touch!
Latest posts by Heather Ridal (see all)