Past Events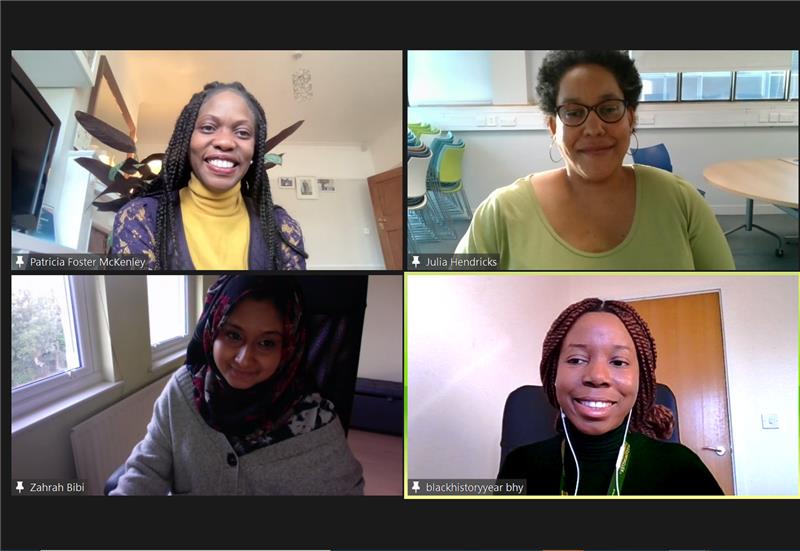 The Power of Writing, Thursday 9th December
"Art invites us to know beauty and to solicit it, summon it, from even the most tragic of circumstances." – Toni Morrison
Opening her talk with the poignant quote from the works of Toni Morrison, award winning poet, performer and life coach Patricia Foster McKenley shared her personal perspective of how writing supported her during the pandemic. As a woman of Black British, Christian, Jamaican heritage, she spoke of the global impact of the Black Lives Matter movement, sparked by the unlawful killings of Breonna Taylor, Ahmaud Arbery and George Floyd; the effects of the Covid pandemic, within the Black community.
Patricia also urged us to look at routes to healing. In particular, she spoke of the importance of tapping into creative gifts, accompanying this point with the Alice Walker quote, "Whenever you are creating beauty around you, you are restoring your own soul." Most importantly, she spoke of rewriting the narrative of Black people, stating, "we are not just about trauma – there is so much more to us". During the course of the talk, as well as sharing her writing, Patricia also shared this list of resources:
Resources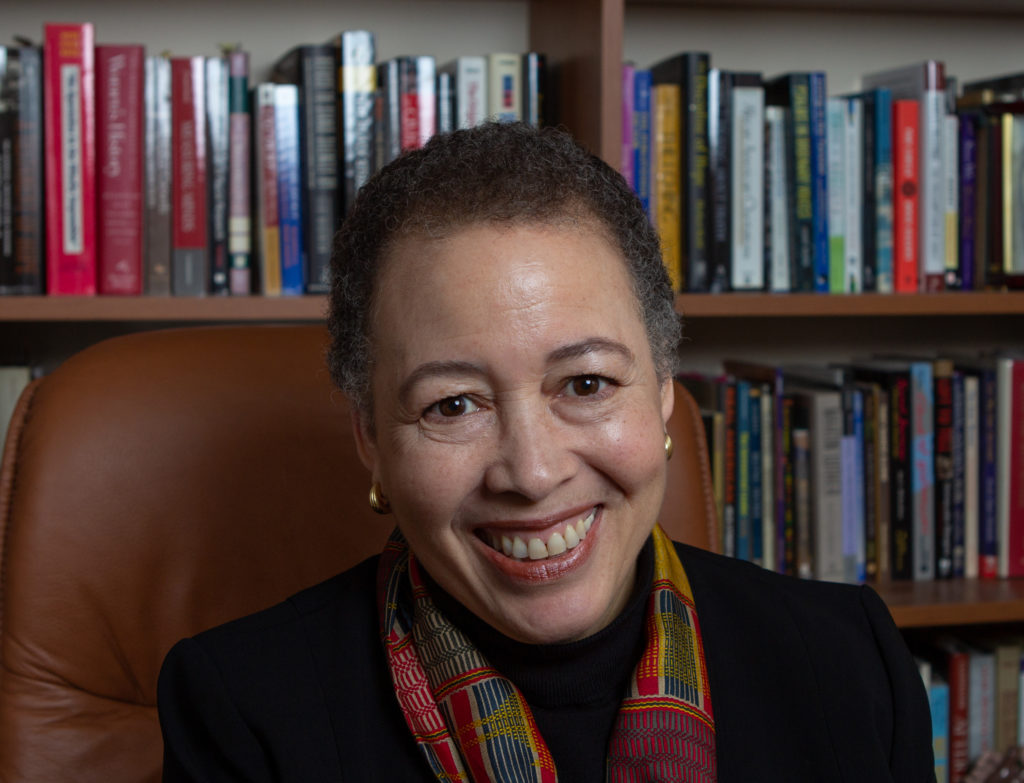 Conversations about Race in Education with Professor Beverly Daniel Tatum, Thursday 18 November, 6pm
New York Times best-selling author of "Why Are All the Black Kids Sitting Together in the Cafeteria?" and Other Conversations About Race – this event was hosted by Bryan Bonaparte, Senior Lecturer in Psychology, University of Westminster.
Professor Beverly Daniel Tatum, Ph.D., president emerita of Spelman College, is a clinical psychologist widely known for both her expertise on race relations and as a thought leader in higher education. Recipient of the Carnegie Academic Leadership Award and author of several books including the New York Times best-selling "Why Are All the Black Kids Sitting Together in the Cafeteria?" and Other Conversations About Race. Tatum is a sought-after speaker on the topic of racial identity development, the impact of race in the classroom, strategies for creating inclusive teaching environments, and higher education leadership.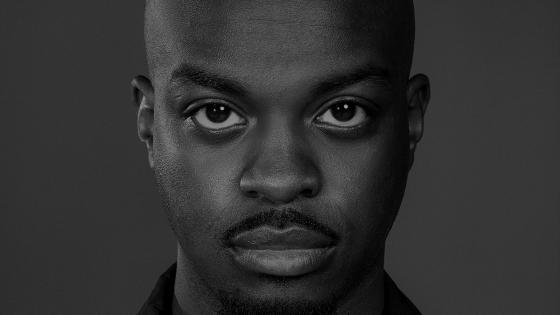 George The Poet, Tuesday 19 October 
Black History Year Group opened our 2021/22 programme, by welcoming George The Poet for an online event of spoken word performance, discussion and audience questions.
George the Poet is a London-born spoken word performer of Ugandan heritage. His innovative brand of musical poetry has won him critical acclaim both as a recording artist and social commentator and seen his work broadcast to billions of people worldwide.
In the summer of 2018, he opened the Royal Wedding of Prince Harry and Meghan Markle with his poem 'The Beauty of Union', and in 2019, his audio offering 'Have You Heard George's Podcast?' won a prestigious Peabody Award and five Gold British Podcast Awards, including the highly-coveted Podcast of the Year. The podcast was described by BBC R4 as "a story that could change the world". George is now embarking on a Ph.D. and completing chapter three of the podcast.
Politically Black, Thursday 8 July
The final event in our year-long Black History Year programme looked at the involvement of Black people at the sharp end of politics. Two Alumni from the University of Westminster, Councillor Princess Bright, London Borough of Barking and Dagenham and Councillor James Beckles, London Borough of Newham discussed their roles in shaping the political sphere with Dibyesh Anand, a professor of politics and international relations, and offered advice on ways to navigate and influence local and central government policies that affect us all.
Confronting my Imposter, Monday 14 June
For the last event in our 'Wellbeing and Mental Health in Black People' month we welcomed Rhoda Quist.
Rhoda shedded light on Imposter Phenomenon (internal experience where you believe you are not as competent as others perceive you to be) and how it affects individuals especially from BME backgrounds. We heard from Rhoda's experiences and her journey with still confronting her Imposter and how she has been successfully tackling these feelings head on in the workplace.
Watch a recording of the talk here 
Mental Health in Black Men, 7 June
We welcomed Dr Jason Arday and Professor Damien Ridge to discuss Mental Health in Black Men.
This talk will address the struggles for Black men dealing with mental health, the process of care that is involved with their treatment and the support services available whilst also focusing on empowering Black men to resume control over their mental health following a breakdown or period of ill health.
Jason and Damien each presented a short talk on their research and experiences with 'Mental Health in Black Men' and then came together in a discussion around the matters that emerged.
Watch a recording of the talk here
Black Queer Fictions and Selves, Thursday 29 April
We were joined by  Shantal Edwards, Paul Mendez and Michael Donkor to discuss Black Queer Fictiosn and Selves 
As part of the University of Westminster's Black History Year and the School of Humanities New Writing Festival, Paul Mendez and Michael Donkor joined Shantel Edwards (Birmingham Literary Festival/Writing West Midlands) to discuss their work. Here they'll reflect on the pleasures and challenges of writing Black queer fictions and selves, as well as taking questions from the audience.
In the past two years, Paul Mendez's novel, Rainbow Milk (2020), and Michael Donkor's novel, Hold (2018), have both brilliantly interrogated the intricacies of Black queer lives. In these novels, both authors give their readers vibrant young protagonists who are coming into an understanding of themselves, their desires and the worlds around them.
Film Screening: Chocolate Babies, Wednesday 21 April
We were joined by the wonderful Rabz Lansiquot and Kate M Graham for our first event in the 'Gender and Sexuality in Black People' month, where we are pleased to screen 'Chocolate Babies'
In 1997 Stephen Winter released his debut film, Chocolate Babies, a vibrant, political, funny and heart-breaking film about activism and the AIDS epidemic. In Winter's film a group of "black faggots with a political agenda" take on a group of conservative New York politicians in a battle for AIDS treatment.
Filmmaker Rabz will introduce the film – sharing what makes Chocolate Babies such an important piece of work and what it means to them as a filmmaker.
To view the film please visit here
The Power of Writing: During the Pandemic and Rise in Global Black Trauma, 31 March
We apologise for having to cut this event short. We recognise the intentions of evil others to disrupt the power of voice and storytelling. We will not be silenced. The event will be re-scheduled and details posted to all attendees as soon as possible.
Support & self care tools
•GP
•Counselling services 
•Black Minds Matter Black individuals & families connected with free mental health services by Black therapists:
•Employee Assistance Programme (EAP) from your job
•Life / Wellness Coach
•Family
•Friendship groups
•Social media free zone
Music: The Black Experience, Monday 22 March
What an event! Watch out for Part 2!
Our wonderful speakers  explored Black artists and executives in the music industry and their personal experiences in both the US and UK market.
They also discussed major key points such Marginalisation, breaking through glass ceilings, creative boundaries and discuss significant labels in the industry such as 'Black or Urban' & 'Pop or R'n'B.
7 minutes and 46 Seconds: Strategic Response and Contemporary Collecting, Wednesday 17 March
We kicked off this month with Aaron Bryant, Curator of Photography, Visual Culture, and Contemporary History and Barby Asante, artist, curator, researcher and healer in training
On May 25 of last year, Minneapolis police officers detained George Floyd, after an employee at a convenience store called 911, alleging that Mr. Floyd purchased cigarettes with a counterfeit bill. Seventeen minutes after the first officers arrived, George Floyd was unconscious, and showing no signs of life. As reported by Minneapolis prosecutors, for 7 minutes and 46 seconds, Mr. Floyd suffocated. His neck and breathing were constricted by the knee of one of the arresting officers, and that moment changed the course of history. Through the use of visual culture, this discussion will position Black Lives Matter protests from summer of 2020 within a larger historical context.
Women and Black Power in the UK, 17 February 2021
The last event in our 'Activism month' where we welcomed Leila Hassan Howe, a leading light in the British Black power movement of the 1970s and 80s to share stories and insights from her life in conversation with journalist, Jaqueline Springer.
Howe was a member of the Black Unity and Freedom Party, leading demonstrations including the National Black People's Day of Action in response to the deaths of 13 young people trapped in a New Cross house fire in 1981 – at the time the largest demonstration of its kind. She was part of the hugely influential Race Today Collective, working with others including Linton Kwesi Johnson, Farrukh Dhondy and Darcus Howe to steer the monthly magazine and voice for radical Black politics, taking up as deputy editor in 1973 and editor from 1985.
Howe also worked alongside influential activist and intellectual Ambalavaner Sivanandan at the Institute for Race Relations, leading a grassroots rebellion from within the organisation to transform its leadership. This event gave lively conversation and an insider perspective on key moments of Black political resistance in the UK.
Activism and Academia, 15 February 2021
Another key event in our 'Activism month' where we welcomed Lisa Shoko, the Founder of Lisa Shoko Racial Equity Consulting, a start-up delivering anti-racist workshops.
This event gave us an insight into the challenges, experiences, and reflections of a Black woman and a student activist in a Higher Education Institution. She discussed the demands that came out of the Decolonise UoK and Afro-Diasporic Legal Network (UoK) Manifestos as well as introducing her thesis on 'Searching for Belonging: Institutional Racism and the "Silent Crisis" in Higher Education'.  
Please see the speaker presentation here: Shoko Activism and Academia
Business & Organisations: An Intersectional Approach, 11 February 2021

    

                                                                           
This conversation will covered key issues facing Black people in organisations and how they differ by gender and organisation. Speakers Karen Kufuor, Principal Lecturer in the School of Organisations, Economy and Society, University of Westminster and Dr Nene Ibokessien, Alumnus, University of Westminster reflected on personal experiences and research. They told us about good practice for fostering quality intercultural relationships along with strategies and tips on how Black people can best position themselves in employment in the current climate.
Watch a recording of the talk here
Please see the speaker presentations here:
England's Hidden History is Our History, 25 November 2020
Dr Nubia's talk will centre on the theme of anti-colonialism and Pan Africanism. He is a pioneering and internationally recognised historian, writer and presenter. His current works include reinventing our perceptions of the Renaissance, British history, Black Studies and intersectionalism. Dr Nubia is the leading historian on the status and origins of Africans in pre-colonial England from antiquity to 1603. He has developed entirely new strands of British history which includes Africans in Ancient and Medieval England.
Professor D'Souza is a critical scholar, social justice activist, barrister and writer, from India. She is Professor of Law, Development and Conflict Studies at the University of Westminster. Radha's research and writing focuses on the Global South, law colonialism and neo-colonialism, history of imperialism in South Asia, and comparative theory and philosophy. She has written and published extensively on a range of subjects and issues concerning social and global justice.
Following discussion by both scholars, there will be opportunity for an audience Q&A. The event is hosted by Manvir Grewal (Westminster Law School), Dominika Opyrchal (College Events Co-ordinator) and Deborah Husbands (Psychology).
Black Tudors, 11 November 2020
The Black History Steering Group was pleased to host Dr Miranda Kaufmann as a keynote speaker for its Black History Year programme. This talk marked the beginning of the continuation of 'Black History Month'.
Dr Kaufmann is a historian, freelance journalist and author. She is a Senior Research Fellow at the Institute of Commonwealth Studies, part of the School of Advanced Study, University of London. She is also an Honorary Fellow of the University of Liverpool and a Fellow of the Royal Historical Society. Her expertise centres on the history of Africans in Renaissance Britain, and her outputs encompass mainstream and specialist media as well as numerous articles in academic journals. Her consultation work includes David Olusoga's BAFTA award-winning series 'Black and British: A Forgotten History" and her critically acclaimed book 'Black Tudors' will be turned into an ITV-sponsored televised drama series.
To make the most of this talk, attendees should first watch Dr Kaufmann's talk delivered at Gresham College, Oxford: Black Tudors
Dr Kaufmann be re-visited key aspects of this talk followed by an audience Q&A.