Black Lives at Westminster
The Windrush Compensation Scheme: Unmet Need for Legal Advice. 6pm, 15 June 2022.

Fyvie Hall, Regent St campus.
This event launched the research report into unmet need for legal advice in Windrush Compensation claims.
The Windrush Justice Clinic (WJC) https://windrushjc.org/ was set up in October 2020 to support people affected by the Windrush scandal to make successful claims for compensation. This event was an opportunity to meet the WJC partners and hear from the researchers Hysha Smith and Lilian Lewis about the findings contained in the report.
More information here: https://www.eventbrite.co.uk/e/the-windrush-compensation-scheme-unmet-need-for-legal-advice-tickets-348810771407
Westminster's Windrush Justice Clinic shortlisted for award in LawWorks and Attorney General Student Pro Bono Awards
 The Windrush Justice Clinic (WJC), in which the University of Westminster Legal Advice Clinic is a partner, has been shortlisted in the LawWorks and Attorney General Student Pro Bono Awards for the 'Best New Pro Bono Activity' category as well as the Access to Justice Foundation Award.
Read the full story here
University of Westminster project shortlisted for prestigious Times Higher Education Awards 2021
Bass Culture, a research project led by Mykaell Riley within the Black Music Research Unit (BMRU) at the University of Westminster, has been shortlisted in the 'Research Project of the Year: Arts, Humanities and Social Sciences' category of the Times Higher Education Awards 2021.
To read the full story please visit here
Interactive Media Practice MA student lands pivotal job working with central and local government organisations in interaction design
Interactive Media Practice MA student, Sherina Bigby, has landed an interesting interaction and product design role within the public sector.
To read the story in full please visit here
Racial Equity Tools
Words are indeed powerful! They are our primary tool for communicating thoughts, feelings, ideas, intentions, aspirations … and, of course, hatred, among other things. But what happens when we're part of a changing world where language REALLY matters? Where social cues have become less obvious? (Cue: the mask and social distancing) And what about when we start adopting vocabulary and terms we hear around us without fully understanding their meaning or intent? The result is often confusion, misunderstanding and distancing, so this glossary is even more critical for the current times. Here, definitions are listed alphabetically from 'accountability' to 'Whiteness', and there is plenty in-between. This helpful listing provides clear, grounded definitions for terms pertinent to discussions and dialogue around race, racialisation and anti-racism, leading to a comprehensive account of what you are likely to hear and come across in various contexts. The list is helpful for employees and students alike. If you're interested in the fight against social injustice (mainly from the perspective of race), you'll want to keep this as a reference tool to inform your vocabulary.
Celebrating 1 Year of Westminster's 'Black History Year'
Black History Year is a refusal to be contained within the confines of a single month, it is a response to Black Lives Matter, and it is a challenge to the silencing effects of the structural racism we find in Higher Education.
Most importantly, it is a celebration of Black history, stories, lives, politics, creativity, and achievement. And it is a chance to learn from, and share space with, amazing Black historians, musicians, executives, writers, artists, thinkers, academics and our own alumni.
Across the 2020-21 academic year, the Black History Year steering committee have run thirteen events. To structure the year, we've given each month a theme – Mental Health in Black People or Activism, for example. Doing this has allowed us to explore issues in-depth and give these conversations the space they deserve.
We're indebted to our amazing guests, who have made all of our events entertaining and enlightening. Some of the highlights have included the lively back-and-forth between Ben Wynter and Lylo Gold about how best to support Black music artists; the spellbinding history of Leila Hassan Howe's activism; and the powerful conversation between Aaron Bryant and Barby Asante about visual culture's responses to the murder of George Floyd.
At our second event, back in November, Dr Onyeka Nubia insisted that we shouldn't look at British history and see marginalised Black people, he showed us that actually Black people were central to British life. The marginalisation, Dr Nubia demonstrated, takes place in the recording of that history and those lives.
The Black History Year steering committee see our work as a vital part of refusing that marginalisation and instead centring, in an ongoing fashion, the vibrant and powerful Black cultural world.
We've already got some amazing, internationally renowned artists lined up to share their work with us next year and we hope that you'll join us to listen, to learn and to celebrate!
To find out more about our past events please visit our 'Past Events page' and for our news stories please see the links below:
Chocolate Babies and Q&A with Rabz Lansiquot
Women and Black Power in the UK
England's History is Our History
Business & Organisations: An Intersectional Approach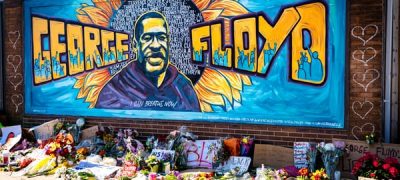 In memory of George Floyd
Knee pressed. Staring.
Breath lost. Gasping.
Life gone. Mourning.
©Deborah Husbands
Tuesday 25 May 2021 marks one year since George Floyd was brutally murdered by a police officer.  His death, captured on video by then 17 year old
Darnella Frazer
, catapulted the Black Lives Matter movement into public consciousness and prompted a global reckoning with the continued injustices faced by Black people, not only at the hands of law enforcement, but in all areas of life.
The work towards racial equality continues.  What will you do to effect change?
Everything you need to know about Black Lives Matter UK
How to show solidarity with Black Lives Matter
University of Westminster makes progress on Black Lives Matter commitment plan
One year on from the murder of George Floyd, we look at the progress we have made since we announced our Black Lives Matter commitment plan. These commitments were developed through conversations with our Students' Union and BME Network and formally adopted to ensure an actively anti-racist, inclusive and safe environment for all of us to study and work in. They are being monitored and implemented under the aegis of EDI Committee chaired by Professors Alex Hughes and Dibyesh Anand.
To read the full article and report please visit here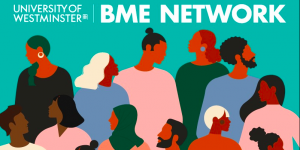 University of Westminster's BME Network releases statement on the Commission on Race and Ethnic Disparities Report (Sewell Report)   
The BME Network provides a support network for BME colleagues and works with the University of Westminster's policy makers to ensure the race equality perspective is proactively incorporated within the University's policies and procedures, to add value to the diversity of the institution.
To read the full article and report please visit here 
We are proud of our Black history at the University of Westminster!
Please watch our amazing archive video which showcases a collection of articles, photos and fragments from the University's archive, piecing together black student and staff narratives, counter narratives and experiences.
Compiled by the Black History Year steering group with help from the Records and Archive Team
The music playing is from Westminster music student Moses Mwanga, please check out more of Moses' great work at https://kwanzaaa.bandcamp.com/
University of Westminster students associated in the Democratic Education Network (DEN) gathered to share their views on the Black History Month