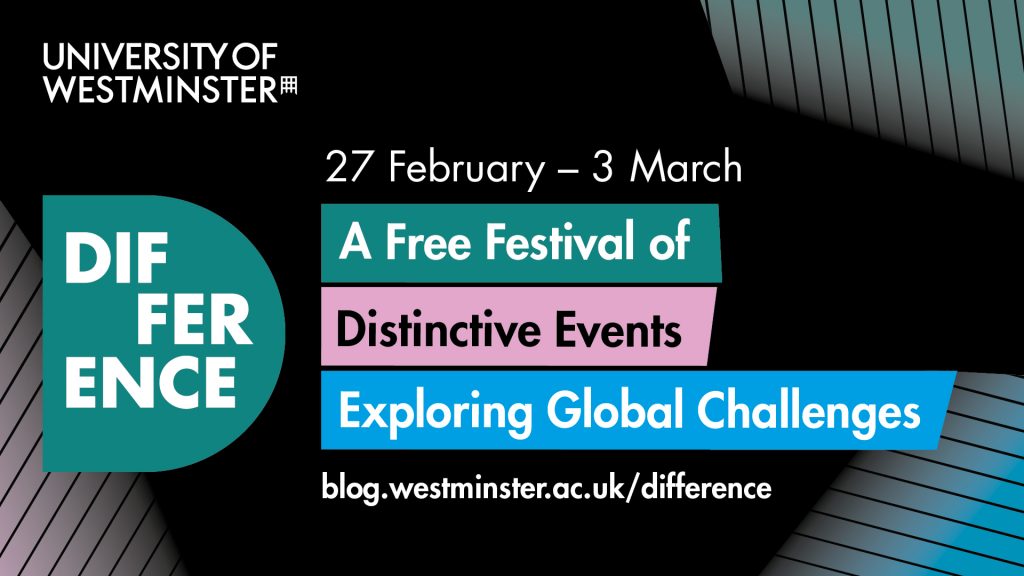 As we approach a new year, it is time to begin setting up for another Difference Festival!
In its sixth edition Difference Festival 2023 has grown even bigger offering a wide selection of thought-provoking events in a week-long programme that brings together our academic community with local business, NGOs, research collaborators, activities, and the general public.
This year, the Difference Festival focuses on global issues and explores how Universities can aid in gaining insights, knowledge, and tools to confront and facilitate solutions to existing and future challenges.  In a wide variety of event formats, from interactive workshops through concerts to film screenings and exhibitions curated by academic colleagues across the University you will be able to gain fresh perspectives and be inspired to tackle the global issues of today.
In 2023, we want to celebrate Westminster's place in our community. Our work has huge impact beyond the 'ivory towers' of academia, and we want to celebrate that! The festival will run from Monday, 27th February 2023 to Friday, 3rd March 2023 and will be a week-long blend of in-person and online events to showcase the outstanding research being done by our colleagues at the University of Westminster.
The week promises to be engaging and informative with colleagues from different disciplines across colleges with a chance for everyone to continue the conversation over drinks at the end of each day.
Further information about the programme and bookings can be found here.
Keep in touch with us at:
University of Westminster 309 Regent Street, London W1B 2UW General enquiries: +44 (0)20 7911 5000 Course enquiries: +44 (0)20 7915 5511 The University of Westminster is a charity and a company limited by guarantee. Registration number: 977818 England