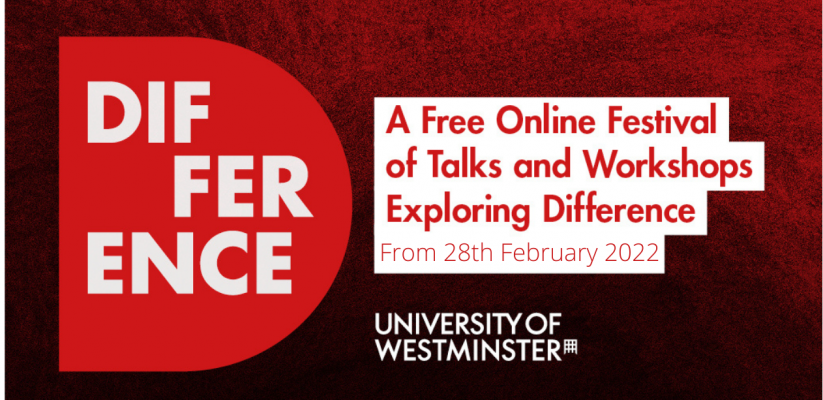 As we approach a new year, it is time to begin setting up for another Difference Festival!
The College of Liberal Arts & Sciences hosts the annual Difference Festival. This year, in the week of the 28th February 2022, we will host our 6th annual Difference Festival, and after seeing year-on-year growth since 2016, we are looking forward to further expand our reach and impact. The Difference Festival is our way to invite members of our community, our research partners and other external colleagues to join us on campus or online. The festival is designed to engage people in the research we undertake and celebrate the impact we have on wider society.
In 2022 we want to celebrate Westminster's place in our community. By creating a platform for our wonderful colleagues from across the College of Liberal Arts & Sciences to display, converse with others, and share their research or other works, we focus on how we, as Westminster, make our community a better place. As we aim to show Westminster's impact in the community, in 2022 we're particularly welcoming bids and commissioning events in collaboration with community groups and other partners from outside academia. Our work has huge impact beyond the 'ivory towers' of academia, and we want to celebrate that!
In 2021 Covid-19 may have required the Difference Festival to move online, but that didn't stop our continued growth.
While we are looking forward to a return to in-person events, we have also seen the benefits and improved accessibility of online delivery over the past year. In 2022, we plan on hosting the Difference Festival in a blended manner, with in-person events complemented by live streams and other suitable online accessories. So, whether you are craving social gathering or cannot fit these events in your busy schedule, we want to make sure you can get involved as much as possible.
Further information about Difference Festival 2022 will be posted and updated regularly, but in the meantime, if you're interested in contributing an event, talk or activity, register your interest here by the 3rd December. We are happy to hear your thoughts!