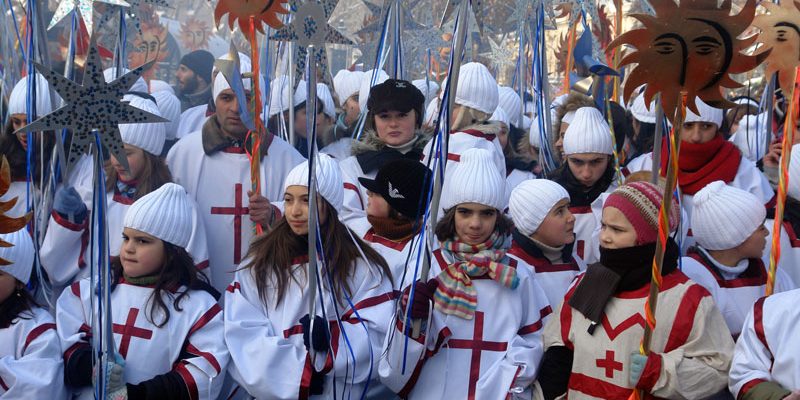 Imagine celebrating Christmas today on 7 January rather than 25 December like the majority of the world.
The festive season may already seem like a thing of the distance past for us here in the UK, but did you know that across 16 countries including my country – Georgia, Christmas is happening right now on 7 January?
We're not alone though, in fact there are 16 countries where Orthodox Christians are celebrating around the world today: Georgia, Russia, Ethiopia, Greece, Serbia, Eritrea, Egypt, Israel, Macedonia, Montenegro, Moldova, Ukraine, Belarus, Kazakhstan, Romania, Bulgaria.
Why Do I Celebrate Christmas Today?
The world today follows the Gregorian calendar (introduced by Pope Gregory in 1582). However, for traditional religious holidays in these 16 countries, the Julian calendar (dating way back to the reign of Caesar in 45 BC) is still used.
Due to the 13 day difference between the two calendars, 25 December in the Julian calendar falls on 7 January, when the Orthodox church celebrates Christmas.
To avoid confusion back in Georgia, we differentiate both Christmas days by referring to them as 'Old' and 'New'. Interestingly enough though, Georgia only considers 7 January ('Old') a Bank Holiday. Old but gold, I say!
Georgian Traditions!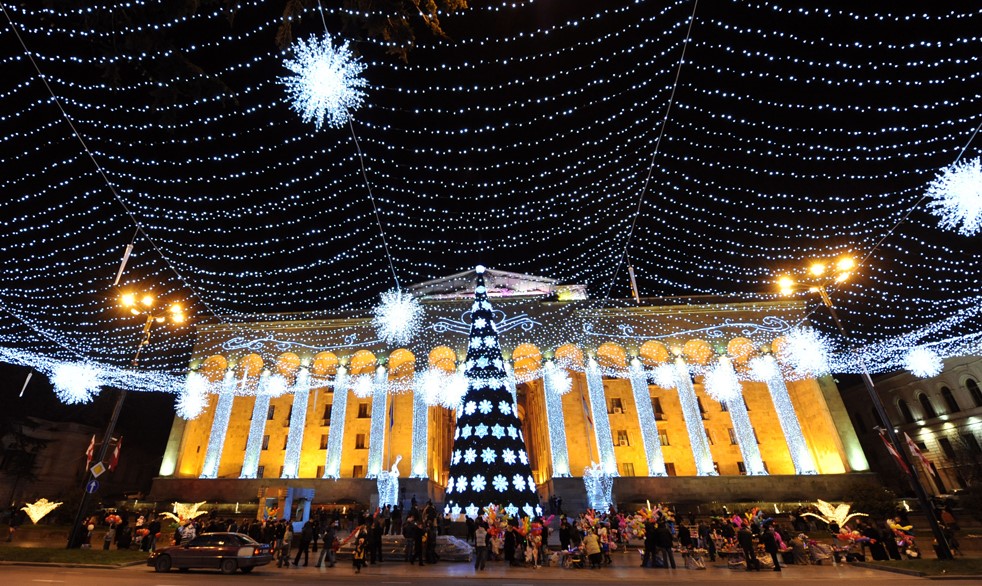 When growing up, my Georgian Orthodox family always taught me that Christmas has a huge religious significance. We are meant to commemorate the birth of Jesus Christ, but there are other aspects to Christmas, right? There's gift-giving, family gatherings, colourful decorations and of course, Santa!…well Tovlis Papa for us!
Where I'm from, all of the above applies to New Year's Eve celebrations. In Georgia, Christmas remains solely devoted to church service and procession.
These 16 countries following the Julian calendar share some common Christmas traditions. Nevertheless, each country maintains it's own very distinct traditions. Georgian culture for one certainly puts its own unique twist on Christmas celebrations.
Some unique traditions I found really interesting growing up in Georgia include:
1. CHICHILAKI – THE GEORGIAN TRADITIONAL CHRISTMAS TREE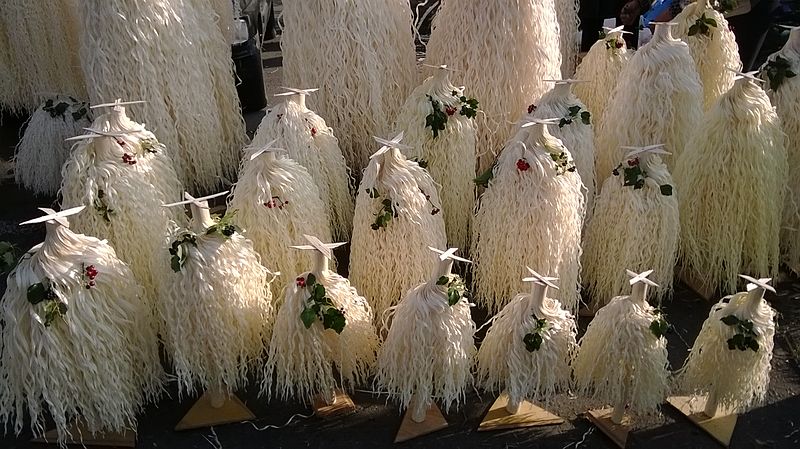 In Georgian tradition, families tend to have a 'Chichilaki' somewhere nearby (it's nothing like the 'Western' Christmas tree). For starters, it's white! Of course, you can still find a decorated evergreen (artificial) pine tree in every Georgian household. In contrast though, our Chichilaki is made of dried hazelnut or walnut branches shaved into long curly strips to form a small tree. It sort of looks like Santa's beard, if you ask me.
2. ALILO – TRADITIONAL GEORGIAN CHRISTMAS PARADE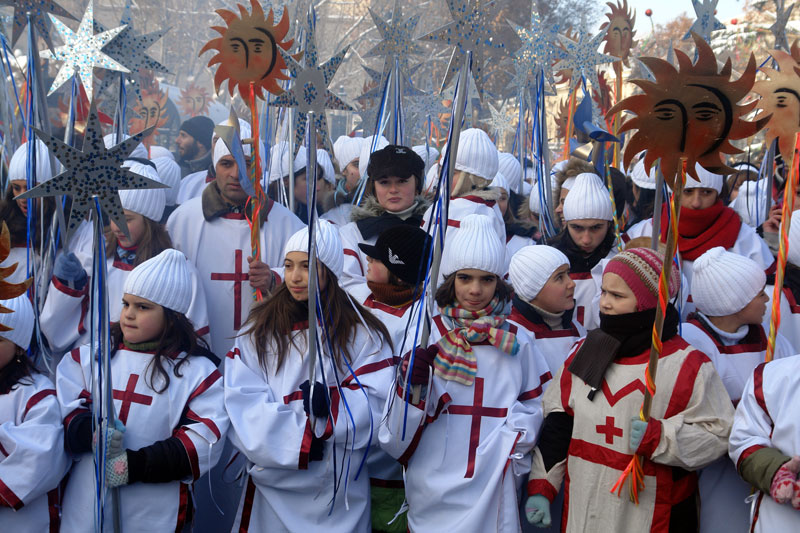 Every year on 7 January, thousands of Georgians across the country take part in a religious procession called 'Alilo'. Clergymen, parishioners and children dressed in Stikari (a traditional robe) carry crosses, icons and banners throughout the streets. Carols are sung, blessings are shared and donations are accepted from the public throughout the parade. These donations are later distributed to orphanages and people in need. So far, I've only managed to spectate this beautiful march, but one day I hope to join them.
3. TOVLIS PAPA – TRADITIONAL GEORGIAN EQUIVALENT OF SANTA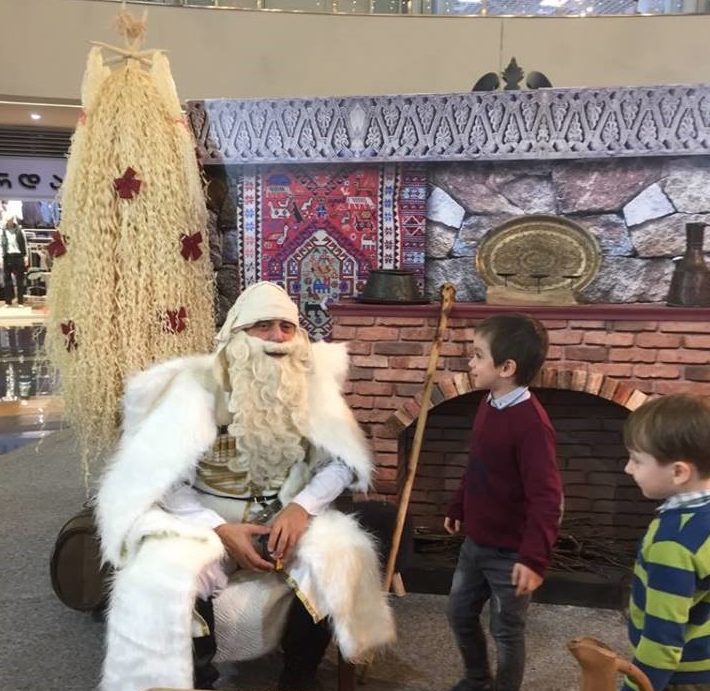 Normally dressed completely in white with a hat and a heavy, warm cloak made of sheep's wool. When translated, Tovlis Papa literally means Snow Grandpa. When I was little and had winter concerts at school, he would always show up bringing sweets and presents. Of course, if I'd been more mature for my age, I would have known that it was just a man in a costume! The real Tovlis Papa didn't have time to come to go to school concerts, he was too busy preparing for his trip on New Year's Eve…Yep, you heard me right…the Georgian version of Santa visits on New Year's Eve. Therefore, in Georgia, children wake up on the morning of 1 January expecting presents under the tree, not on 25 December.
Georgian Food at Christmas and New Year's Eve
The New Year's Eve feast for Georgians is very important. Georgians believe it reflects the joy and happiness that the upcoming year will bring. Each region has its own variation of the Georgian feast called a supra. Nonetheless, there are 3 essential foods that every New Year's Eve supra must have: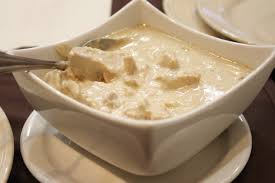 Satsivi – A dish with a thick paste made from walnuts, garlic, water and a combination of herbs typically eaten with roast turkey or chicken.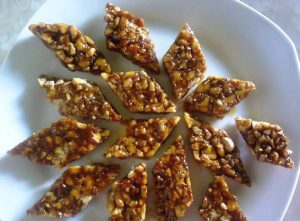 Goziniki – A confection of caramelised nuts, usually walnuts, fried in aromatic honey. Usually cut into flat rhombus shapes and eaten by hand. Careful though, the honey makes it very sticky!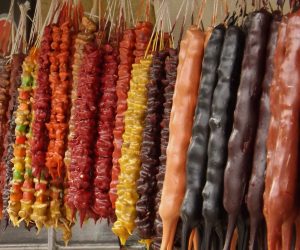 Churchkhela –  Almonds, walnuts, hazelnut and sometimes raisins are threaded onto a string. Next, we dip in Tatara (hot grape juice thickened with flour) and leave it to dry in the sun. We Make it towards the end of Autumn when we harvest the primary ingredients (grapes and nuts). Once it looks like a waxy candle it's ready to eat!
These 3 foods are pretty much mandatory parts of our New Year's Eve dinner, nonetheless, we eat them at Christmas too. As New Year's Eve comes first in Georgia, on 31 December, this is when the main big family gatherings and celebratory feasts happen. On 7 January we end up just eating whatever is leftover from New Year's Eve.
How Different Countries Celebrate Today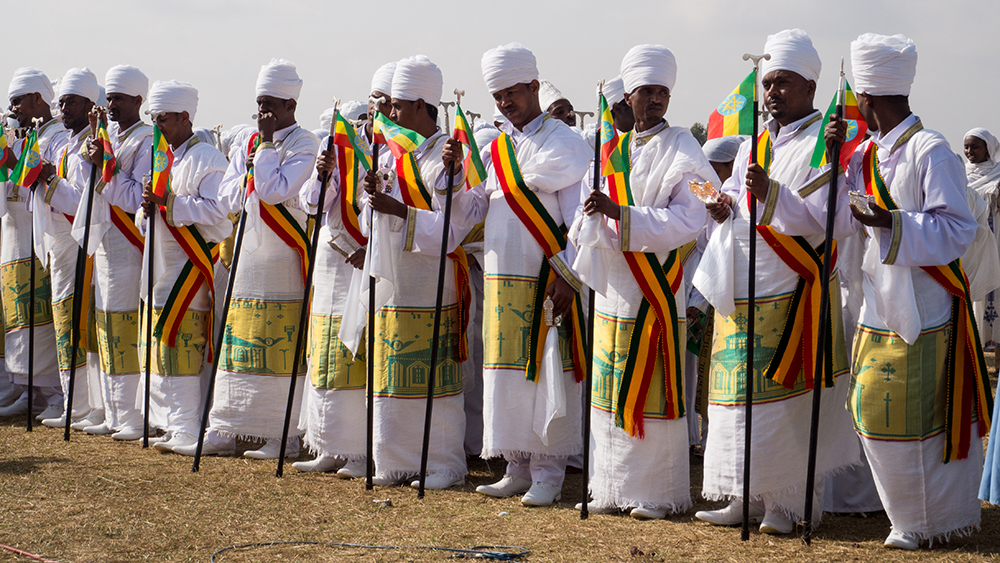 Some examples of how the 16 countries celebrate an Orthodox Christmas on 7 January.
RUSSIA | On Christmas Eve, we eat 12 courses representing the 12 apostles, including beetroot soup, fish and stuffed cabbages. Families attend Church and enjoy a Christmas feast.
EGYPT | Across the 43 days before Christmas (Advent), from 25 November to 6 January, Egyptian Coptic Christians undertake a special fast consisting of a mainly vegan diet. On Christmas Eve, Egyptians feast on meat, eggs and butter. On 7 January, people come together for parties and celebrations.
ETHIOPIA | Following early morning singing at Orthodox ceremonies and services, it's tradition for men and boys to play a game called ganna. This game involves a curved stick and a round wooden ball (similar to hockey).
MONTENEGRO | Amidst Christmas dinner on Christmas Day, families break a loaf of bread with a coin inside. Montenegrins believe whoever is lucky enough to possess the slice containing the coin, will receive good luck.
How about you? What unique traditions does your country have for Christmas and New Year's? Let me know in the comments!
Thanks for reading.
And to all my Georgian readers, გილოცავთ შობა-ახალწელს!
Salome
For this post and other blogs from International Students at Westminster please visit International Student Blogs.