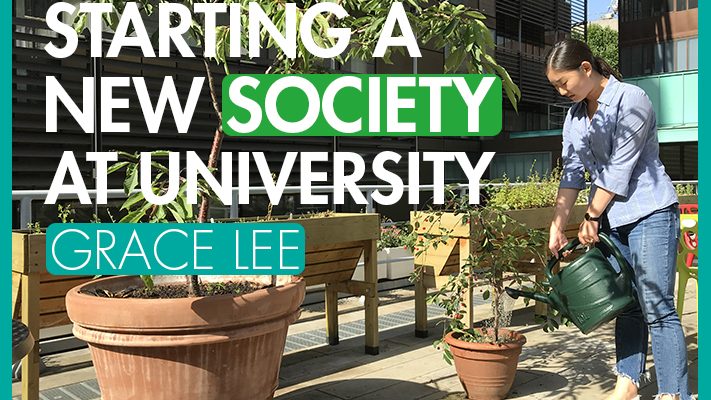 When I first stepped into the University of Westminster nearly three years ago, the idea that I would start and manage a new student society seemed a million miles away. That was something other people did, more confident people, not me. I was terrified and shy with very low confidence to the point I struggled to even say "hi" to anyone.
Building Self-Confidence
As silly as it may sound, I told my whole family that I wouldn't speak to anyone or make any friends during my time here. I was that nervous to start studying at university. However, through meeting the amazing people in my class that I now have the great privilege calling my friends, and from the help and support of such amazing staff members here at the university, I was gradually able to gain confidence and belief in myself to take on new responsibilities and try new things that I otherwise never would have done.
Discovering a New Passion
During my first year I had a lecture on Plant Conservation by an amazing lecturer, Niki Lawrence who was leading the Botany module. During the lecture I could feel myself becoming more and more passionate about the subject. I had such a great urge to do something about it! So many plant species are going extinct due to human activity. How could I not do anything about it, right? So I started looking for student-based environment societies within the university only to realize that there wasn't one already. I saw a great opportunity for me to start the society but I was unsure and nervous. I had never attended any society events or been involved with one in the past. But I knew one thing for sure, I didn't want to look back in one years time and the society be an idea of the past that I never pursued.
Towards the end of the academic year, I spoke with a couple of lecturers of my idea who were very supportive and encouraging to start the society. I also had many friends who were extremely supportive and excited about the society. We had several meetings to brainstorm ideas of what we would do and it was starting to feel more real. My new goal for one year's time became to win the 'Best New Society' award at the Student Union's annual Awards Ball. Despite having no idea how to run a society or to even organize events, I felt excited and motivated.
Launching The Environmental Society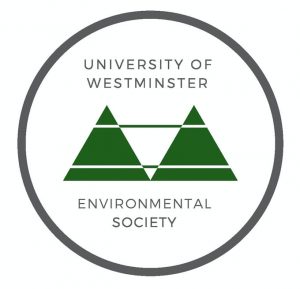 The summer quickly went by, like it always does, and it was nearing the start of the new academic year. I started organizing events and contacting external academics and people in industry to try to invite them to our university. Boy did I have no idea of how much time that would take! Leading to the start of Arrivals Fair I would spend whole days just sending and replying to emails. I had never done anything like this before! I had no idea of what I was doing, all I had was my passion and motivation. It turns out that sometimes that is all it takes to do something and the rest follows if you have the right attitude.
My lecturers put me in touch with different members of staff to help with the society. As a result, I got to meet and work with so many different people working at the university. Every single one of them was more than willing to help and support the society, even our Vice-Chancellor Dr. Peter Bonfield. He was extremely kind and supportive from the day I met him which gave me even more confidence and drive to work as hard as I could to successfully run the society.
Managing a Society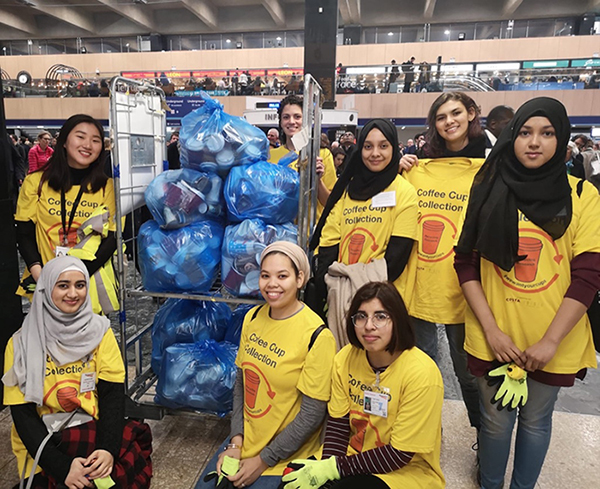 I would be lying if I said that running the society was easy. It highly depends on the outcomes that you wish for. I put my heart and soul into the Environmental Society project. As a result, I had one of the busiest years of my life. I was just starting my second year, which is said to be the toughest year for Life Science students, and I was trying to run a brand new society. I spent the academic year running around to different campuses for meetings, events, and lectures with very little time to study but I felt determined to not give up on any of my passions.
Of course, not all events went as I hoped or planned for. And although exhausting at times, starting and running the society was one of the best decisions I ever made. I believe it has been my most valuable experience so far, and I am so grateful for that. At the end of the day I am extremely proud of myself and the society for everything we have achieved and I am looking forward to doing it all again this upcoming academic year. And needless to say, our society won 'Best New Society' award at the 2019 Awards Ball!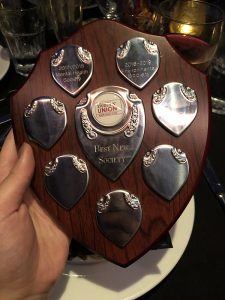 My Advice
I am a true believer in discipline and hard work which has always led to great results. Anyone can achieve anything with the right attitude and motivation. I would encourage anyone with what may seem like a small or silly idea to pursue it, but with the right mindset and attitude. And at the end of the day, even if you feel like you have failed, you will have gained so much through valuable lessons and experiences that will benefit you in so many ways. Believe in yourself and don't be afraid to seek for help, I promise you won't regret it!
For anyone that wishes to join the society or become a committee member of the Environmental Society, you can get in touch via email: en.soc@su.westminster.ac.uk. You can also follow us on our social media accounts:
Twitter: @enviromentalsoc
Instagram: @environmentalsoc
Facebook: www.facebook.com/groups/environmentalsoc/
Thanks for reading.
Grace