Hello, I'm Abel Tesfai. I work in the Research Environment and Scholarly Communications team within the R&KE Office as the university's Research Information Support Officer. With all the conversation ongoing around REF data, I wanted to take the opportunity to explain how we handle and manage research data, why we do so, and what your research information responsibilities are. 
My role covers governance and data collection processes to ensure research leaders, R&KEO and the University have up to date and consistent information across a broad range of indicators. Much of my work connects to other areas that support data collection and returns, including HR, planning and finance.  For example, I work with HR and senior academic staff to compile a list of current academic staff and identify researchers with significant research responsibility (Figure 1). 
I also support reporting and decision making through 1) my role as secretary to Research Committee and 2) the production of reports such as external bid (pre-award) outcome and international collaboration reports.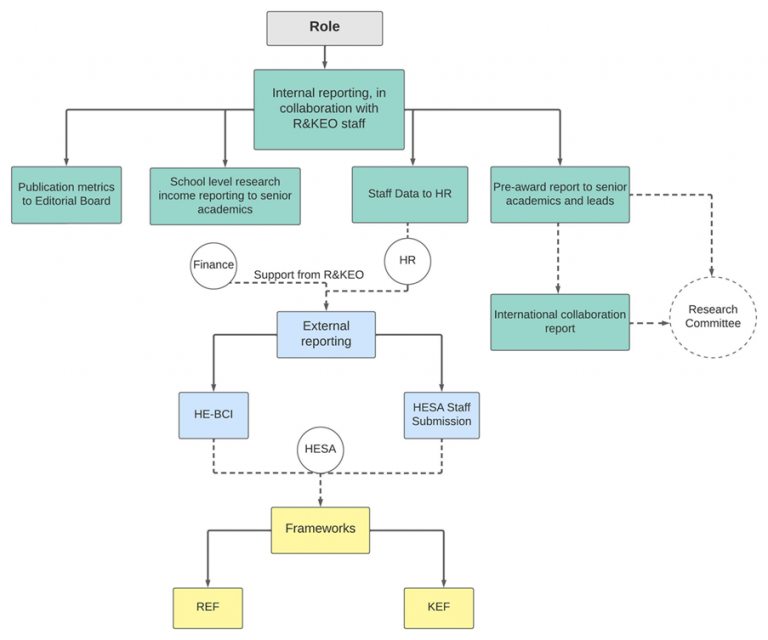 Figure 1. A description of my role and how the data I help collect feed into external reports and frameworks. My role focuses on internal reporting; this includes pre-award and international collaboration reports that I submit to Research Committee. Finance and HR also prepare two annual external reports/submissions known as Higher Education Statistics Agency (HESA) staff data submission and HESA HE Business and Community Interactions (HE-BCI) submission. Data submitted to HESA by HR and finance also feeds into frameworks known as Research Excellence Framework (REF), which helps to assess 'quality of research', and Knowledge Exchange Excellence Framework (KEF), which seeks to collect data on Higher Education Institutes' interactions with external partners, e.g. businesses, as a means of gauging whether knowledge is being used for the benefit of 'economy and society' (more details are here and relevant blog here).
What data do I have?
Data: As I work across different departments I hold data sourced from different departments/systems: (1) pre-award report (VRE) (2) research income data (Strategy Planning and Performance /QlikView/agresso/finance), (3) HESA staff data (HR). I also hold approved minutes of Research Committee, through my role as Research Committee secretary, in accordance with Chair – Pro-Vice Chancellor for Research.
Regularity: Pre-award reports are generated monthly, while availability of Research Committee minutes is dependent on committee(s) approvals. A research income dashboard is being created with a view to provide researchers with regularly updated data (daily), based on data feed between agresso and QlikView.
Accessibility: Access to this data is currently available to senior academics including Research Leads, Heads of School, Heads of College, and R&KE Directors, with approved minutes of Research Committee available to all academics.
In Development: Further work is ongoing between Strategy Planning and Performance and finance to synchronise QlikView dashboard with the agresso system to produce key performance indicators. One such indicator is the Research and Knowledge Exchange income dashboard, which can be filtered at College and School levels. It is hoped that this dashboard will enable senior academic leads to track income at School/College level and empower researchers to track spend against their individual project codes.
Limitations of pre-award report:
(1)  pre-award reports are snapshots of the number of bids made to funders and are based on date of VRE download within the current year (August to July). Consequently, a downloaded dataset will not include live projects, resulting from past successful bids (from previous years), even though 'live projects' designation is used within the VRE.
(2)   'income' figures in this report are provisional values and do not reflect actual spend. These 'income' figures are known as 'project income' i.e. total value of a grant as a whole, according to application and 'university income' i.e. the value of a grant that belongs to University of Westminster (which may differ from project income if we have collaborating partners in a grant).
Therefore, it is recommended that pre-award report be seen as a general indicator of i) engagement in research and knowledge exchange activities and ii) awards in pipeline, across Schools and Colleges.
Unlike pre-award reports, the upcoming income dashboards will display figures synchronised to agresso finance systems. This synchronisation will occur every 24 hours. However, a key limitation of this report is the lag in updates to journaling of all costs associated with a project including staff costs (based on e.g. time sheets), project specific costs and indirect costs.
Researcher reporting responsibilities
A lot of manual work is currently required to collect data for internal reporting, some of which are displayed in Table 1. Therefore, it is crucial that researchers consider their responsibilities in facilitating data collection to ensure accuracy of the data.
Report

Researcher Responsibility

Who to communicate with

HESA Staff return Data Submission

Communicate with line manager and confirm with HR 1) your employment function i.e. if you are teaching and research or research only staff and 2) if you undertake significant research responsibility

HR

Pre-award report

Examine if pre-award report includes all submitted and awarded proposals within date of VRE capture

 

R&KEO

 – inform Research Information Support Officer

Research Income/ general post-award data considerations

Keep 1) up to date timesheets and examine project expense to ensure there is no overspend/underspend and

2) email records detailing changes to start and end date of projects and any adjustments to how funder money can be spent

 

Principle investigators should communicate with i) Research Leads, ii) Business Partners, iii) Research Finance and iv) Post-award officer

Surveys

We strongly recommend that you engage with Culture, Employment and Development in Academic Research Survey (CEDARS) to support our collective efforts to adhere to Concordat to Support the Career Development of Researchers – see past Westminster blog post

R&KEO – Researcher Development Officer
Table 1. A list of reports/data that require input from researchers at all levels. Communications of data should be filtered through senior research leaders and submitted to relevant departments/colleagues including R&KEO and HR.
Latest posts by Joshua Mead (see all)