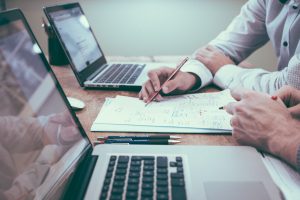 The event Towards open research; challenges and benefits of publishing raw qualitative data, organised by the Health Innovation and Wellbeing research community, in collaboration with the Health Innovation Ecosystem, aimed to present the concept of 'open raw data' and its benefits, but also explore the concerns and challenges qualitative researchers are facing when publishing their qualitative data. This event was initiated by Dr. Anna Cheshire, Psychology Research Fellow, after she and others faced these and other challenges.
We heard from Dr. Holly Ranger, Research and Data Management Officer at UoW, who explained the difference between research data and personal data, and contextualised open access as an ethical research principle which enables equitable access, increases research integrity and reproducibility, as well as preventing the spread of false information (such as in the case of an article in Lancet claiming that hydroxychloroquine helps prevent and treat COVID-19). Ranger pointed out that the University's policies follow funders' requirements, which encourage researchers to make their research data 'as open as possible and as restricted as necessary', paying special attention to consent and anonymisation. You can view slides from this presentation here.
Dr. Dana Rosenfeld, Senior Research Fellow at UoW's Health Innovation Ecosystem, who specialises in medical sociology, social gerontology, and qualitative methods, identified several areas of concern related to current expectations that qualitative researchers make their data publicly available. She discussed the difficulties of anonymising data to a degree that would make it unidentifiable when presented in full, especially as many qualitative researchers study groups that are tightly connected and whose members might easily identify research participants when reading full interview transcripts or complete field note data. Dana also considered the utility of data collected by other people, as much of the interaction that generated the data is not documented in the final transcript or set of field notes.
Finally, Dr. Bernadette Bartlam, Honorary Senior Research Fellow at Keele University, talked about why giving access to data matters, as well as the challenges and solutions of data sharing. Bartlam started by presenting the three main drivers for publishing raw data: research integrity, ethical imperatives and maximum impact, reiterating some of the points mentioned by Ranger. Research integrity, according to the UKRI, is reflected in honesty, rigor, transparency, open communication, care, respect and accountability; ethical standards in research are maintained through consideration of avoidance of harm, informed consent, confidentiality, and anonymity; while the maximum impact is reflected in research rigor and trustworthiness, extending conversations, building collaborations, building on existing resources and longitudinal data. By maintaining the three drivers, we aim to create a research culture based on openness and transparency.
Considering the ways of building on and publishing raw data, Bartlam pointed out different challenges that researchers are facing: autonomy (which is seen in the empowerment of participants, sometimes leading to them being co-researchers), confidentiality, anonymity, and processes. All of these need to be considered to avoid possible harm, which can present itself in the form of emotional distress to participants, stunning the research with protective mechanisms, set out by both the participants and the researchers, and by sensitive topics in general. As a solution to these, Bartlam suggests considering informed consent – providing information about the research, ensuring that participants fully understand the information, ensuring that participation is voluntary, and finally, giving participants the freedom to withdraw at any time without adverse consequences. Furthermore, great importance should be put on confidentiality and anonymity: the way information is stored and accessed, protecting participants' identity, and the way the information will be used.
We ended by highlighting it may not be appropriate for all types of raw qualitative data to be made open, but it is important for researchers to think about why their qualitative data should be made open and how this can be achieved whilst ensuring depth of data, anonymity and participant consent.
Latest posts by Rafaela Tripalo (see all)