Westminster Community Consultancy Programme (WCCP)
The Westminster Community Consultancy Project (WCCP) places a diverse range of University of Westminster students into consultancy teams, working with charities and businesses. WCCP allows organisations a cost-effective way to overcome challenges whilst providing a meaningful opportunity for students to use their skills and develop their employability and confidence.
We are currently recruiting for 10 Project hosts for 2022-23.
Programme

Dates

Project time

Number of projects

Autumn WCCP

19 October – 30 November

42hrs per student / 210 hours per team

6-8 projects

Spring WCCP

25 January – 15 March

 

48hrs per student / 240 hours per team

6-8 projects
Why host a Wesminster Community Consultancy Project?
Tackle problems that you may not have the resource of time to work on
Benefit from the skills, knowledge, diversity and enthusiasm of University of Westminster students
Make a positive impact on the employment prospects of young people
How does it work?
Student teams taking part in the programme are provided with a short project brief outlining the details of a particular challenge. The student consultants work on the project for a set amount of time, after which they present their findings and recommendations to the client in the form of a presentation and short written report. Students are paid £12.47 per hour and the programme can count towards the Westminster Employability Award.
Who can host a Westminster Community Consultancy Project?
Any charity, social enterprise, not-for-profit.
How much does it cost to host a WCCP Project team?
Nothing – the programme is free for all hosts.
What do host organisations need to provide?
Your staff time – we ask that each project host allocate a contact person to act as the host for their student team. Project Manager Helen Green will support the host to put together the project brief. We then ask the host to meet with their student team three times during the programme. This includes an initial set-up meeting, a mid-project check-in and a final meeting for the students to present their findings. The host will also be asked to be available to respond to queries from their student team if needed.
Read more below about the teams who worked with the Marylebone Project during summer 2022:
 WCCP Case Study Marylebone Project 
And read further below about the team who worked with Newington Green Alliance during summer 2022: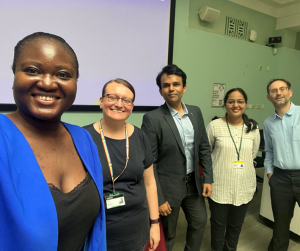 Latest posts by Joshua Mead (see all)