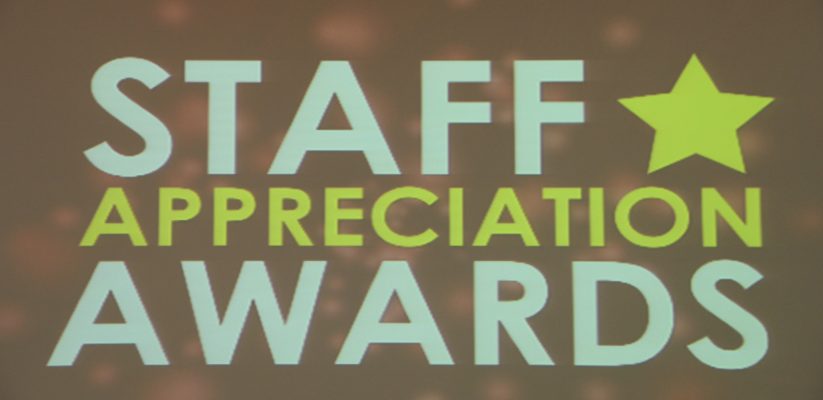 On 22 June 2016 Westminster Business School celebrated the annual Staff Appreciation Awards, an event organised by the Students' Union in recognition of the excellent contribution staff provided to students over the academic year.
Students had an opportunity to vote for three different categories: Academic Staff, Non-Academic Support Staff and Support Staff.
The event started with a welcome talk from Salsabil Sila (UWSU Vice President), who commented on the awards ceremony: "It's been a real pleasure working with members of staff at this campus. I have enjoyed the transition of becoming a staff member and becoming a member of your team. I am incredibly proud of all of you that have been nominated for your outstanding work."
Dr David Hitchcock (Westminster Business School's Dean) was also present and congratulated everyone.
Dean David Hitchcock very pleased about the comments about his staff pic.twitter.com/vkksqa1jnR

— Westminster Uni SU (@WestminsterSU) June 22, 2016
Dean of @uw_wbs Dr David Hitchcock congratulates all nominees at this year's Staff Appreciation Awards! pic.twitter.com/MNYz4K3HBG

— Westminster BSchool (@uw_wbs) June 22, 2016
Staff Appreciation Awards – nominees and quotes from students 
Twitter action
Westminster Business School and the Students' Union kept students in the loop by tweeting about the Staff Appreciation Awards.
Getting those awards ready for the Marylebone Staff Appreciation Awards pic.twitter.com/UjOWvEY9L2

— Westminster Uni SU (@WestminsterSU) June 22, 2016
Cecile Bingham takes the first award for her engaging teaching style

— Westminster Uni SU (@WestminsterSU) June 22, 2016
The 2nd non-academic award goes to Andre Tieni Vidigal for his encouraging blogs

— Westminster Uni SU (@WestminsterSU) June 22, 2016
Evgeniya gets one for being inspiring and her efforts "in creating a positive learning environment".

— Westminster Uni SU (@WestminsterSU) June 22, 2016
Luca Cacciolatti is known for his innovative teaching methods – and gets the award!

— Westminster Uni SU (@WestminsterSU) June 22, 2016
Marylebone staff appreciation awards in just under an hour @uw_wbs @uw_abe @uw_wbs pic.twitter.com/o2QOfNhgjf

— Salsabil Sila (@salsabila1991) June 22, 2016
Felt elated at the Staff Appreciation Awards today. Love what you do and reap the benefits 😀👍🏻#westminstersuccess pic.twitter.com/reNblWGcNs

— André Tieni Vidigal (@atvidigal) June 22, 2016
Feeling pretty chuffed: thank you @WestminsterSU @uw_wbs 😊 pic.twitter.com/mUrdFDgOS2

— Jeni Stokes (@Jayfercake) June 22, 2016
Congratulations to all the @uw_wbs staff and thank you @WestminsterSU for organising the Staff Appreciation Awards- such happiness!

— Anna Dolidze (@Dolidze_A) June 23, 2016
Outstanding Contribution to Student Experience
The winners of this category have gone above and beyond expectations of what a staff member should be. They have inspired numerous students in their academic and non-academic lives, and have created a sense of pride, support and community at Westminter Business School. There were up to 150 nominations for some of these winners, showing they have had an extraordinary impact on those students.
The three members of staff who won the award are Dr Tantawy Moussa (Senior Lecturer in Accounting), Gizem Morris (Visiting Lecturer) and Dr Ioannis Christodoulou (Senior Lecturer Business Strategy).
"I am absolutely delighted to have received this prestigious award. I would like to thank all my colleagues for their professional support and my students for their passion for learning…My teaching philosophy is to create a comfortable, valuable and professional learning environment, resulting in positive life-long memories, practical skills and information. I believe a great teacher has to be able to engage and inspire students in a way that plants a sense of commitment and passion to learning." (Dr Tantawy Moussa)
"I see myself as a student with many years of experience! With all respect and sincerity, I know that I could never learn from my tutors as much as I learn from my students.  I know what it takes to be away from loved ones and to spend nights in the library. My academic success is thanks to the inspirational tutors I have had, and I can only repay them if I aspire to do the same for my students." (Gizem Morris)
"I feel lucky because I found what I really love to do in life. I love teaching. It makes me feel alive and I enjoy it so much. This award means that the students seem to enjoy it as well. More than that, it is helping me to stay positive and keep on supporting my students when working hard under pressure…It also reminds me that our work has a great impact on young people and thus we must never forget we can help them shape their reality. It is a major challenge for us, to help students build the competencies so as to fight for their destiny. From the bottom of my heart, a great "thank you" to all the students that voted for me and my warmest wishes for a productive and happy life!" (Dr Ioannis Christodoulou)
---
Massive congratulations to all staff who inspired our students and were nominated in all categories. Hoping to see all of you again next year! 🙂
And of course, a big thank you to the Students' Union who have also contributed a great deal to enhance the student experience at the University of Westminster. You guys are awesome! Please keep up the good work 🙂
Above all, we would like also to thank those students who spared a moment of their time to vote for their chosen members of staff. You can be sure you made many people happy and have certainly boosted everyone's motivation to deliver the best job possible to all of you!
See more photos of the Staff Appreciation Awards.
Latest posts by Masood Azam (see all)