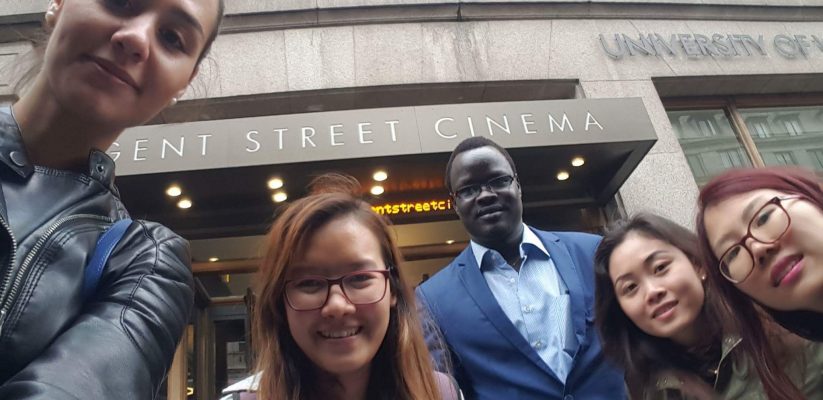 September is an extremely exciting and probably our favourite time of the year for everyone here at Westminster Business School. As a Postgraduate Applicant Officer I find this to be the case for two main reasons. First of all, because our new postgraduate students arrive to embark on an adventure of continuing their studies at Postgraduate level, and secondly, because our Marylebone Campus becomes bustling and full of life again after a couple of quieter months winding down during the summer!
@uw_wbs #PGTreasureHunt #TeamSchnitzel "Are the Beatles British icon enough? And how iconic are we?" 👬👬 pic.twitter.com/O1ByveNoyi

— Simon (@simonhagain) September 16, 2016
Wrong answer but a great post! (Courtesy of #TeamSchnitzel and Simon Hagain @simonhagain
Seeing you all finally here, after months of having spoken to you through a variety of channels and supporting you throughout the application process makes it all the more rewarding as we finally get to meet you face-to-face. It's also very inspiring to see you all excited and full of anticipation for what lies ahead and believe me – your positive energy is contagious!
At the same time, we realise that the decision you have taken to continue on with your education is not always a bed of roses, especially as many of you left your hometowns, travelled abroad or are now faced with settling into totally new surroundings. Far from being a light decision it is a brave and ambitious move and something you can all be proud of: the first step towards studying for your Master's degree.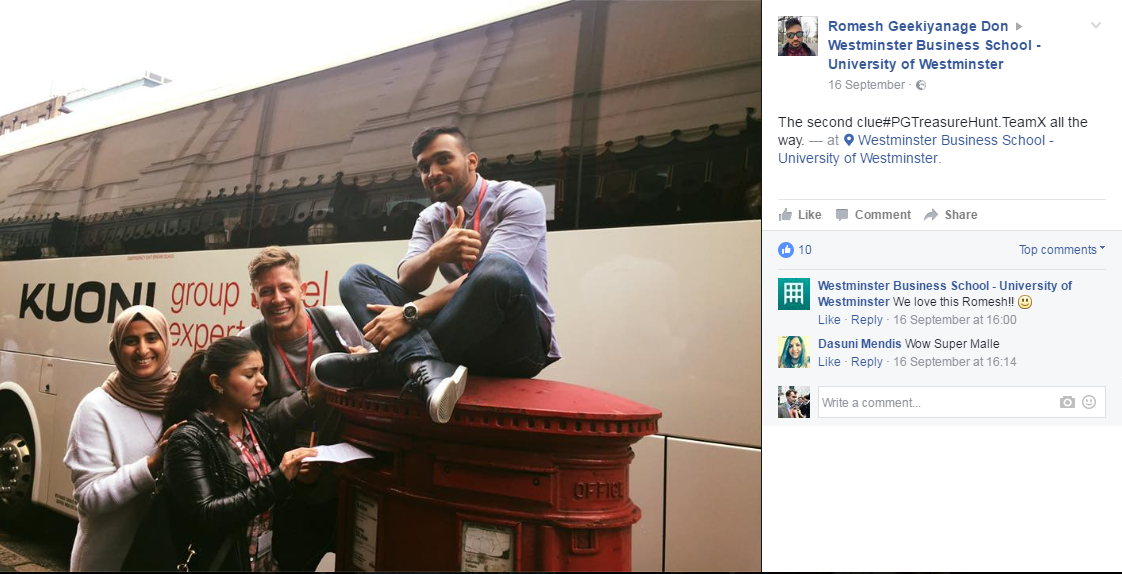 That's why, our team here at Westminster Business School decided to help you along this process of adjustment by organising the long-awaited "Getting to Know London" #PGTreasureHunt as part of your Orientation activities. It took place last Friday – your day 2 at University. Despite a very rainy morning and the looming prospect of a further downpour, the activity was a huge success and very competitive! Students who participated enjoyed a bit of fun and laugh while they explored our local area and hopefully made friends.
#PGTreasureHunt: the Rules Explained
The rules were very simple – after all newly enrolled students organised themselves into teams, each of them was given a map with a set of 14 clues corresponding to a site of interest located both on and off-campus and sent off to the local area to snap some amazing photos. Out on the trail they then posted the images on social media (Facebook, Twitter, Instagram) with the hashtag #PGTreasureHunt for our Social Media Officer – Jeni to track and monitor their progress. Right! This year we also worked hard to make the treasure hunt even more exciting by coming up with cryptic clues and hiding some treasure to be found by participating teams which gave them extra points!
So who won the Postgraduate Treasure Hunt?
There are two prizes to give away this year bigger and better than ever before!
1. Score – the main prize– 5 tickets to London Eye – To the team that scored the most points awarded for solving clues and finding treasure at select locations
2. Creativity: £100 Restaurant voucher to Zizzi – To the team with the most creative and imaginative social media post
So who did the prizes go to?
I am delighted to announce that London Eye tickets will go to team Eichhörnchen United who got 9 clues right in such a short time! So well done!
#PGTreasureHunt Eichhörnchen United pic.twitter.com/WqOgd5mzcw

— Diego Ruelas Mujica (@diegoruelas88) September 16, 2016
The winners: Team Eichhörnchen United found our Sustainability Bottles. Thank you Diego Ruelas @diegoruelas88 for this wonderful photo.
The second prize – for the most creative post we decided to award to "Watson up?!" who went out of their way to make their posts the most creative through their innovative use of Boomerang videos (an app from Instagram) and capturing the sense of fun that they had! We loved all the videos! This team also beat all the others to find two of the hidden treasure along the route – Sustainability bottles and University of Westminster Teddy Bears… Yay! – and were overall runners-up when it came to points-scoring.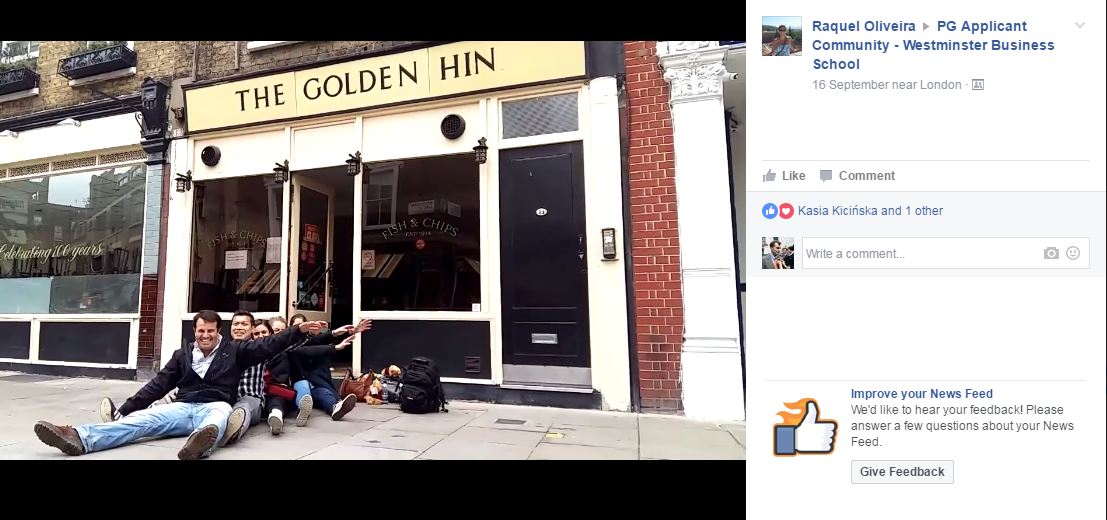 Congratulations to both winning teams – "Eichhörnchen United" and "Watson up?!" (Please get in touch with us on PGApplicantOfficers@westminster.ac.uk to claim your prizes) and well done to all those who participated. We hope you enjoyed last Friday afternoon and had a little bit of laugh and fun while making friends with your fellow team members! Good luck to you all for the year ahead!
Thanks to everyone who took part in this year's #PGTreasureHunt! We hope you enjoyed it 🙂 pic.twitter.com/MopQZjZ66j

— Westminster BSchool (@uw_wbs) September 16, 2016

Credits: various, @uw_wbs
This blog was authored by Kasia Kicinska with the editing work done by Joseph Coote-Cowling.
Supporting you throughout the application process.
Latest posts by Kasia Kicinska (see all)