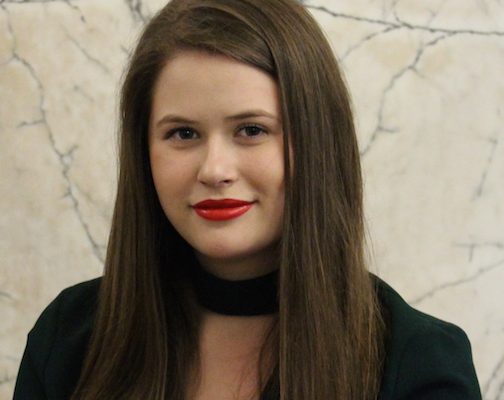 Hello. My name is Jana Skinjova. Currently, I am a final year Accounting with Management BSc (Hons) student at Westminster Business School. I joined Westminster Business Consultants (WBC) in my first year and I can honestly say that joining a Junior Enterprise (JE) has been such a unique opportunity that it's something I will never forget.
I came across WBC at Marylebone Fresher's Fair, and I remember that day as if it was yesterday. Alexander Matthew-John (International Manager 2013/14) pitched WBC to me that day and he explained how being a member would greatly enhance my career and employability. He also told me that it was a great way to get hands on experience while you study. I decided to take his advice and applied for a Finance consultant position and since then my involvement has grown from being promoted to Finance Manager (where I managed a team of seven people), to supporting WBC remotely when I did my year abroad in Australia, to working as Managing Director, which is where I am now.
Westminster Business Consultants (WBC) in a nutshell
Founded in 1995 by students at the University of Westminster, WBC is the oldest and most established JE in the UK, boasting its 21 years of reputation in consultancy services. As the representative member for the entire UK at the European Confederation of Junior Enterprises (JADE), (a non-profit umbrella organisation of associations across Europe), we encourage the Junior Enterprise Movement across the UK and beyond. WBC provides unique learning experience to its consultants by working on professional projects for start-ups and SMEs as well as multinational corporations. By getting this experience our consultants add practical experience to their theoretical skills and bridge the gap between academia and the business world.
Our vision is to be recognised on national and international level and this year we will be focussing on maximising our marketing output to raise our profile within the UK.
The services that we offer comprise of: Market Research, Market Consultancy, Performance Improvement, Digital Advisory, and Event Management. At the moment we are working on a market research project for high fashion manufacturer, Hermès.
The 2016/17 WBC team!
Earlier this month WBC held it's annual Handover Ceremony, which is a celebration of another successful year that has passed. All the stakeholders of WBC are invited to celebrate with the new team, comprising of Board Members, JADE, International Partners and Alumni. This year's ceremony was held in Fyvie Hall on Regent's Campus and we were very pleased to welcome friends and colleagues from our Partners, the Company Consulting Team (Germany), Junior ISIT (France) and Junior Enterprise HEG (Switzerland)

The Handover Ceremony is a great opportunity to introduce the new team of managers and consultants. The 2016/17 Management team consists of several motivated entrepreneurs. Gregorio Davico is International Development Manager, Diana Florea is Business Development Manager, Joemar Connie Carillo is Marketing Manager and last but not least Aleksandra Zwierzewicz is Human Resources Manager. In terms of responsibilities, each Manager has their strategy for the year that they are working to accomplish. This in turn is in-line with the strategy of the Managing Director. The success is driven by teamwork and I would like to take this opportunity to thank each and every one of them.
To join the consultancy team, there is a recruitment procedure that everyone must go through. However, the application process is very simple, comprising of 3 phases: 1. application form; 2: assessment centre; 3: interview. The recruitment this year has been successful, over 70 applications were received. WBC's team has continued to develop over the 21 years, growing from a team of 28 consultants in 2012, to a team of 45 in 2016. The team currently consists of individuals from 22 different nationalities, speaking 30 different languages and studying 10 different academic pathways.
Get in touch with Westminster Business Consultants
Now that you know what we do, if you are interested in any of the services that we offer and would like to hire WBC or find out more, please get in touch business@wbc-uk.com.
Latest posts by Jeni Stokes (see all)