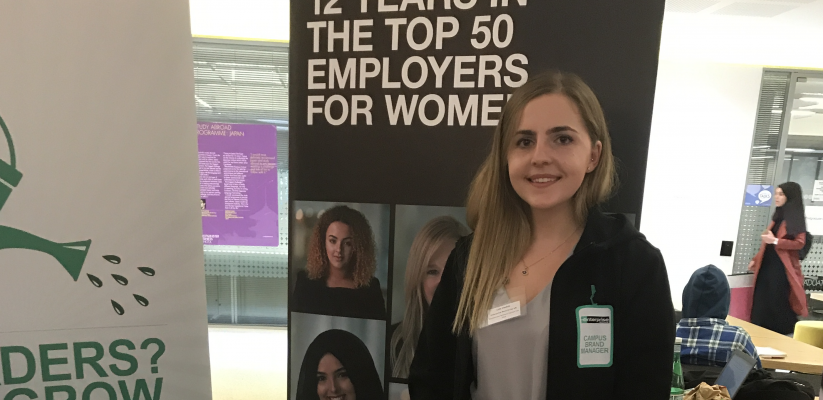 Please introduce yourself
My name is Lola and I'm currently in my third year studying BA Business Management at Westminster Business School. I was lucky enough to do an internship at Enterprise Rent-A-Car after my second year at university, and since being back, I've become a Campus Brand Manager.
Can you tell us more about what your role as Campus Brand Manager entails?
My general roles and responsibilities include promoting the positions available to students, helping students through the application process as well as being available for help and advice. Being a CBM, you do also have to network with the HR team at the company, as well as the Career Development Centre at the university, in order to get the word out about positions available. I have taken part in career fairs, lecture shout outs and even lead mock assessment centres. I have also been involved in the introduction of the Enterprise Car Club Challenge into the Marketing modules; this has involved me liaising with the department heads at university. Enterprise have also arranged on campus interviews for successful applicants and this means rather than needing to go to them, they come to you – making the interview stage hassle free. I also think it's important to be available for students as some find it easier to talk to another student, rather than send an email to the recruitment team. It's important students realise they can talk to me informally and ask me whatever questions they might otherwise feel they couldn't ask the recruitment team. 
I am very active on social media as well so make sure you follow me at @LolaERAC!
How did you hear about this opportunity with Enterprise?
I actually heard about Enterprise through the Engage website. I had not really considered it as a choice as it was not a company I was familiar with, nor was I familiar with car rental as an industry. After applying for many internship roles, I came across this one for Enterprise and the description really matched what I was looking for in a company; that being, it teaches you how to run your own business. After sending a cover letter and CV, within a week I had an interview booked at their Head Office.
How has being a campus brand manager help develop you?
Being a CBM has really helped me develop my networking skills as it is crucial to work alongside the HR team at Enterprise, as well as important people at university. My confidence has grown with the events that I take part in, such as the careers fair and the mock assessment centre. Organisation and time management have been crucial for this role as you have to handle applications, monitor the status of them and guide other students through the application process, all the while studying for my final year! There is a lot of responsibility in the role as I am representing the brand of Enterprise, so it is important to ensure I am leaving a positive impression on students of the company. All in all, I believe the skills I have developed contribute to me becoming a better manager, and this will help me in my career.  
What's been the highlight as a campus brand manager for Enterprise?
The highlight of the role so far would be the Mock Assessment Centre day we held in November. Myself and a HR Manager from Enterprise led the session where 15 students from various years attended. It was great to see the students engaged throughout and it was really fulfilling to be able to give them advice and tips on how to be successful at Assessment Centres. 
What projects are you currently working on with Enterprise?
As mentioned, we will be holding on campus interviews (14th December) so if you are interested in the role, email me your CV or apply through Engage! Also, the Enterprise Car Club Challenge will be implemented into a marketing module from next semester (so if you need any help with that, send me a message!). If you are looking for a Graduate Scheme or an Internship and want to know more about what we have to offer, please get in contact, I would be more than happy to answer any questions!
What would you say to anyone thinking about becoming a campus brand ambassador?
If you like a challenge, are confident with your time management and would like a chance to develop your skills, it is worth considering! It is definitely something that keeps you busy and also makes you stand out amongst your peers, as well as at your company. You do have a lot of autonomy whilst being a CBM, and you are encouraged to organise events to attract applications. Being a CBM is a big responsibility as you are representing the company you work for, therefore you must have a sense of professionalism. It is also great to have the opportunity to work with different departments at your company, as well as to network with people you otherwise wouldn't have met at university.
If you are interested in hearing more about the role and what the company offer, or if you would like apply for the role, here are my contact details:
Email: lolaveshta@live.co.uk
Twitter: LolaERAC
LinkedIn: Lola Veshta
---
Thank you to Lola for taking the time out to write this blog. Find out more about Lola's course in Business Management (BA). You can also find out more about the opportunities available to you via engage or book an appointment with the Careers Development Centre. 
Latest posts by Faye Murphy (see all)