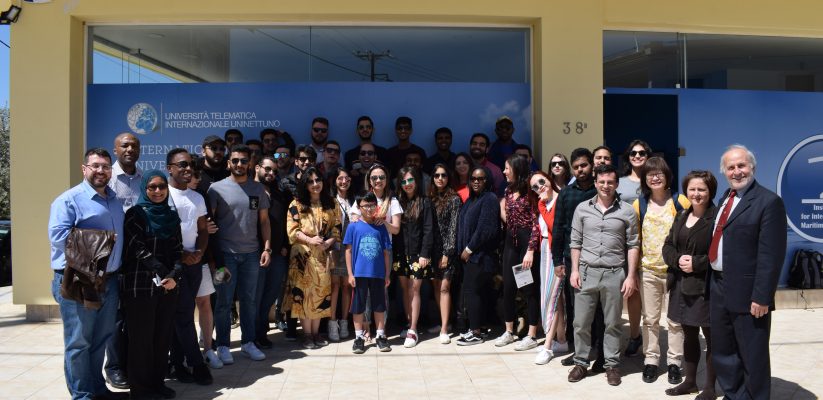 Hi! My name is Kasia and you might know me already as a Postgraduate Applicant Officer here at Westminster Business School. In the first week of April, I was lucky enough to join the Entrepreneurship, Innovation and Enterprise Development MSc students on their International Business Challenge trip to Athens, Greece. It was an intensive and fun week and one thing I can tell you right now is that they all had an amazing time so read on to find out how we all got on in this unique city!
Why Athens?
Found on the crossroads between East, West, North and South – Athens is one of the world's oldest cities and is often called the 'cradle of Western civilization.' You can find ancient monuments here wherever you go but Athens is not all about being rooted in the past. As we found out, the Greeks are actually very entrepreneurial by nature and you will find here a great mix of traditional small-scale businesses, tech entrepreneurs, and those with international connections and aspirations. However, almost 10 years of recession and the challenges it generated has certainly made Greece a testing place to do business. This made Athens a perfect setting for students to put into action their understanding of entrepreneurship and innovation as well as enterprise development theories.
Friday 6th April
Right! We start our day early – probably way too early for some, taking into account that all EIED MSc students had a very intensive week behind them. They had worked on their business ideas which culminated in a highly anticipated Let's Start Up! Westminster Pop Up Festival where they showcased their businesses in front of large audiences of investors, VCs, fellow entrepreneurs, journalists and mentors.
We spent all day travelling and finally arrived at Athens Avenue Hotel in time for dinner. Our hotel is actually located on Sygrou Avenue, one of the most significant and central streets of Athens and is a great base to explore the city throughout our stay.
Because it is already quite late when we arrive there isn't anything else scheduled for the evening but we don't mind – after all the check-in procedures and settling in, we just retreat to our rooms and re-charge our batteries for the exciting week ahead.
Saturday 7th April
Our first morning in Athens starts with a very insightful briefing session run by Entrepreneurship, Innovation and Enterprise Development MSc joint course leaders Luca Cacciolatti and Ainurul Rosli and a module leader Jane Chang.
To start with, students have a chance to reflect on their experience of Let's Start Up! Westminster Pop Up Festival highlighting what they have learned from their experience. Improvisation skills, creativity, pitching, relationship building and resource management are only some of the gains mentioned.
We then move on to our first cultural challenge of the trip 'Entrepreneurs at the Museum.' As part of the task, students assemble into seven competing teams, select a museum to visit and spend their day exploring the site and getting materials for their presentations the next day. The aim is to produce a graphic of their choice that would be reflecting their experience at the cultural place visited but also linking it to the unique experiences and activities students have been taking part in on the EIED MSc programme. Tricky! …And what a day it is! I join one of the teams visiting the Acropolis Museum and guess what?! We meet three other teams in the same place and just as I start thinking of how they will deal with 'the competition', they all decide to join forces and work on something that would blow everyone's socks off. What do they do? Well, I think I can reveal it at this stage – they work on the calendar recreating famous scenes from the Greek Mythology with each student in the group impersonating a Greek god or goddess. It is a very intensive but super fun day for everyone and we cause some raised eyebrows when recreating those mythology scenes (Lucky I am just taking the pictures!  😛 Phew!).
After the whole day out and about in the city, it's time for dinner. Everyone meets at the rooftop restaurant where we enjoy our meal and because our stay in Athens coincides with the Greek Orthodox Easter celebrations, it is a very special night with fireworks all over Athens, which we all watch together at midnight.
Sunday 8th April
Sunday is a full-on day again as we continue our cultural exploration of Athens. In their designated teams, students undertake a second Cultural Challenge titled 'An Entrepreneurs' walk through Athens' and their task for today is to look at Athens from the point of view of potential entrepreneurs who would like to invest here. The teams are also tasked with producing a short video capturing the excitement and dynamicity characterising their everyday life at Westminster Business School and on the EIED MSc programme.
Around lunchtime, we all meet in the hotel lounge where students are perfecting their presentations, graphics and videos. Then everyone gathers in the hotel's conference room for the big reveal. It really is an excellent evening filled with many laughs as students talk us through their experiences in Athens so far and their time on the course. We see amazing photos, videos, a calendar and even a comic strip and then in jolly moods and super hungry all head to dinner together.
Monday 9th April
With the start of the new week, we approached the core of our International Business Challenge trip. We woke up early and made our way to Markoupolo, a small town not too far from Athens where we visited the Institute for International Maritime Studies (IIMS)  which partnered with Westminster Business School in developing the activities undertook during our time in Athens. Here the students were welcomed by owners and staff of the institute who talked them though their history, operations, current activities and plans for the future.  We also found out that the IIMS was one of the business clients to work with during the business challenge coming up. This was then followed by opening up the floor for questions from the group. Students then continued their discussions with the IIMS during a lunch we had together at a local tavern.
After the lunch, we visited the local Olive Mill where we had a chance to see what olive cold pressing process looked like and to understand more about olive oil production. The visit was very interesting and sparked many heated discussions between members of our group and the company owners. Our budding entrepreneurs just flooded them with ideas and suggestions on how they could make most of their current situation and improve prospects for the future. They definitely got into that business challenge mode by now.
Tuesday 10th April
The day kicked off early with all teams meeting their assigned business challenge clients first thing in the morning. The businesses they worked with were Institute for International Maritime Studies, Peania Winery Cooperative, Tsomidis Hardware Store and Markopoulo Mesogaias City Council. They were briefed on the challenges faced by the companies and spent the day investigating into their problems.  In the meantime, Luca and I travelled between the various locations trying to capture how they got on.
The hard work continued upon our return to the hotel so we have also welcomed the dinnertime, which we enjoyed at a traditional family run restaurant.  It was a true feast not only for the body but also for the soul as the evening got very emotional with a number of heartfelt speeches by Luca, Ainurul and Jane as well as some of the team members. They've all reflected on the amazing adventure together during the first year of running the programme. The evening also marked the official start of the 24 hours International Business Challenge. Bring it on!
Wednesday 11th April
Pitch day had arrived. The students spent all day long on solving their clients' business problems and finalising the pitches. It was all blood, sweat and tears as all teams worked tirelessly to deliver the best results. In the evening, all dressed in their finest attire, they all looked incredibly professional as they got to present to their clients and the panel. We were all very impressed by the quality of work that was presented and that's including the clients themselves! They will be definitely taking on-board many of the suggestions offered and some would like to continue working with our students as consultants to get them where they want to be. It really is a statement to the quality of teaching that the Entrepreneurship, Innovation and Enterprise Development MSc deliver as part of its highly practice-led programme.
Our evening concluded with a delicious dinner we tucked into at  Savvas Restaurant as we enjoyed the magnificent view of the Acropolis. It was particularly striking to view at night, when illuminated.
Thursday 12th April
Our last morning in Athens was the most relaxing of all as we were all left with some free time to explore the city and finally visit the ancient ruins of Acropolis – the centrepiece of ancient Greece and modern-day Athens. After a few hours of explorations, last photographs and souvenir shopping we all grabbed some lunch before having to say goodbye to Athens and head back to London.
Thank you to course leaders Dr Luca Cacciolatti and Dr Aunurul Rosli and module leader Dr Jane Chang for organising such a wonderful trip. Find out more about Entrepreneurship, Innovation and Enterprise Development MSc on our website. You can also view the rest of the EIED MSc in Athens album over on our Facebook page and check out our trip highlights on Instagram. Make sure to follow us as we update our stories whenever we're away on an exciting trip just like this one.
Supporting you throughout the application process.
Latest posts by Kasia Kicinska (see all)