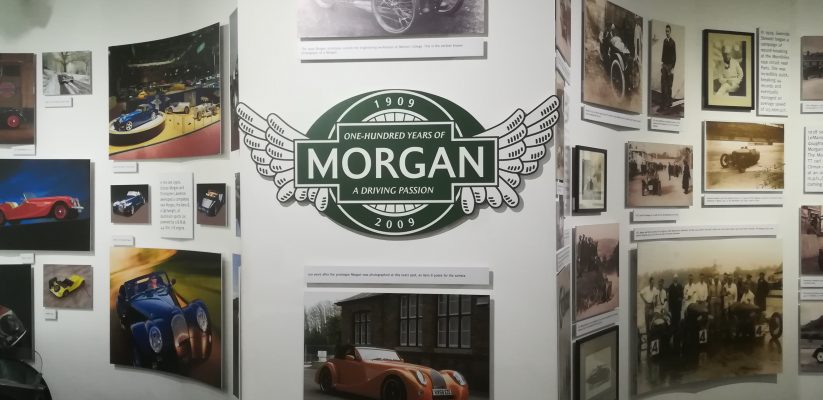 MA/MSc Marketing Management Students Visit the Morgan Car Factory In Malvern
MA/MSc Marketing Management students at the University of Westminster visited the Morgan Car Factory in Malvern. The purpose of the company visit was to observe marketing practices in the real world.  Students learned about Morgan sports car concept from a product and brand management perspective including how the data, understanding of consumer behaviours, marketing mix and strategic planning all come together in creating ideas, invention and reinvention.
We were charmed by Morgan's craftsmanship, heritage, innovation and exquisite quality. The unique production process underpins a powerful long-lasting emotional connection with the visitors and no doubt with their customers. We were all given a piece of Morgan to take home. You probably know what it is, if you visited Morgan before. To find out what some of our students thought of this great day out, read on.
Students' view: Jainam
"It was very new and exciting for me to see how a traditional, yet modern car factory works and provides for their customers. Morgan has a huge history backing them. They try and keep alive with every car that they produce. What I really liked about Morgan is that they value their customers the most and keep their expectations always on top. I also picked up a phrase used by our tour guide, where he said: "We always under-promise and over-deliver".
All their cars have a wooden in-frame made of only one particular kind of wood. Therefore, it has raised a question about their future in reference to depleting forests. The tour guide mentioned they had enough stock of that type of wood and it would last for two years even after the complete supply of wood has been stopped. It was fascinating to see how well they have planned for future and managed their stock."  
Jainam Shah, MA Marketing Management
Students' view: Yaping
"The visit to Morgan car factory not only gave me tremendous pleasure and excitement but also a precious chance to get insights into a company's history. I also learned a lot about how they manage a world-known car brand and products.
I'm so grateful to be part of this exciting journey arranged by the University of Westminster."
Yaping Wang, MA Marketing Management
Students' view: Zheyu
"The tour guide told us that the customers can come in with their families to watch how their cars are being made. What's more they even have an option to sign their names on their cars! I thought this is a very successful marketing strategy. Besides that, the company creates an emotional connection with their customers and their family members. At the same time, they perfectly demonstrate the manufacturing process and the quality of their cars to their consumers. These dynamic marketing tactics generate revenue resources, which also come from the tourism industry, cars for rental and sales and the souvenir shop. They all generate revenue for the whole business.
I was also impressed that the Morgan cars are only produced when they received orders from the customers. This rareness and the uniqueness make them stand out from the mass car production. They target customers very precisely. What's more, Morgan produces the fastest and the lightest cars in the world but they can be driven on the roads. That's why Morgan cars satisfied many people's dreams to own a fast car. Comparing to other luxury cars, their price is much more affordable for most people who want to own a luxury sports car. " 
Zheyu Liu, MA Marketing Management
---
Thanks to Dr Donna Mai, Jainam, Yaping and Zheyu for taking the time to contribute to this blog.
Find out more about their course on MA/MSc Marketing Management course pages. Read more stories on Westminster Business School Blog.
Supporting you throughout the application process.
Latest posts by Kasia Kicinska (see all)