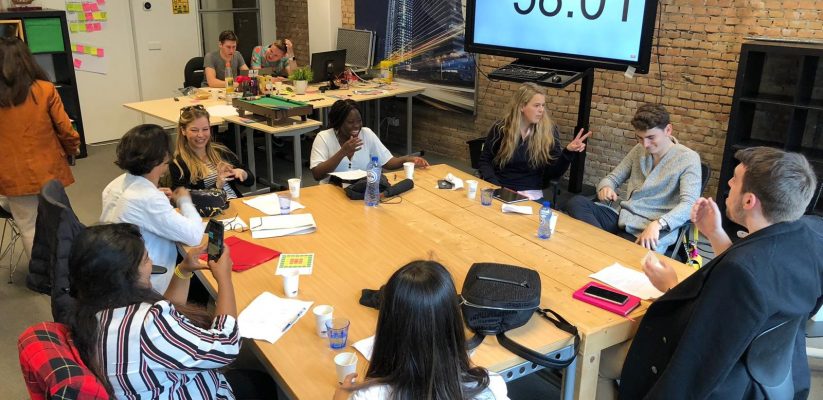 In June 2019, a team consisting of 8 Undergraduate Entrepreneurship students, went on a learning expedition at the Saxion University.  Teaching staff accompanied students with the aim of the expedition being learning and sharing programme and teaching approaches.
As part of the experience, our students and staff got to meet and speak to those of the Saxion University. Thanks to this visit we've gained an understanding of what they have done and how. We looked at the types of businesses students have started, both individually or in teams. We've learned how they collaborate and come as a team with students on other courses across the University. On top of that, we took part in a 24 hour business challenge researching into Dutch products.
I think we can reveal, that as a result of this time together, The Saxion University are very interested in a partnership with The University of Westminster. We are looking towards this collaboration between our teaching staff and students. We would like to share the details with you, so, watch this space!
So, what did we get up to?
We had a very packed agenda!
Over the few days, we visited the Centre of Entrepreneurship at Saxion, including their FABLAB which many students utilise for the products (students there study applied science so there are also production facilities available).  It was very interesting! Especially, seeing how students collaborate across the schools, working in multi-disciplinary teams to make their projects and businesses work.  We've learned what their students do to embark on their business. Not only their business conception but actually setting up and running their companies.
Our students took part in business challenges so we could see how they engage in entrepreneurship.  Their challenge was to research the local area, finding a product that could be brought back to the UK. They were not limited to the products only though, and could include idea, service or experience. They also needed to put together a business plan that could be actioned and present it. It was very productive and intense! Our students came up with possible hot food vending, healthy Dutch pancakes to be sold in different ways and through a variety of channels, as well as, a modified dress with different styles and uses.
What's more…
We've also met with the management team of the Saxion Univerity Centre of Entrepreneurship to discuss all things entrepreneurial and any plans for the future. From a teaching perspective, we've realised there is a lot more flexibility if results can be seen.  Their programmes appear to branch out from courses such as innovation, creativity, technology and then incorporate entrepreneurship as a result of demand from students. This makes them very popular and international. It was interesting to see that some of our teaching approaches were similar and others very innovative given resources. There was so much food for thought here, thinking about how we can make our programmes more innovative and beneficial to our students, both Undergraduate and Postgraduate.
On one of the evenings, we attended a Dragon's Den style event run by students from the two main universities in the city (Saxion University and University of Twente). The event featured a panel of entrepreneurs and students who'd pitch their ideas in front of them. It was very helpful to our students to not only speak to their peers but also to see the pitches (and they were in English too!).
On top of all that, we also managed to sit in a class titled 'Thinking Differently'. It was a pleasure to see how the University reached out to students to make them look at things around them from different ways and perspectives!
Huge success!
Our study trip to Saxion University in the Netherlands was a very insightful and inspirational experience. We delved into a novel pedagogical context, learnt a great deal from our exposure to Dutch culture and the innovation and entrepreneurship experiences taking place at Saxion University. Our students valued the opportunity to learn from the new market they experienced.  We found the new products and services developed by the students and faculty at Saxion were very interesting. They helped us think about new ways of developing our work at the University of Westminster. We believe we have made the best out of our short visit to Saxion University and hope our discussions about future collaborative activities will result in a continued relationship which will hopefully provide our students with more of such excellent experiences in the near future.
Mr. Brandon Bourne, graduate of BA Entrepreneurship course: 
"I really enjoyed the day overall, it was eye opening to see how the Saxion University operated and seeing what organisations they foster within the incubator. I loved the tour, and speaking to the founders and business members working on their different projects really excited me on how I can do something and bring a product to market, in not that much time. The fact they started (most of them) in February and had achieved as much as they had, impressed me!
The challenge also was great, being able to walk around and explore the town centre, it gave me a lot of inspiration for the challenge, and equally the projects that I am working on currently. I felt touched the most by the commitment and the drive the students had, and the passion they all had to work together towards a common goal. That was very nice to see."
Miss. Courteney McLune-Calvin – Graduate from BA Entrepreneurship course:
"The visit taught me a lot about the drive of people. Especially, how fast they can accomplish tasks from ideas to creation.
Something else I picked up was how creative one person or a team could be without limiting their ideas. It seems like that type of open space builds the foundation and culture of innovation, which then breeds entrepreneurship. Going forward for myself, I'd like to create a personal space, where entrepreneurial ideas have no boundaries and limitations. I want to see what I can create from that."
Miss. Emma Montanari – First year, BA Business Management and Entrepreneurship (Pathway) course:
"The whole trip has been very interesting and stimulating to me. On some occasions even too much and I felt a bit overwhelmed at times. The tour of the Saxion University facilities helped me to understand their approach. However, during that day, I felt like their entrepreneurs all knew the technical knowledge necessary for their start-ups; I have the business knowledge to manage a company but not the technical skills to invent something like they did. The Dragons' Den pitches reassured me that great ideas could definitely come from people with no tech knowledge. This trip has demonstrated that a good network, a good brainstorming process together with a strong willpower are good factors for an entrepreneur to start from."
Any similar events happening in the future?
Saxion University Centre of Entrepreneurship teaching team and students will be visiting University of Westminster in November during Global Entrepreneurship Week.  Here, they will join in with a number of activities that we will devise with our entrepreneurship students. More details coming soon!
---
Our sincere thanks go to Martijn Derkzen, project leader at the Saxion Startup Center. Thank you for organising an excellent range of workshops, meetings and other activities. We would also like to acknowledge the valuable input from Dorien in the FabLab, Romy Smeding, Edith, Rose and Vera and Dr Andre Roos in management. Special thanks to Dr Vincent Rich, our Entrepreneurship academic staff, Irene Brew-Riverson, Supin Hussain, Neil Botten, Dr Nattida Srisaracam and the Entrepreneurship students for your support and contributions throughout the trip and to this blog.
To find out more about our Business Management BA (Entrepreneurship Pathway) please visit our website.
Supporting you throughout the application process.
Latest posts by Kasia Kicinska (see all)