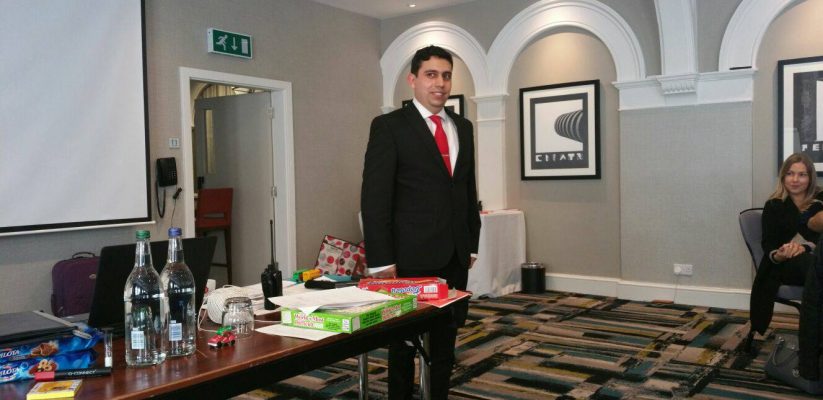 Westminster Business School PhD Candidate, and Visiting Lecturer Marco Cuvero recently had the distinction of having his work published in a journal. This happened even before completing his doctorate as a research student. The article examines the effects of knowledge, incubators and accelerator programmes of high-tech start-ups on product innovation.  An 'Early Access' online version of Marco's article was published this July in the IEEE Transactions on Engineering Management Journal and will feature in the upcoming print edition:
Cuvero, M., Granados, M. L., Pilkington, A., & Evans, R. D. (2019). The Effects of Knowledge Spillovers and Accelerator Programs on the Product Innovation of High-Tech Start-Ups: A Multiple Case Study. IEEE Transactions on Engineering Management, 1–14. Retrieved from https://ieeexplore.ieee.org/document/8766138/authors#authors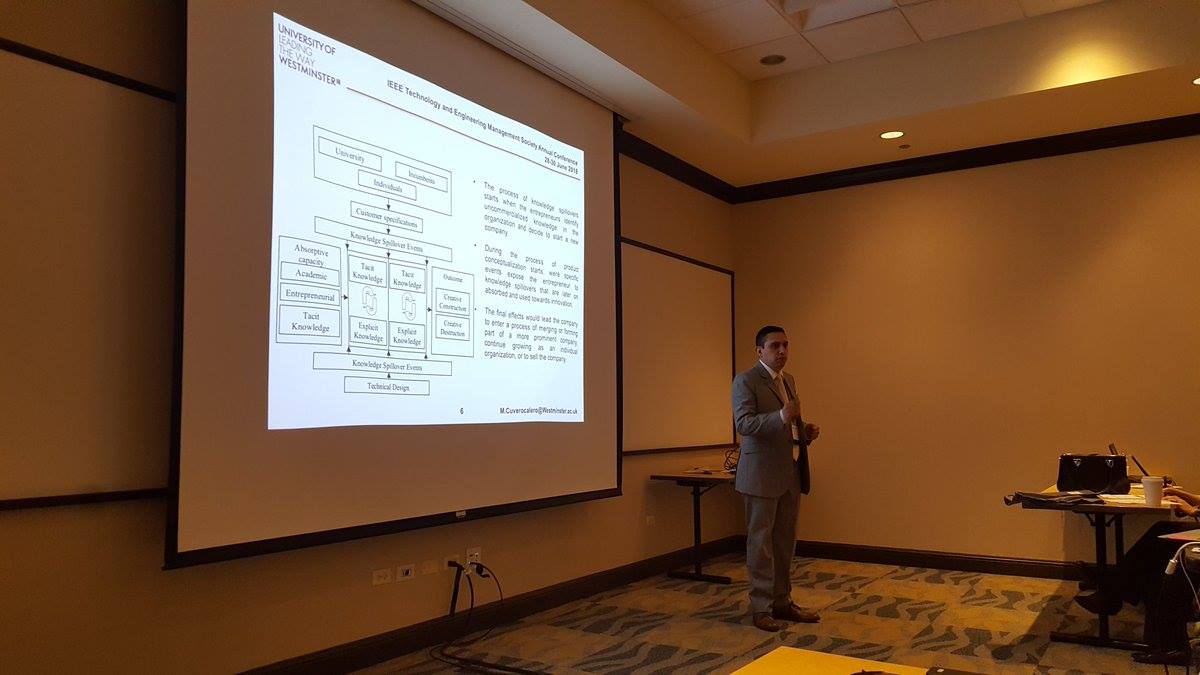 Marco studies and teaches as a PhD candidate within the School of Applied Management, Westminster Business School under the joint supervision of Dr Maria Granados, Prof. Alan Pilkington from the University of Westminster, and Dr Richard Evans from Brunel University London. He has now completed his third year of study. Marco moved to the United Kingdom from Ecuador in 2015 to pursue an MSc in Project Management. While at Westminster, he also took professional qualifications in PRINCE2® and AGILE PM® Foundation and Practitioner. We interviewed Marco to congratulate him on his academic success. He speaks about his achievements to date and what it is like to study for a PhD at the University of Westminster.
Tell us the story of how you came to make the move from Ecuador to study in London. Why Westminster? Why Project Management?
At that time I was working for Santa Bárbara EP – SBEP in Quito, Ecuador. The company is an arm of the Ecuadorian Government and develops official security and defence projects. My job as a project coordinator there was to plan and design projects in this policy area. Most of the products aligned to this endeavour were related to the procurement of military and police equipment such as armoured cars, bulletproof vests, ammunition and mobile structures. During my career, I realised that there was a specific body of knowledge that I needed to master, to enhance my project management skills and formally enter the profession. Hence, I decided to pursue a Master's degree in project management at a University on a course that held project management accreditations from professional bodies and provided an excellent teaching experience.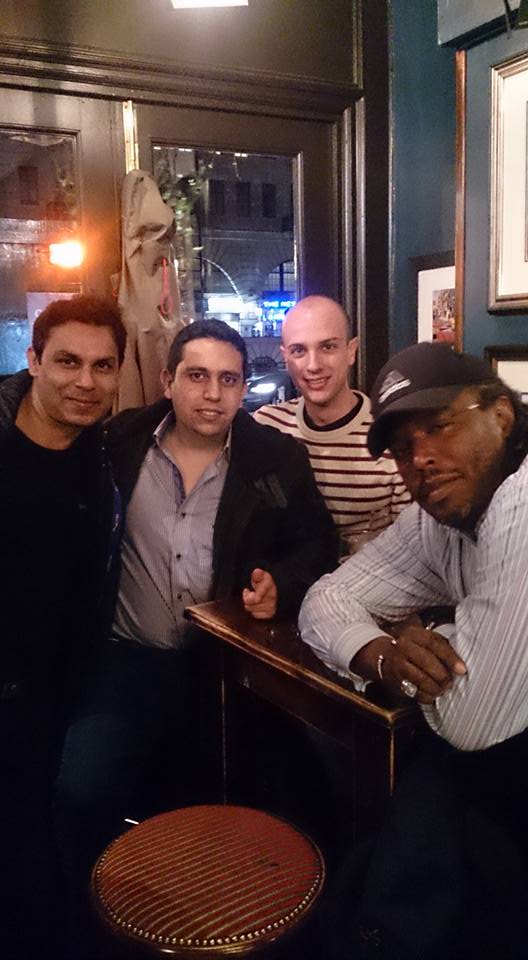 After much research, I found that the Project Management MSc taught at Westminster Business School matched all my academic and professional requirements. Westminster is located in one of the leading cities in the world: London. Going into my Postgraduate studies, I was clear in my mind that taking a Master's in the United Kingdom would open new opportunities for me to enhance my network and enable me to gain relevant industry experience.
After successfully completing your MSc in Project Management, what motivated you to continue as a PhD student?
Handing in the "Project Management Project" or Master's Thesis is a compulsory requirement for students to complete the MSc. It asked of me a rigorous, in-depth level of research. At the same time, the experience provided me with insights on the value of conducting research and the opportunities that it could avail me the future. At that point, I realised that my calling was to continue expanding my knowledge to help entrepreneurs develop start-ups through project management.
I often took the opportunity to meet with my supervisor Dr Maria Granados, who afforded me invaluable advice as a mentor which, in turn, greatly influenced my eventual decision to pursue a Doctorate. Furthermore, academics at the University of Westminster were always open to discuss my research. Constructive dialogue amongst peers helps you to develop your ideas. Therefore, I decided that this institution and the supervisory team of leading experts was the right environment to take my PhD. My aspiration was to start working towards my career as an academic and future high-tech entrepreneur.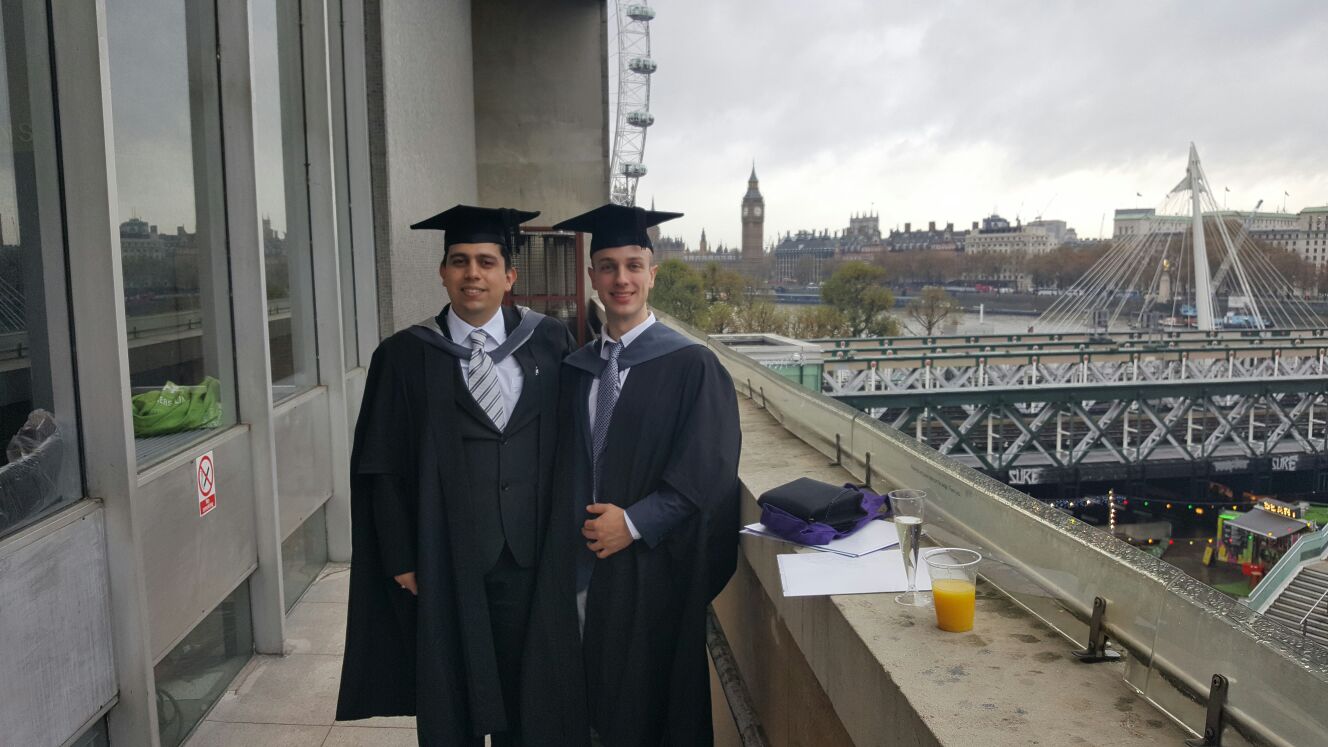 What tips would you give to doctoral candidates in the field looking to get their research published? What experience is necessary to study for a PhD and to get published and teach?
When you begin the research degree programme, you have to be willing to push and learn new things. Therefore, the first piece of advice that I would give new PhD Candidates is to be clear about the broader societal implications of your work. Think about the ways it might affect the lives of other people. PhD students must believe from day one that they can attain a doctorate, be successful lecturers, and get published. Like anything in life, resilience and a support system to recover is essential to keep moving forward and remaing positive.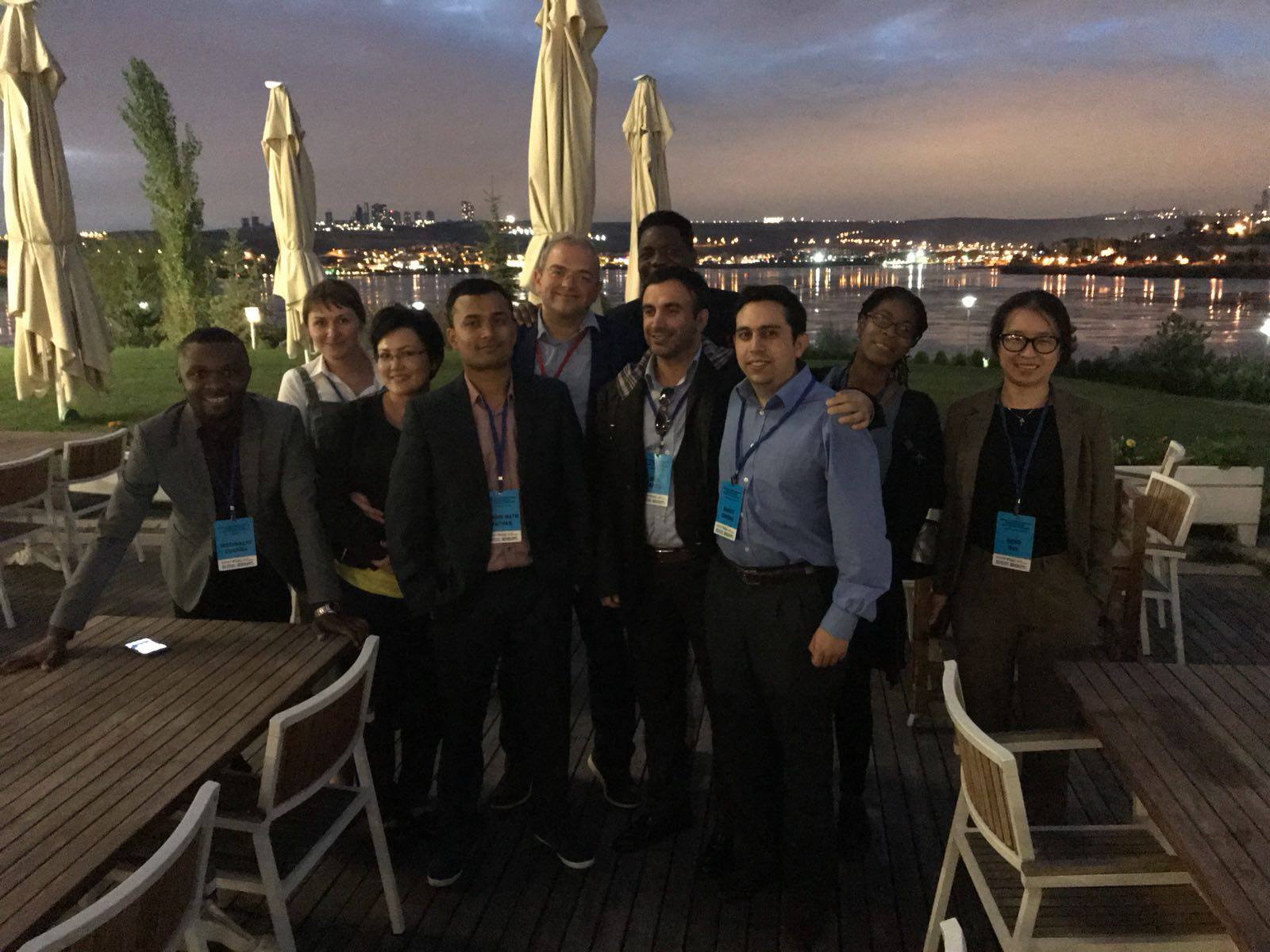 Regarding academic publications in major journals, one must first have a clear understanding of your research area. Determining which path to take will lead you to start preparing conference papers and present future research ideas for peer-review. Once your academic skills have developed, you can then select an academic journal aligned to your discipline, methodology and objectives.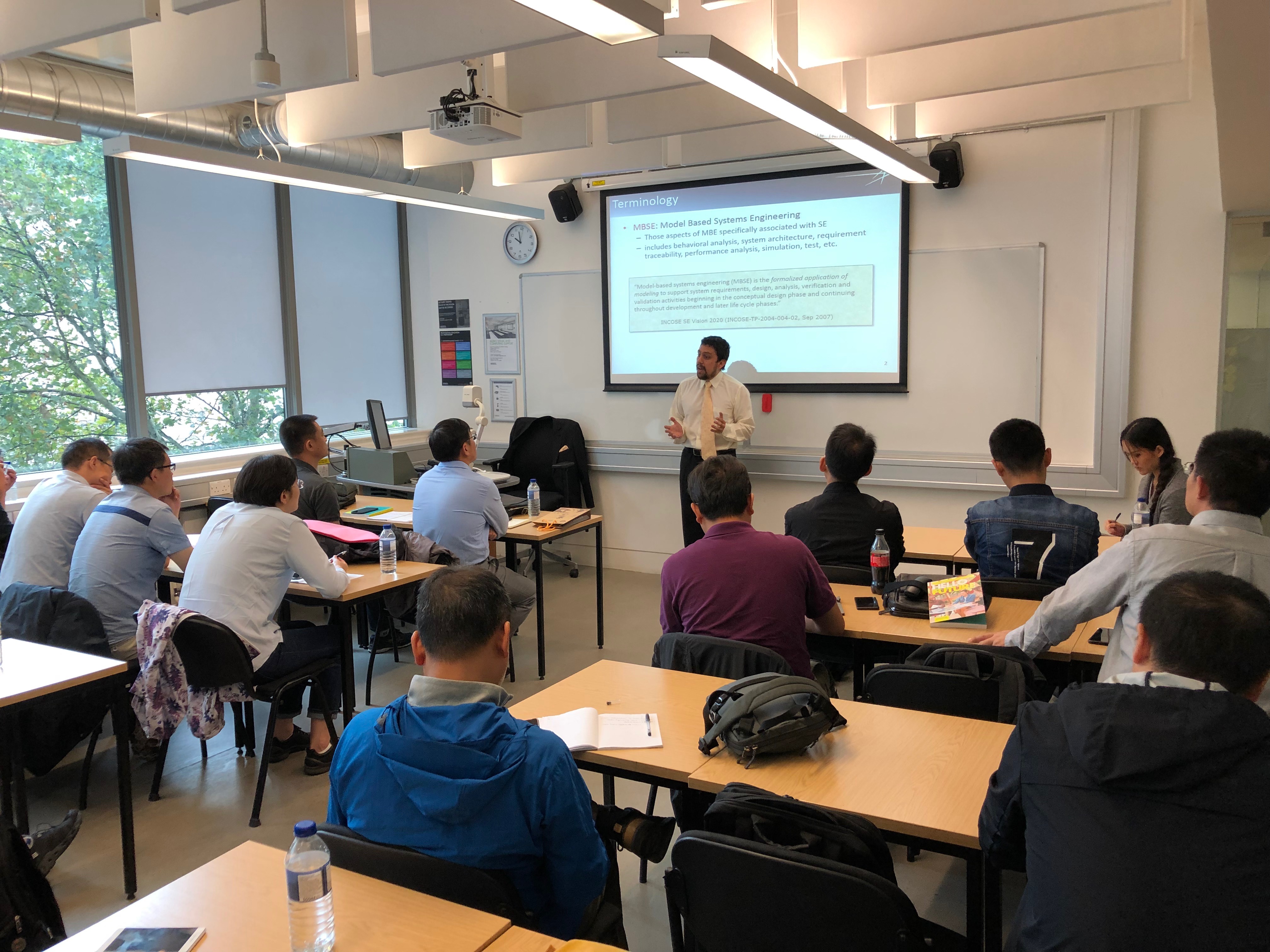 Once everything is in place, you can start writing your journal article during the data collection and research stage. It can thereby form part of your PhD dissertation. Finally, I firmly believe that it is always worth pursuing these opportunities. Since, even if a paper gets rejected, the experience and feedback will prove invaluable for your research. And whilst you may not succeed on your first attempt, whatever happens you will learn and gain from the endeavour.
You emphasise the importance of teaching while a research student. What are your teaching commitments for the coming academic year?
It is important to continue developing your academic skills in both a research and a teaching capacity. In this regard, I would recommend to take up teaching quite early into your PhD. Not only is it rewarding experience but you will learn how to become a lecturer and enhance presentation skills. For this reason, the University provides numerous teaching opportunities and training for PhD students.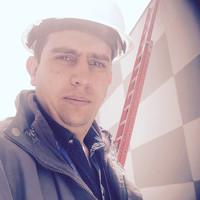 I am the new module leader for the Statistics and Survey Methods for Transport on the Transport and Planning Management MSc. The module provides an introduction on how to use statistical software to analyse secondary data from the transport sector. Lastly, I am open to providing supervision and support to students. This is mainly in the areas that match my expertise: project management, strategic management, research methodologies and digital business.
WBS Blog Content Manager
at
Westminster Business School, University of Westminster
Latest posts by Joseph Coote-Cowling (see all)