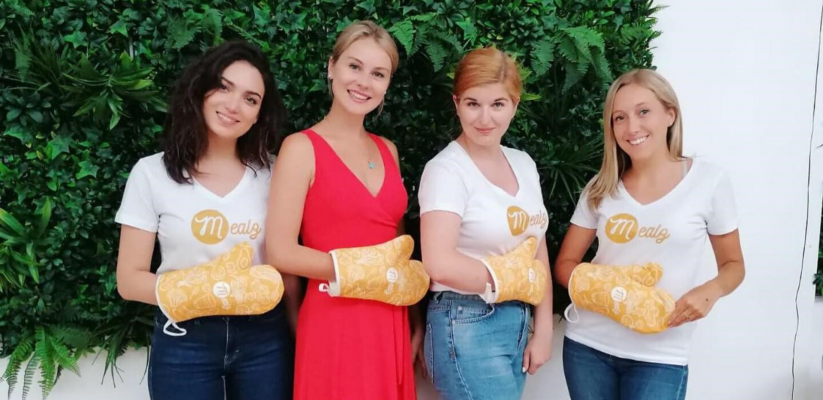 I believe that eating healthy is one of the most important activities for the well-being of humankind. That's why, for the past few years, I have been passionately building a digital platform that enables people around the globe to discover healthy recipes and to 'eat healthy' by making smarter food choices.
I've been in the healthy food industry for the past seven years. My first venture was LabOrganic – a juice shop in Covent Garden. It was an incredible experience to hear stories from people about how food habits cure illnesses and transform lives.
However, I wanted to take my passion to the global scale, instead of a single store in London. And that led to the birth of my current business – Mealz.
Mealz is a digital platform for recipe marketing. My company offers a number of products that allow food businesses to grow through recipe marketing (see more at business.mealz.com).
We also operate a consumer website with thousands of recipes, called mealz.com, serving millions of impressions to a global audience. It's a sophisticated platform that allows content creators to share their recipes, cookbooks, and meal plans, and allows users to consume the information with ease.
I am often asked if I ever make use of the knowledge and skills I accumulated during my master's degree while at work, or elsewhere. My answer has always been resoundingly positive because I found the course to be very practical. Even if I am not using the theoretical knowledge so frequently and religiously, the soft skills that I learned are immensely helpful and inevitably applicable to everyday activities in my life and at work.
I graduated from the MSc Marketing Management course, at University of Westminster, Westminster Business School, in 2017. Two years later, I am still returning to my lecture slides and notes, re-evaluating and refreshing my memory on the vast number of things that I learned during the course.
Here is a narrative about my personal experience, and how one of the modules that I felt was superfluous during my master's unexpectedly helped me get back on the right track with my business and created many new opportunities for the start-up.
University of Westminster: How it all started…
I established Mealz just before I enrolled in the master's programme. Building on my passion for healthy eating and my wish to empower millions of people to make healthy choices, I started building a smart recipe platform, now known as Mealz.com, and had launched the minimum viable product (MVP) before starting my course in Marketing Management.
My decision to join the master's programme at the University of Westminster was mainly guided by the desire to enhance my skills, empowering me to build a massive global business. I was excited to embark on an academic journey once again, and keen to apply learnings from the course as I took my product to market.
Fast forward two years: the knowledge and skills gained from the course not only met my expectations but also became invaluable assets in the development and deployment of my business.
During my master's…
Once I had launched my MVP, I started working with food bloggers, nutritionists, and a few chefs. At this early stage I had many hypotheses to test and hurdles to overcome. Going through the master's programme at the same time offered invaluable help to me as an entrepreneur — I was gaining new perspectives daily from the various modules on the programme.
To give a few practical examples, my two favourite modules were "Integrated Marketing Communications in a Digital and Global World"  and 'Using Consumer Psychology to Understand Buyer Behaviour". Not only was I naturally adept with the concepts of the subjects, but I could also apply almost everything I learned in the classroom to Mealz.com.
The "Marketing Research Insights" module gave me confidence about asking people for feedback about Mealz (even though this wasn't something I could apply at that time, due to the lack of customers).
The knowledge gained during the programme was extremely helpful in getting my business off the ground. Immediately after graduating, and to my surprise, I was advised by my trusted mentors to complete another master's degree at University of Westminster, this time in Entrepreneurship, Innovation, and Enterprise Development.
What happened after my master's?
After finishing my studies, I focused full-time on Mealz. It was growing organically and we already had more than 130 content creators, thousands of recipes, and up to half a million page views per month. The platform was consistently growing and I was happy about it.
At some point, though, I started to think that growth had stalled. Aiming to discover new avenues for growth, we started testing new products, working on different recipe marketing solutions for brands (through business.mealz.com), expanding into new markets, and even initiating an idea of launching our own events.
Everything was exciting and engaging, but I no longer had a clear picture and understanding of the value we could deliver to our clients and partners.
That was exactly when my mind wandered back to the articles and lectures from my "Marketing Research Insights" module. This was the module that I had not understood the full beauty of during my studies or in the initial phase of my business.
The idea of conducting professional marketing research guided by the "Marketing Research Insights" module occurred to me, and inspired me to take a different approach. It included arranging interviews, organising focus groups, and creating professional surveys for Mealz authors and all the food brands that Mealz was working with.
The lecture slides, notes, and online articles that I had downloaded while taking the course were not just useful, but critical for growing my business. The knowledge from these invaluable lectures and articles helped me in structuring focus groups, framing and planning questions, analysing the collected data, and applying the data findings to come up with relevant recommendations.
Value beyond the skills
 For my dissertation, that included an extensive research in artificial intelligence used in marketing, I won an award from the Worshipful Company of Marketors. Not only did this dissertation allow me to go deep into the topic of my choosing, but winning the award increased my confidence in my ability to deliver outstanding results in everything I do.
It's while I was writing that dissertation I truly understood the process of conducting a professional, deep market research, – a skill that I often use in running my business.
This combination of learning, and recognition for the work that has been done, allowed me to set a very strong path to achieve my personal mission, and build a leading digital platform in the food industry that is already touching the lives of millions of people.
The experience of going through the two masters' degrees at the University of Westminster taught me to be resilient, and helped me to understand that there is a solution to any challenge on the path to a global success.
'Nothing is a waste of time if you use your learning and experience wisely,' said the father of modern sculpture, Auguste Rodin. I strongly believe in these words, and experience the power of my education every day.
I am excited to use the academic foundation I have been given to make a lasting impact on the food industry. 
---
Thank you so much to Sofia Fominova for sharing your success story! To find out more about our highly popular MA/MSc Marketing Management programme at University of Westminster, Westminster Business School, visit our website and follow Marketing at Westminster on our Westminster Business School blog for more stories.
Supporting you throughout the application process.
Latest posts by Kasia Kicinska (see all)