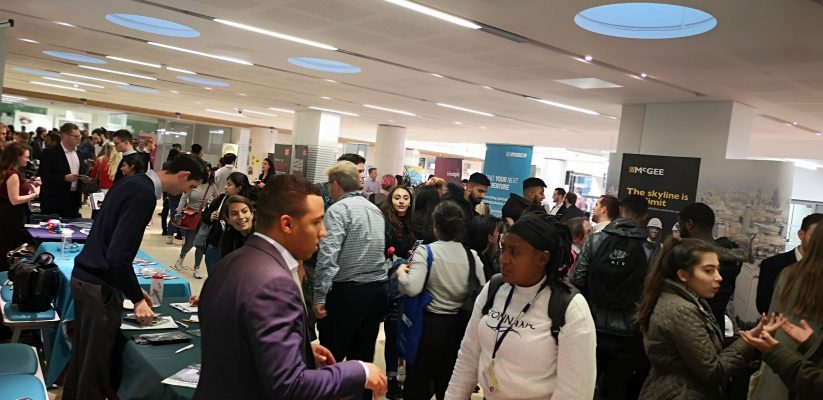 The School of Applied Management and our Careers and Employability Service were proud to host the annual Property and Construction Careers Fair this October. The setting was our very own the Learning Platform at Marylebone Campus. This evening event had an "after work" feel and was an amazing opportunity for students to meet leading employers in the property and construction sector and learn first-hand about their organisation. Around 40 employers were represented at the fair. CBRE, Mace, JLL, Barratt Developments plc, Bouygues UK, Savills, Carter Jonas and Grainger plc were just some of the many companies with a presence.
There were a range of employability opportunities to explore of relevance to students on all our BSc (Hons) Property and Construction courses, at all levels of undergraduate study: placements, summer internships, graduate schemes and positions. Our students gained exposure to the industry through the recruitment teams of leading companies and got the inside view from currently employed graduates.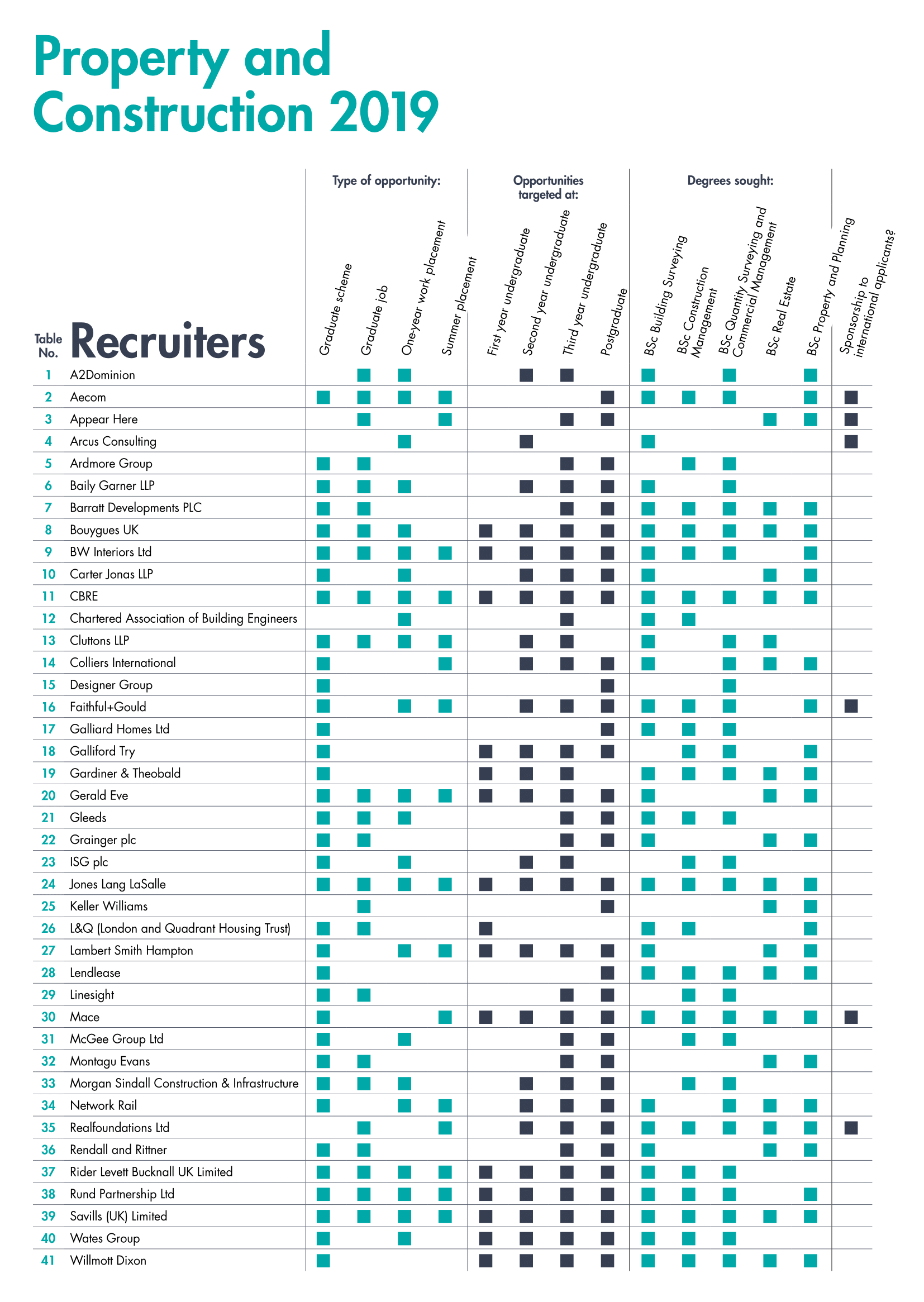 Employability panel discussion: Inclusive Recruitment Practices
Diversity and inclusivity were overarching and pertinent themes of Employability Month this current semester what with an Inclusive Careers Fair on the official programme calendar. For this reason, the evening began with an apt panel discussion on inclusive recruitment practice. Senior recruitment representatives from Carter Jonas, CBRE, Colliers and ISG were on hand to lend their insights. The panellists went into how each organisation embraces diversity and inclusion in their recruitment and company culture and ways to make the recruitment process a more inclusive experience.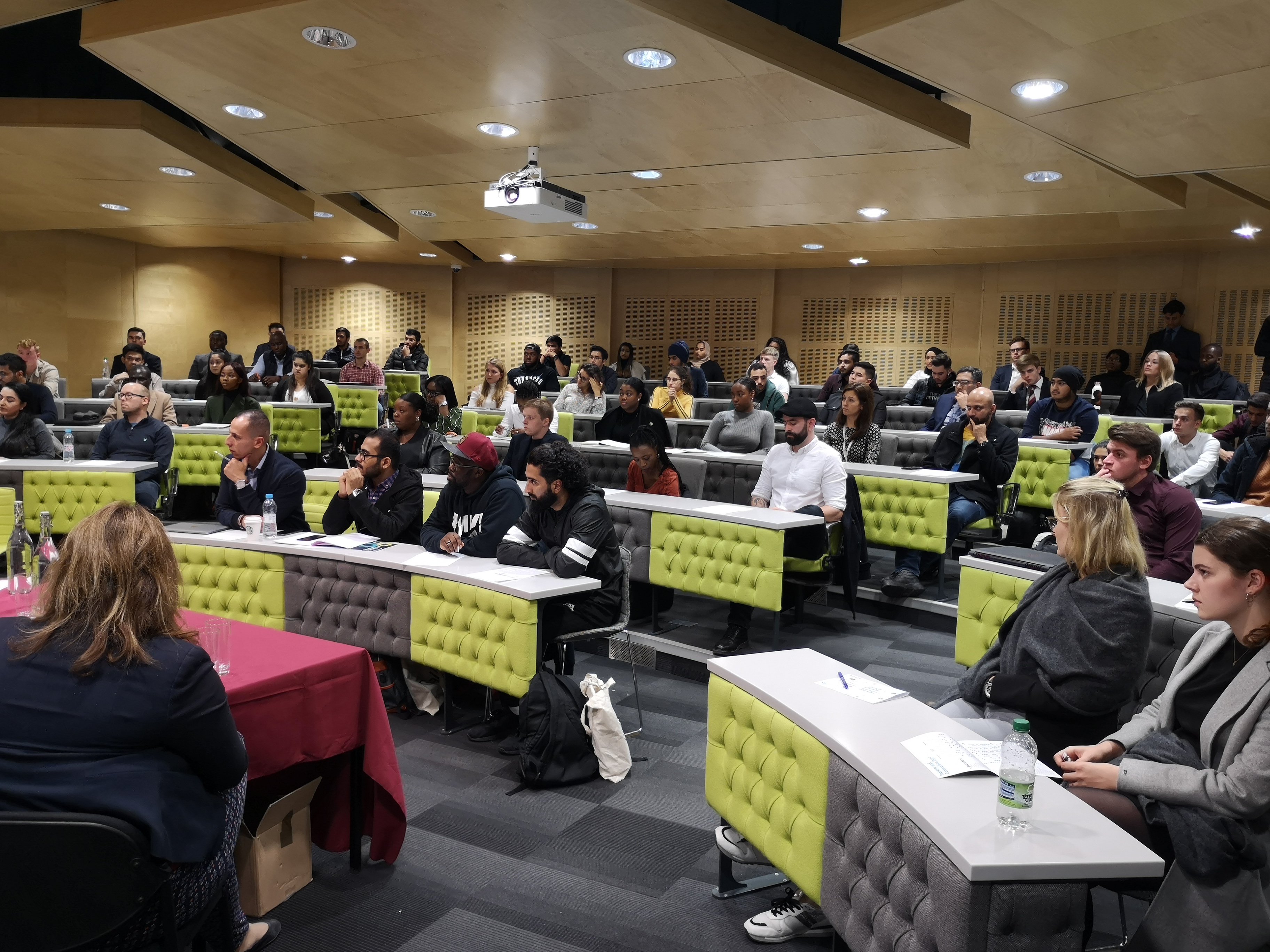 Our students also benefitted from a step-by-step, detailed explanation of the recruitment process: application, interview, assessment centre. It was evident that each employer had its own unique selection methods. However, as with all these things, there were points of comparison as well as contrast. The floor was then open for a lively Q&A with a capacity audience in a packed Orla Gough Lecture Theatre. Over 80 students attended the panel discussion in what was an overbooked event.

Panellists and Moderator:
Carter Jonas – Emma Gardner, Recruitment Manager
CBRE – Tiffany George-Fontaine, Next Generation Recruitment Advisor
Colliers International – Kara Dawson, Emerging Talent Programme Manager
ISG Plc – Emma Simpson, Early Careers Talent Partner
Moore Kingston Smith – Heather Powell, Partner and Panel Moderator
The view from the Property and Construction Careers Fair
After the panel discussion had concluded the Learning Platform became much busier. We took the time to talk to a few of the employers and professional bodies at their stands. Our students and academics also had something to say. Here are the impressions we collected from some of the people we encountered.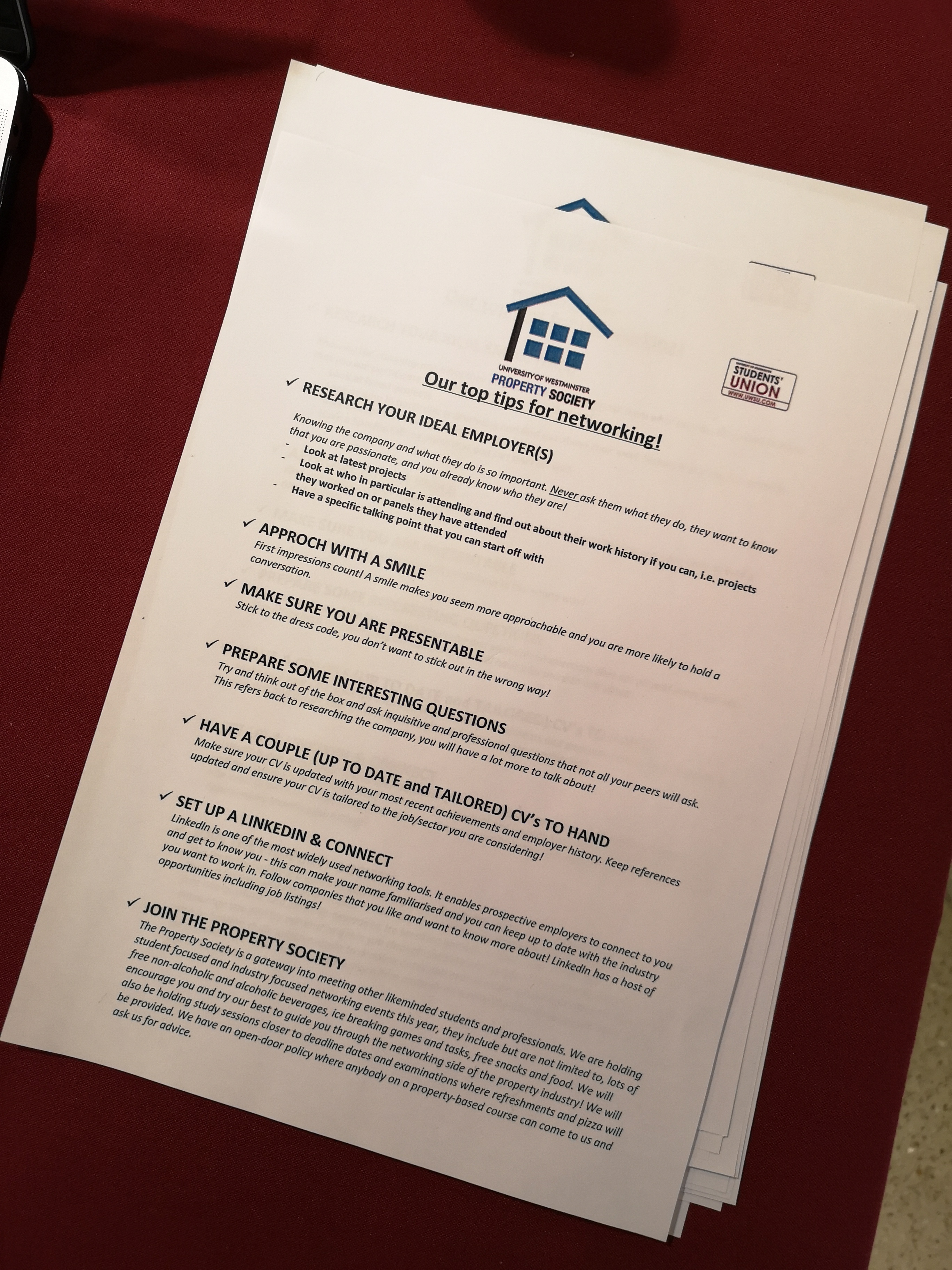 Assyria – reasons for joining the Property Society:
"Not only we do we have networking events, homework help club and parties, but we really are here to help and guide students of all different types of years. I'm in third year now and I feel like there wasn't as much extra help that you might need in regards to how to network…. Especially when you come from college so it's almost like you are swimming in the deep end in a such an adult world. So we are really here to support everybody and help out as much as possible."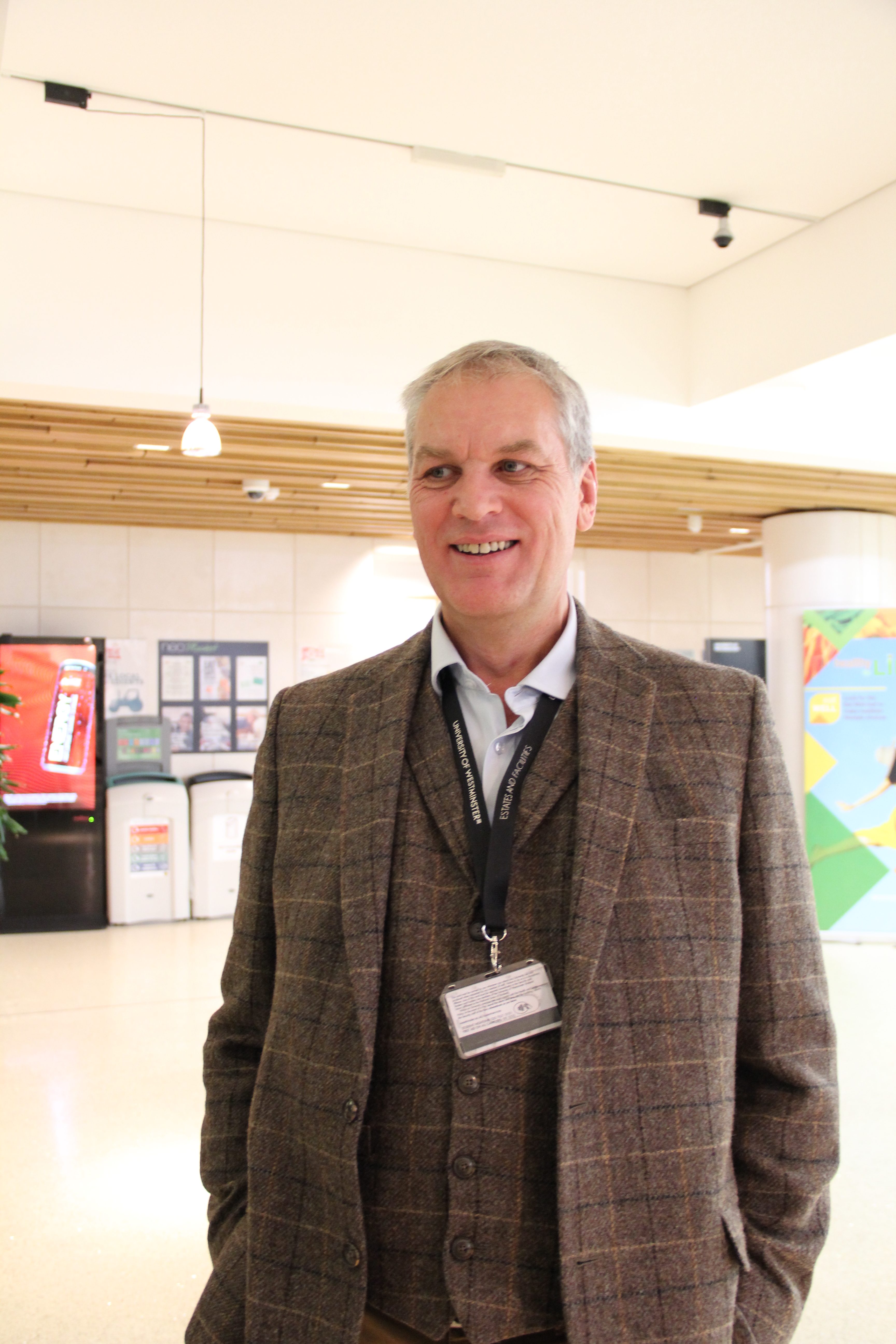 "[Tonight] is a fabulous employability opportunity for both property and construction students to interact and network with companies. It will give them an insight into how the industry operates and recruits graduates."
Nick Vosper, Senior Lecturer, School of Applied Management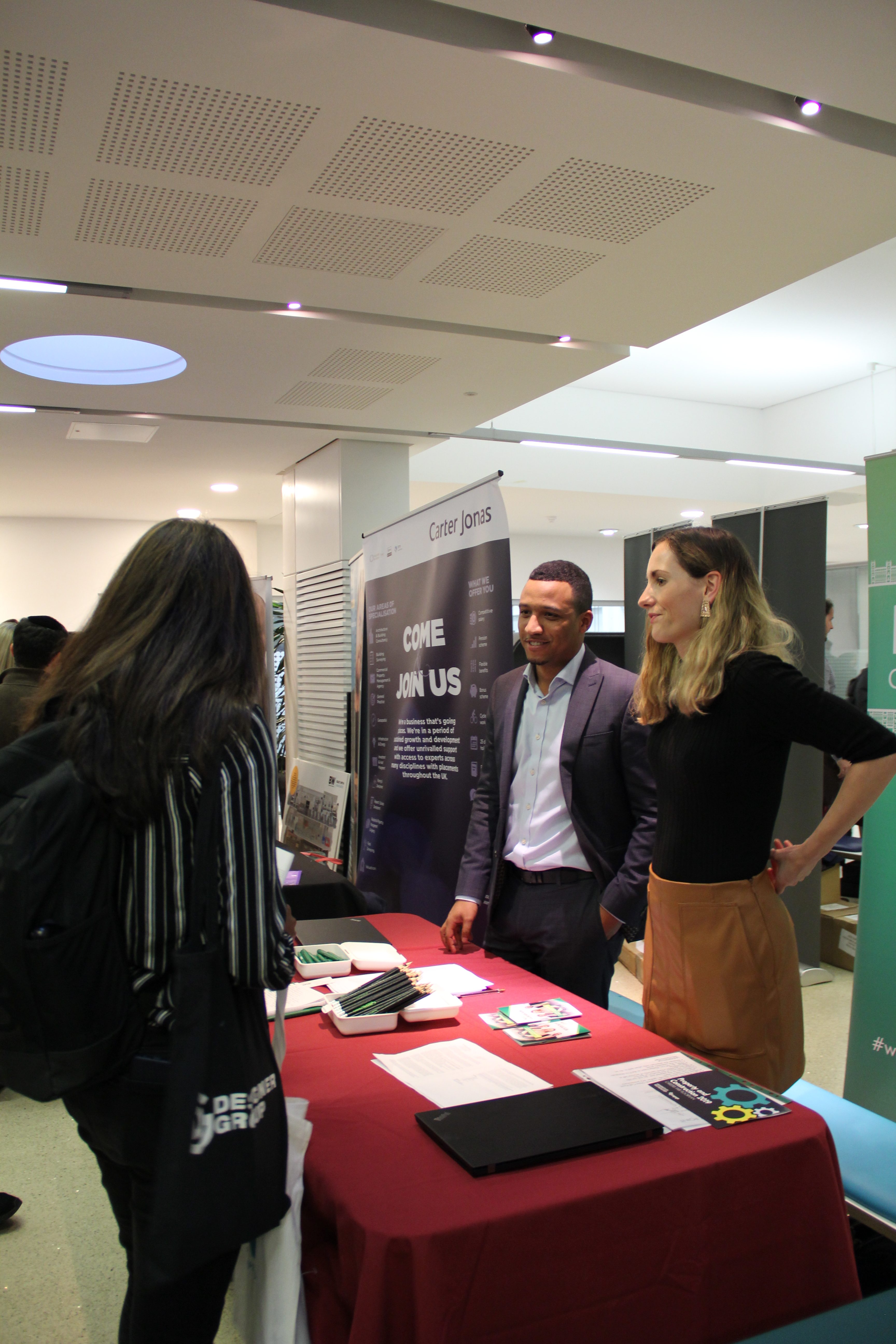 "We are promoting our graduate scheme. I'm actually a part-time student here on the BSc (Hons) Quantity Surveying and Commercial Management. CBRE sponsored me to take the programme."
Melanie, CBRE
"For me on a graduate scheme something that was good was that they took us all to Cornwall, All the successful graduates from across the business. There was like a bonding exercise, events and tasks that would build relationships and report so when we started our first day in business we knew each other already. It wasn't an awkward moment when you didn't want to pick up a phone because it's someone you didn't know. There was this relationship from the start. So, I felt it was a good introduction to the business before you even start on your 1st day you are already embedded in the business. You've got a sense of what everyone else is doing.
To succeed on the graduate scheme – be driven because what I found it there are not necessarily any limitations. The graduate scheme is a 2-year process. If you can manage to show that you've done what you had to do in those 2 years, but they will promote you earlier. They won't just keep you out of it because the graduate scheme says you need to spend there 2 years. If you demonstrate certain qualities, they will try and promote that and push you to excel. And the training doesn't stop because you get promoted. You still get the same support as everyone else."
Daniel, CBRE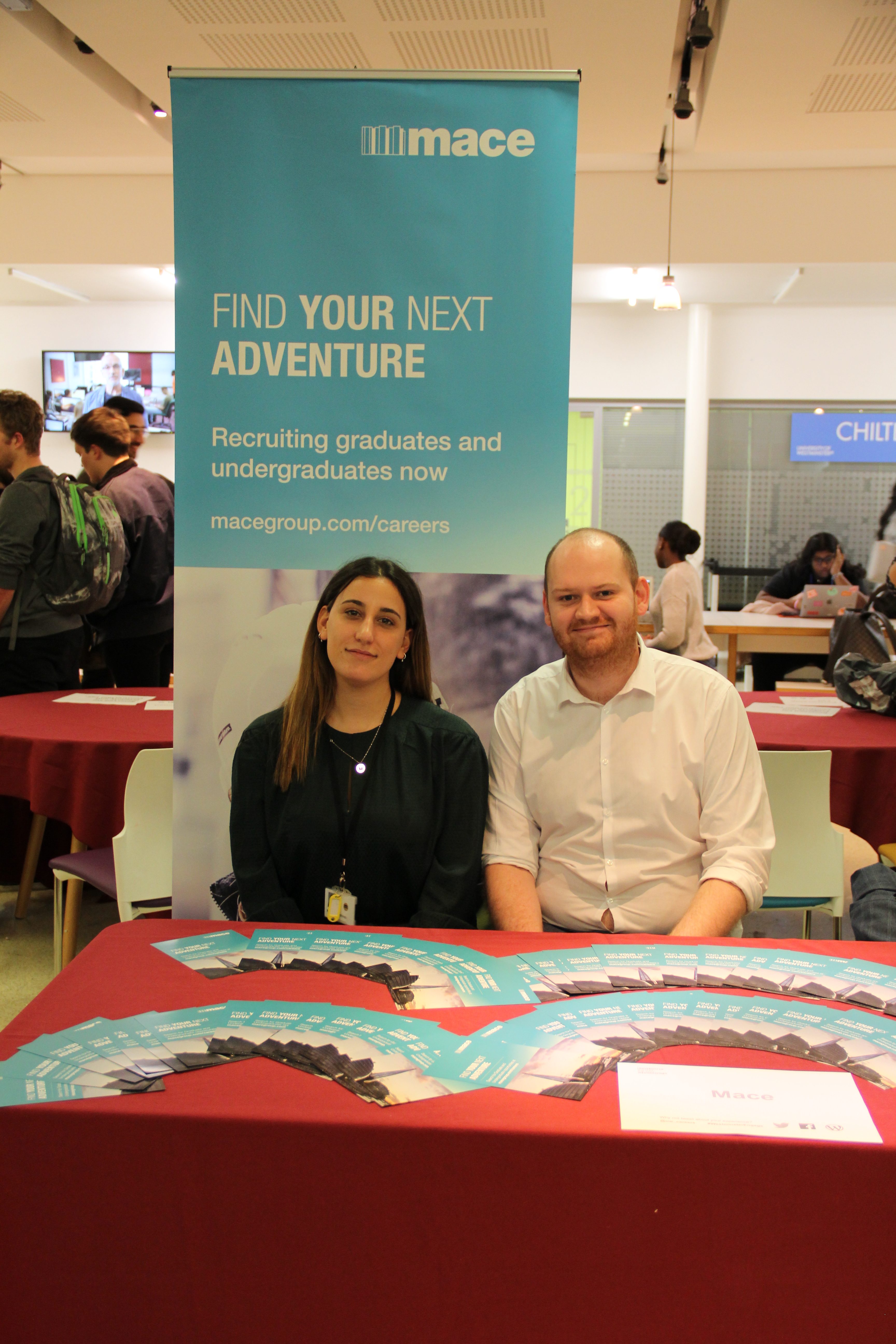 "We are a building consultancy company combining consultancy and construction. We offer industrial placements and summer placements."
Maria, Mace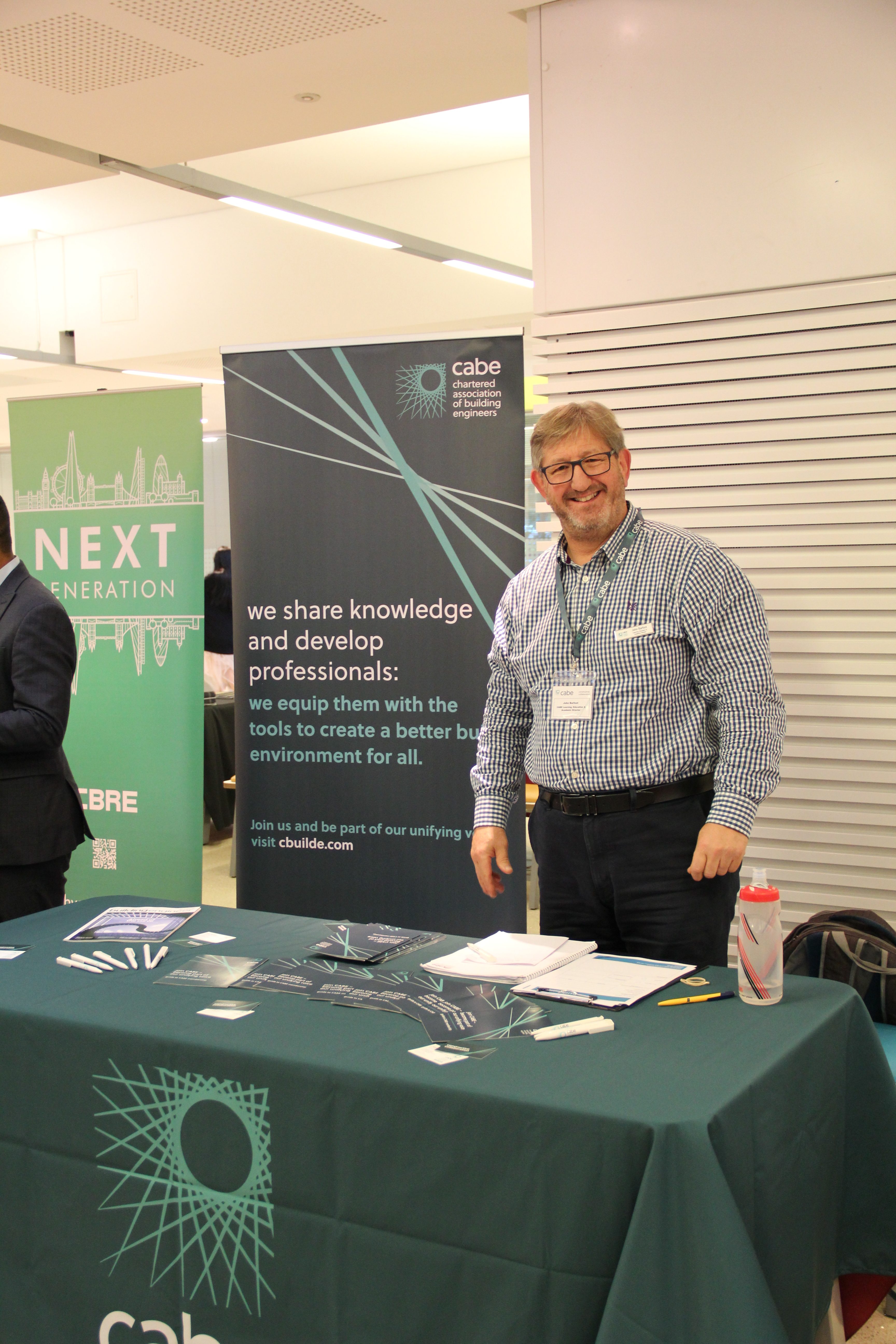 "CABE stands for Chartered Association of Building Engineers. CABE is a chartered professional association which links employers with students and help them to secure work placements to make them job ready when they graduate, thereby making a positive contribution to closing the skills gap."
John, CABE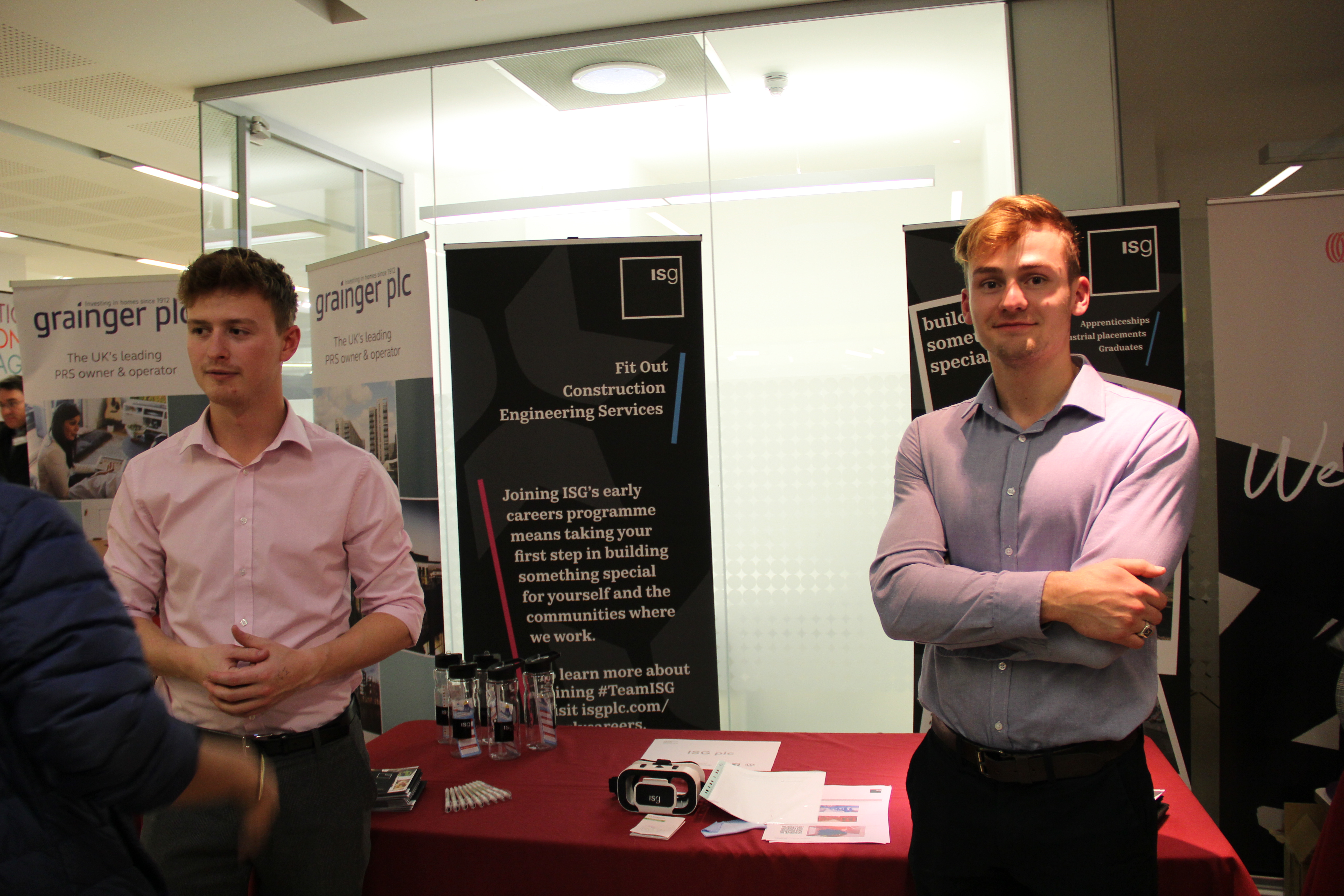 "We offer an apprenticeship scheme, placements for 1 year and a two year graduate scheme. There is a clear pathway or progression as many placement students continue onto the graduate scheme upon successful completion of the placement.
Applications are made online. The recruitment process includes an assessment centre as well as 1-2-1 interviews. My main tip for the group challenge and individual task – be a good time manager and demonstrate leadership and organisational ability."
Richard, ISG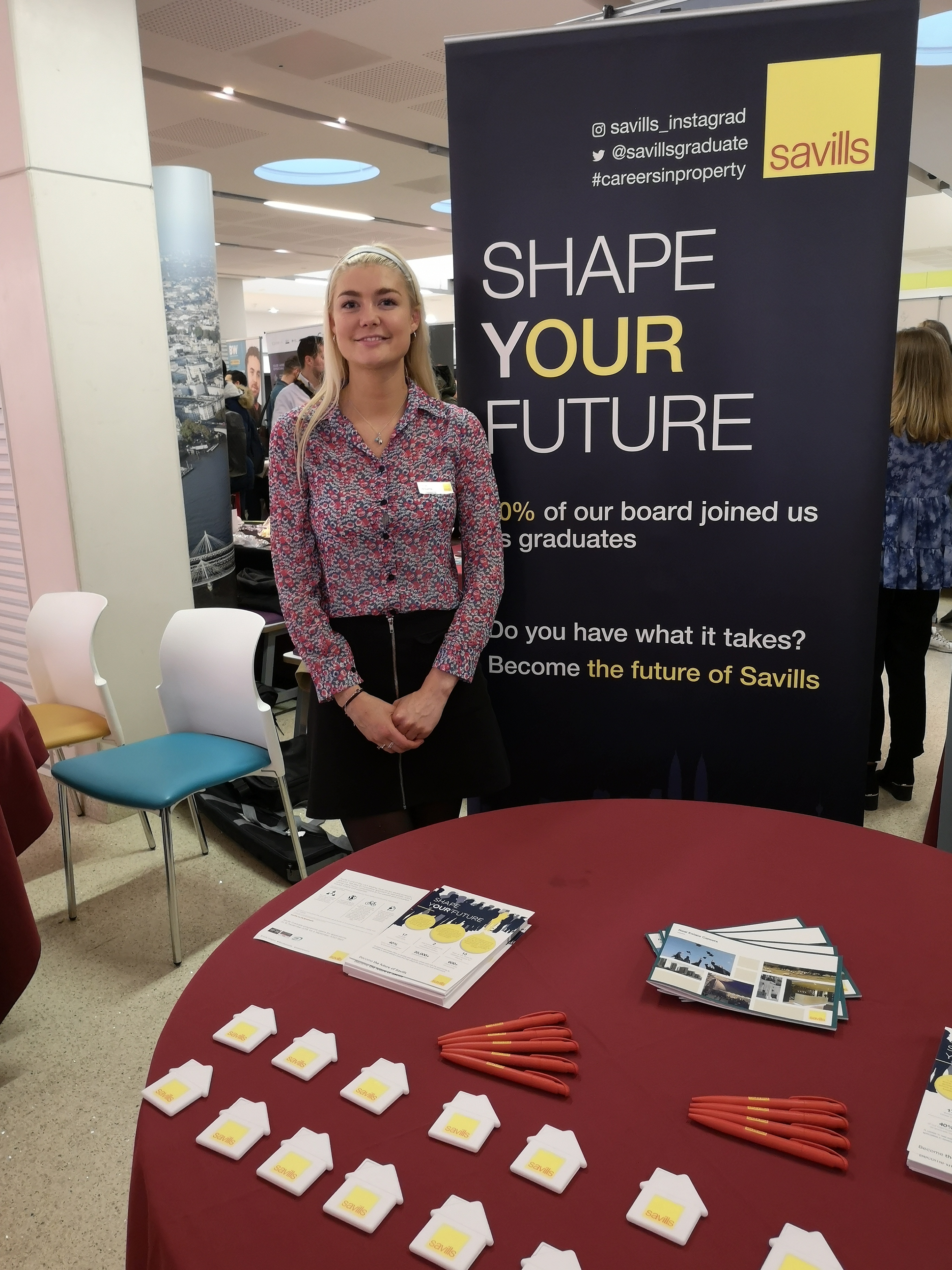 "Savills is a large Real Estate business – a global firm wuth 6,000 employees in the UK alone. We are seeking chartered planners and surveyors on a sponsored Master's. There are 120 places on graduate schemes in various sectors.
Tech is becoming so advanced that our people and their knowledge is increasingly becoming our main asset. So gaining relevant work experience and invaluable transferable skills, especially communications skills, is my main tip for students who want to enter the real estate sector as chartered professionals."
Hebe, Savills
________________________
Credits
Authorship: Joseph Coote-Cowling
Photography: Kasia Kicinska
WBS Blog Content Manager
at
Westminster Business School, University of Westminster
Latest posts by Joseph Coote-Cowling (see all)