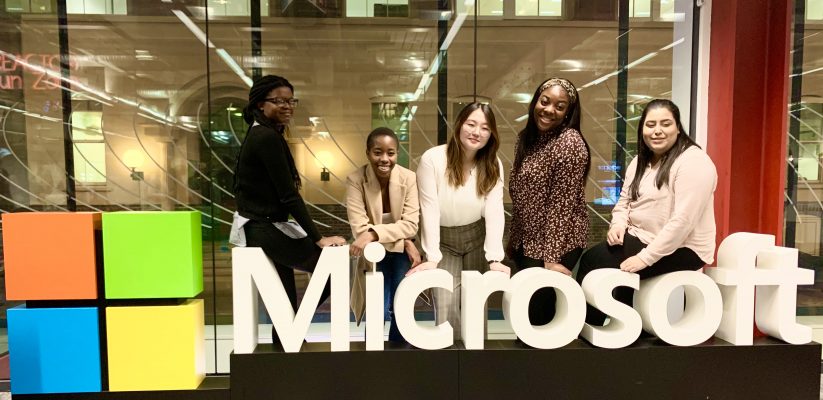 Westminster Teams take Microsoft University Challenge by storm – clinching first and second places. Karen Kufuor, WBS External Relations Coordinator, describes the day.
The Microsoft University Challenge
I was delighted to be able to take 5 teams to the Microsoft BAME network and EDI Diversity Festival on Wednesday October 30th, in celebration of black history month. The Microsoft competition celebrated the talents of students from African, Caribbean and Asian heritage. Teams were called to compete against other University teams, with the hope to win a VIP Microsoft Experience. The students also had opportunities to explore career opportunities at Microsoft and listen to the panel of inspiring guest speakers sharing their own career journey.
The Teams
Our Westminster teams consisted of students on a wide range of degree courses across the School of Organisations Economy and Society, including Business Economics, Business Management Economics, Entrepreneurship, Human Resource Management and International Business. En route to the Microsoft Reactor, we all had a lovely opportunity to get to know each other.
The Results
On arrival the energy in the room was uplifting. The students were soon ready to get going designing an app using Microsoft's PowerApps. I completed my pep talk and wished them well.  We had a surprise visit from Rajesh Agrawal, Deputy Major of London for Business, just before the results were announced. He gave an empowering speech on his rise from humble beginnings and there was a photo opportunity with the students. The day could not have ended better when they announced that a Westminster team had won, with another coming runners-up.
What Our Students Had to Say
Sheila Mansaray
First year Business Economics students and Microsoft winning team member
"‪The event was a great experience and was very inspirational. We were introduced to extremely useful software used to create apps and it was great fun working as a team to create ours. Also, hearing the stories and advice from successful people was very motivating.  Thank you for the opportunity! "
Ratidzo Marere-Chiwara 
First year Business Economics students and Microsoft winning team member
"It was a very informative and empowering/motivating event. It really helped with building my self-esteem as the event included talks about how we can use our original backgrounds as, essentially, our competitive advantage in the workplace and, life, in general.  In addition, I loved that I got to work and become friends with the most amazing teammates." 
Zafirah Sheikh
Final year Business Economics students and Microsoft Challenge winning team member
"The event was thoroughly informative and enjoyable. We started off with a keynote speech from Jennifer who shared her experience in education and as a graduate. We then went on to compete against other university teams, where we had to design an app following a brief using the Microsoft PowerApps software, which we went on to win. It was really interesting to see how the software worked. It was a thoroughly enjoyable event and allowed the opportunity for us to hear from others who had gone through the graduate process."
Click here to read more of the 'Student Minds' series.
Latest posts by Joe Chapman (see all)