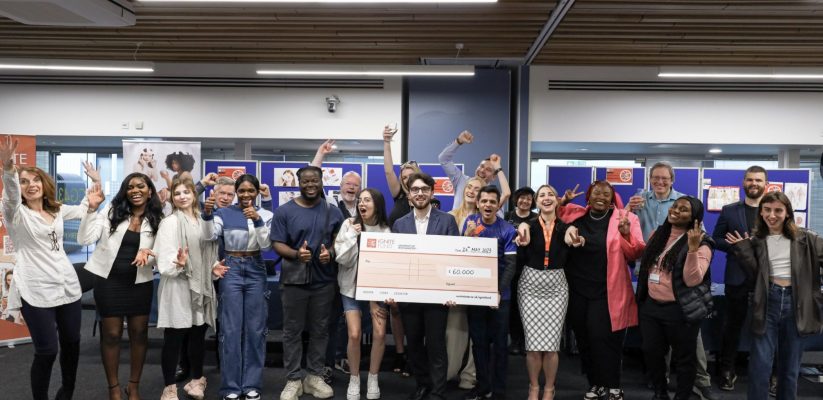 Entrepreneurship is at the heart of our University, especially within our business school. This has been demonstrated recently in a study by Novuna Business Cash Flow, ranking Westminster 11th amongst 121 UK universities for producing company founders. There are many ways in which we promote entrepreneurship at our University and nurture current or future business leaders; in this blog, we'll dive deeper into these initiatives and inspire you to kick-start your entrepreneurial journey at Westminster!
WeNetwork: Opening doors for aspiring entrepreneurs
At Westminster, students can access WeNetwork, the University's entrepreneurial network. This brings together students and recent graduates within industry to develop their entrepreneurial skills, engage in self-employment work and start up or grow new and existing businesses! WeNetwork gives students and alumni access to workshops, mentors in industry and a plethora of funding opportunities.
Some of these funding opportunities include: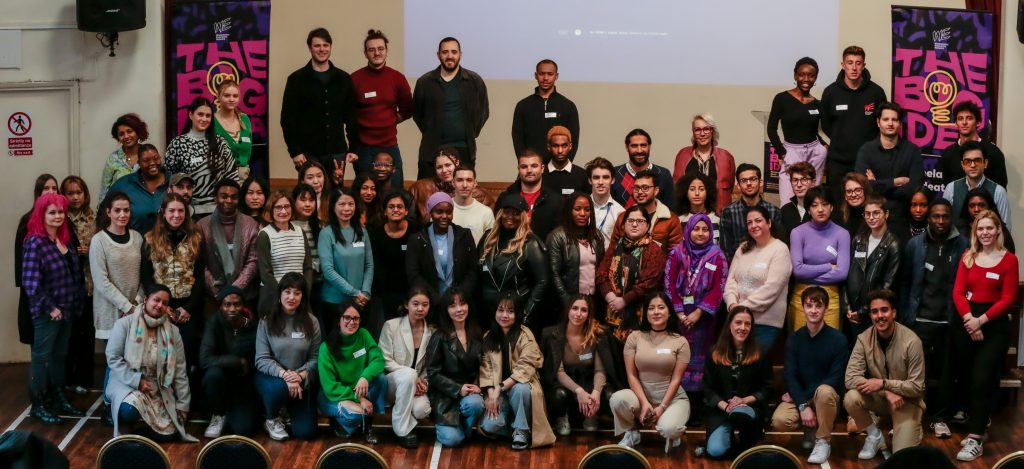 Westminster Big Idea Competition
This university-wide student and graduate business idea and innovation competition is held annually in partnership with Santander Universities UK. The competition encourages applicants to develop their entrepreneurial skills and supports them in building and scaling their businesses. This is done through workshops and mentoring throughout the competition process, and finalists win a share of a £43,000 funding pot to use for their businesses!
The competition is comprised of three main categories:
In which you perfect your pitching ability, learn how to generate more revenue and grow and build your professional network as a freelancer.
In which you learn how to build a new business, research and pitch to gain initial investment, and develop a plan to scale your business to the next stage.
This focuses on growing your existing business, learning how to perform a compelling pitch to attract external funding and planning to make your business financially sustainable in the future.
WeNetwork's Elevate is a six-month programme that supports graduates and alumni who are active founders of businesses registered and operating in the UK. Participating business owners are offered tailored and strategic support to expand, focusing on increased revenue generation and the optimisation of business processes.
Another critical aspect of this programme is up to £10,000 in equity-free funding for selected businesses. These selected businesses will also have access to executive-level training and the opportunity to strategically invest the funding into the areas of their business that will generate organic growth.
You can find out more about the Elevate Programme and apply here.
Start-up 101 is a brand new initiative for the 2023/24 academic year. The programme is open to current students and graduates ready to bring their business ideas to life! Successful applicants will be taken through nine sessions learning about important entrepreneurial lessons from market and research analysis to creating the perfect pitch. 
There are also many other benefits of the programme, such as:
Freelance essentials
Freelance Essentials is a programme tailored towards those who aren't sure if a 9-5 suits them; it gives students and graduates the opportunity to explore the world of starting and running their own businesses.
During the programme, you will be taken through a three-step process:
Figure out the unique passions and skills that you possess which will drive your freelance career forward
Master essential freelancing skills, from efficient communication to meaning your project and perfecting your pitching ability to secure clients or funding
Use your skills and entrepreneurial mindset to build a solid foundation to start and grow your freelance business from
Successful applicants will also have access to various initiatives such as the Pioneer Bursary (£250-500 in funding to kick-start a business), networking events and expert mentoring.
You can find out more about Freelance Essentials and apply here.
Everybody given access to the above funds and awards is thriving in our eyes; it is a considerable achievement and is often a turning point in students' entrepreneurial careers.
Elizabeth Ola (Business Administration and Management BA student) is an excellent example. She first received funding from the Ignite Fund in November 2022 for her start-up cosmetics brand 'Truskn'. She has since won the Rising Star award for participation in the Big Ideas competition and has more recently won this competition, placing first out of 160 applicants. Additionally, in an external competition hosted by Adobe and Enterprise Nation, Elizabeth was offered the opportunity to host a pop-up store on Oxford Street, Europe's busiest shopping street, a groundbreaking achievement.
In an interview, Elizabeth had the following to say about her journey.
"Reflecting on this moment, I am reminded of the immense support the University of Westminster's Ignite Fund provides. They played a pivotal role in helping me kick–start TRU SKN. I am grateful for their unwavering support, encouragement, and commitment to empowering student entrepreneurs like myself. The University has been instrumental in my entrepreneurial journey, always there to offer support and guidance. I am thankful for their constant belief in my business and their willingness to assist in any way they can."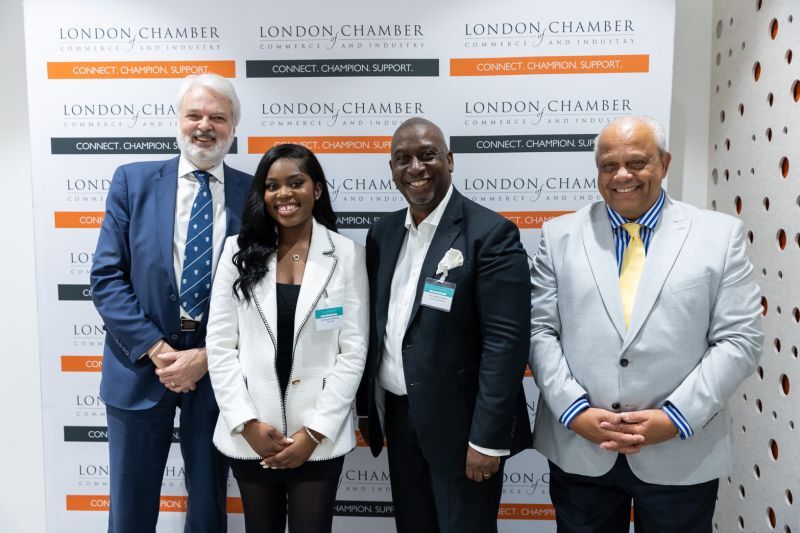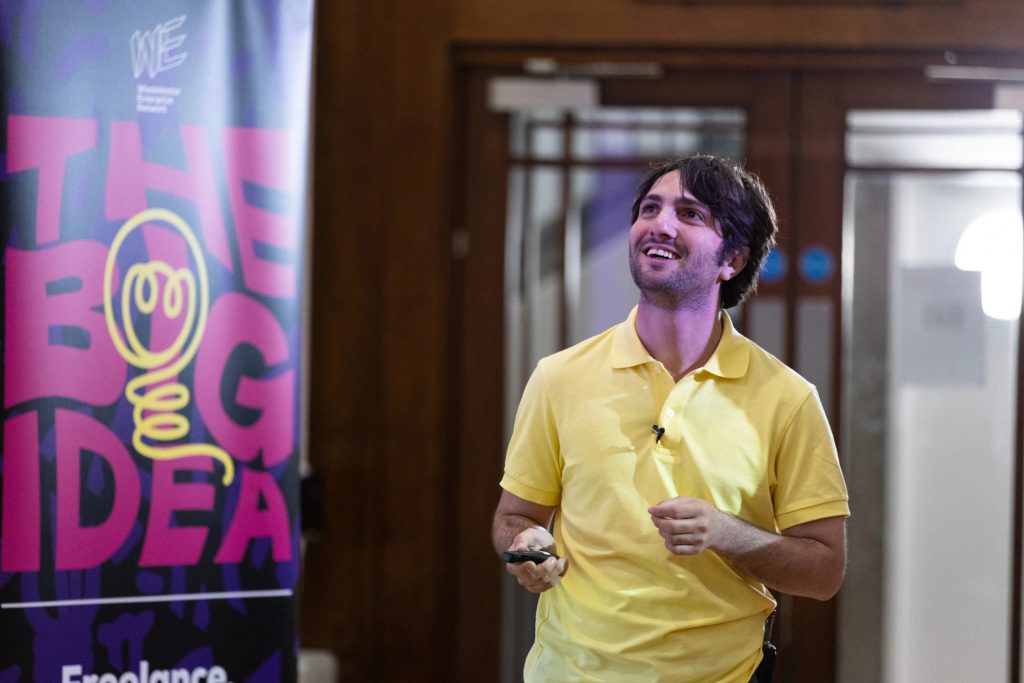 Another great success story comes from Business Management BA graduate Aram Tufan. Aram created and developed Happy Student, a supportive platform for students navigating challenges at University whilst studying at Westminster. He then went on to win both the first and the viral Ideas prizes in the 2022 Big Idea competition, which granted him funding to develop Happy Student further. Since then, Aram has been among eleven entrepreneurs shortlisted for the Early Stage Stand Outs category in the prestigious Great British Entrepreneur Awards.
Aram had the following to say about this achievement.
"I am honoured to have been selected as one of the nation's top entrepreneurs. This acknowledgement is not only a testament to the diligent work of my team at Happy Student, but it also underscores the impact we're making in students' lives. It serves as a beacon of motivation for us to continue our work and expand our reach even further."
Kick-start your path to entrepreneurial success at Westminster!
Discover more about our dedication to helping students unlock their full potential and reach their entrepreneurial dreams through the Elevate fund, Start-up 101, Freelance Essentials and the Big Ideas competition. You can also read more about employability opportunities here.

Latest posts by Josh Lawson (see all)