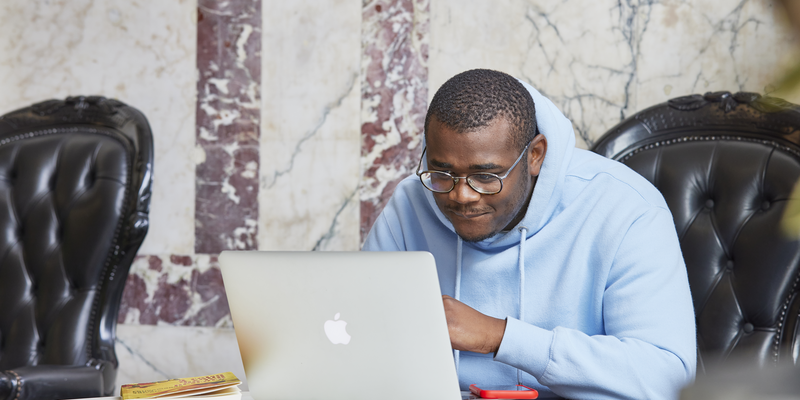 If you are planning to apply for a full-time undergraduate degree in the UK, you'll need to apply via UCAS. To help you through the process we've updated our useful step by step guide. (2 minute read).
Step One: Register to apply
Before you can start your UCAS application, you will need to register to apply through UCAS Hub. This is where you'll be given a username, you'll also get a chance to create a password and set your security questions. In this section, you will also be asked to fill in some of your personal information, such as your name, email address and residential status. 
If you are applying through school or college, you will be asked to enter your buzzword (find out more in our FAQs blog). Applying independently? Not a problem, you'll just need to fill out a few additional questions instead. 
Once complete, you'll be provided with a UCAS personal ID number. You'll be able to save your application as you go and mark each section as completed once you are ready.
Top tip: Make a note of your UCAS personal ID number as you will need this if you need to get in touch with UCAS
Step Two: Add your education and employment history
In this section you'll need to add your qualifications from school or college. If you are still awaiting any final results, list these as pending, and your school or college will add predicted grades for you. 
If you are an international student and one of your qualifications isn't listed, you can add this to the 'other' box. You may be asked to send proof of your results to the university or college at a later stage.
Top tip: It's worth having your exam certificates to hand as they'll be useful if you're unsure of any of the details, such as your awarding bodies.
If you've had any paid jobs before applying to university, this should be added to employment history. You will need to include the name of the company you worked at, your job title and description, as well as when you started and left each job. 
Any unpaid jobs such as voluntary work should be included in your personal statement instead.
Step Three: Add your university choices
Once you know which courses you would like to apply for, it's time to add your university choices. 
For this step, you'll need to find the institution and course codes (find out where these are in our FAQs blog). You can add up to five courses in your application and they don't need to be entered in any particular order.
Step Four: Writing your personal statement
Your personal statement is one of the most important parts of your UCAS application. This is your opportunity to show universities why you are passionate about your chosen course, talk about any experience you have gained from voluntary work which will support your application and why you'd make a great university student. Watch our personal statement video below.
Once you've submitted your personal statement, it's a good idea to take one final look at your application before moving on to the final step.
Top tip: Write your personal statement in Word or an equivalent rather than straight into the application form. You can copy over your final personal statement once you're ready.
Step Five: Adding your references and submitting your application
The final step of the application process is to complete your references. This should be written by one of your teachers or advisors, or from a professional such as a previous employer. Check out this handy guide from UCAS about how to obtain a reference for your application. 
Hooray – You'll now be able to pay your application fee and submit your application.
What happens after you submit your application?
Once your application is submitted, UCAS will check that everything is okay with your application and will email you explaining how to check the progress of your application through UCAS Hub.