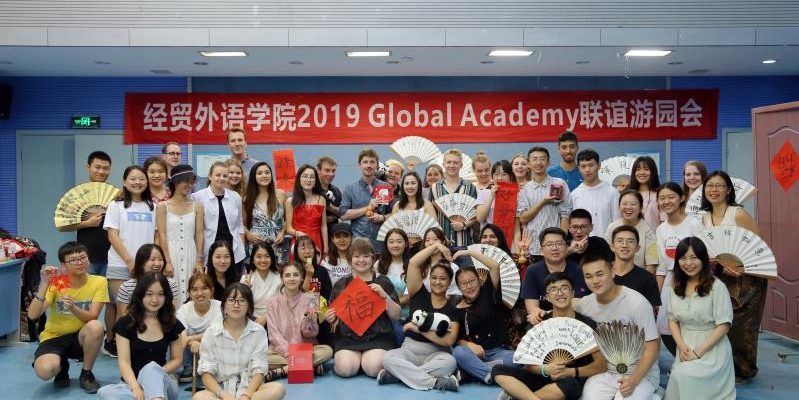 Eman, a Biomedical Sciences student from the University of Westminster, went to Chengdu (China) last summer where she took part in SWUFE Global Academy, a 2-week summer programme about Chinese culture.
Why did you decide to take up this opportunity abroad?
I decided to take up this opportunity because I believed a fast paced place like China will equip me with the skills and mindset of working life after graduation and working life abroad. I also knew that Chinese culture still has the same beliefs, values and norms and wanted to explore their culture in greater depth. Lastly I wanted to gain the skill of being independent as I will be graduating soon and I will need to stand up on my own and be independent when travelling abroad, etc.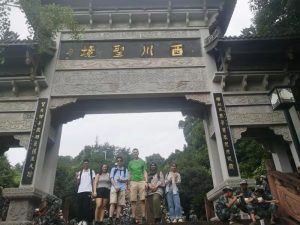 Tell us more about the programme of the Summer School! What was your typical day like?
I attended a 2-week summer school at SWUFE Global Academy in July 2019. It was more like a cultural exchange filled with lectures, workshops and fun trips to tourist spots and special Chinese restaurants.
A typical day in the timetable looked something like this:
7:30-9am : Buffet breakfast at the hotel with yummy Chinese feasts … spicy! They also had bread and boiled eggs for picky eaters.
9:30-12pm: Bus picked us all up at 9:15 from the hotel to take us to the campus where Chinese student volunteers would wait for us and take us to the correct room for the Chinese calligraphy workshop where we would use special brushes to write our name in Fans.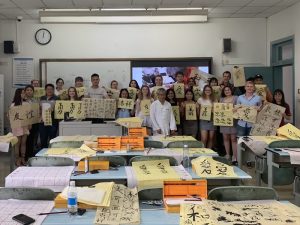 12-2pm: Lunch in the canteen all paid for! Soo many options to choose from and BIG portions.
2-4pm: Lecture about Chinese language.
5-7pm: Chinese traditional party which had food and 7 tables with different traditional activities. If we collected 7 stickers one from each booth we would get a prize at the end. Very fun atmosphere with other students.
7:15-7:30pm: bus collected all the students from the campus and dropped to the hotel, ready for the next day!
How did you like the programme? What did you find the most enjoyable and most challenging?
I loved the program. It was very well organised and aided us to explore all parts of the Chinese culture. I really enjoyed visiting the Panda base where all Pandas are bred and taken care off. Here I also saw the rare Panda called the red Panda (Master Shifu in the movie 'Kung Fu Panda) I was lucky enough to touch the rare red Panda too!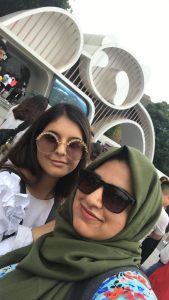 The most challenging part of the trip was the 2 mountains I climbed: one near the Ancient Town and one near the Dujiangyan Dam. As I don't call myself the fittest, climbing these mountains was a real challenge which I accomplished at the end surrounded by motivating students.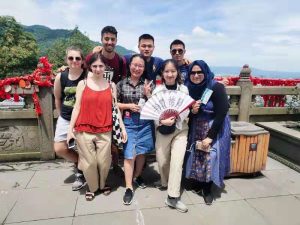 Also food-wise, I am a Muslim and eat halal meat only, and it was a challenge to find it nearby.
However, these 2 weeks were like a detox for my body and even though the vegetarian food was very oily, I still ended up loosing 3kg as a result …. possibly because all their Sichuan spice!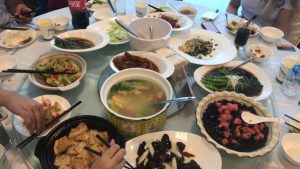 What did you think of the experience overall?
This experience was an eye opening one for me as I learnt so much about the authentic Chinese culture, made new friends and explored China to its fullest! This is a once in a lifetime opportunity and I urge everyone to take advantage of this fantastic experience – trust me these 2 weeks will be the highlight of your year! All staff and students at SWUFE were so helpful and took good care of all of us.
My advice to anyone going to a similar summer school is to experience all that the city has to offer even if it means sacrificing sleep. These 2 weeks were tiring in terms of long day trips. However, I will not change any part of it because it was all so worth it at the end!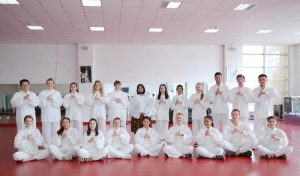 And finally if you have any interesting/fun stories or experiences from your trip, please share them with us here!
Yes! As part of our trip to the panda base I was the only fortunate one from our group to touch one of the rare red panda …. it was easy, all I said was come here and it came to me, it was amazing!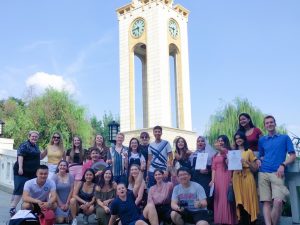 Latest posts by Monica Marie (see all)