Why did you decide to take up this opportunity abroad? I decided to take up the opportunity of a summer hospital lab placement in Malta for several compelling reasons. First and foremost, Malta is renowned for its rich history, stunning landscapes, and unique cultural blend. It presented an opportunity not only to advance my career but also to immerse myself in a completely new and enriching environment.
Professionally, this placement aligns perfectly with my academic goals and future career aspirations in the medical field. I wanted to gain practical, hands-on experience to complement my theoretical knowledge and enhance my skill set. The hospital lab setting in Malta offered a unique perspective and the chance to work alongside experts in the field, which was incredibly appealing.
Additionally, the placement allowed me to broaden my horizons in terms of work ethics and procedures specific to healthcare in an international context. Understanding these nuances is invaluable, especially in an interconnected global healthcare system.
What was your typical day like? My typical day at the internship began promptly at 8 am. I commuted to the hospital which is 10 minutes away from my accommodation and headed directly to the Haematology department. Typically, mornings in the hospital were relatively calm, although this could vary depending on the nature of the laboratory's workload. However, during these early hours, I typically dedicated my time to tasks such as receiving and organising samples or making preparations for the upcoming day, all before the busyness of the day set in.
As the day progressed, a routine phase emerged, involving the processing of tests. This phase encompassed tasks such as loading samples into automated machines, if the lab operated with automation, or conducting essential tests manually, which, again, depended on the specific nature of the lab.
Following a well-deserved lunch break, my focus shifted to result issuance. This involved meticulously cross-referencing the results with each patient's medical history and ensuring nothing was overlooked. Additionally, at any juncture throughout the day, unexpected tasks could arise, such as processing an urgent sample or investigating a case of a missing sample, adding an element of unpredictability to the daily routine.
I worked 5 days a week and had the weekends off. So, during the weekends, I visited a few places in Malta, including Valletta, Mdina, went horse riding, and explored the National Aquarium.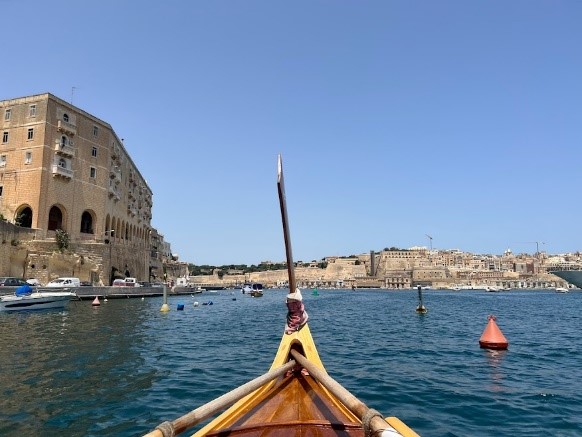 How did you like the programme? What did you find the most enjoyable and most challenging? Tell us about all the differences you discovered. What did you miss the most about the UK? I found the internship program to be an immensely enjoyable experience. The highlight for me was the hands-on involvement, where I had the opportunity to handle real patient samples. The thrill and excitement of working in specialized labs, performing tasks beyond the scope of my regular coursework, were particularly rewarding. Knowing that my efforts contributed to the well-being of patients and supported my fellow employees added a sense of purpose to the experience.
However, I also encountered challenges along the way. Navigating the various machines and equipment, as well as understanding the pre- and post-analytical procedures, proved to be demanding. Unfortunately, these aspects were not extensively covered in our classroom lectures, making them a steep learning curve during the internship.
One striking revelation during this internship was the paramount importance of proper sample labeling and handling, rather than the actual testing process, which is often automated. Additionally, I was pleasantly surprised by the level of trust placed in me, allowing for a considerable degree of independent work—a departure from the more controlled environment of teaching labs.
While I cherished every moment of my time in Malta, I couldn't help but miss my friends from the UK. I wished they could have shared in the incredible experience of Malta with me. Occasionally, I experienced bouts of homesickness. Moreover, I longed for occasional breaks from the scorching heat and the convenience of a reliable and frequent public transport system, which I had grown accustomed to back in the UK.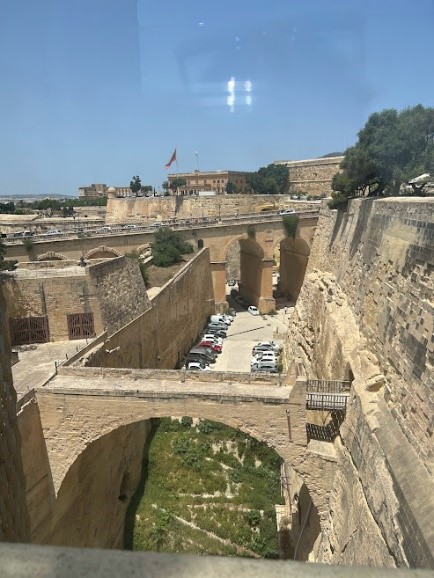 What graduate attributes have you gained through this experience? Have your transferrable skills improved? My time in the hospital lab department has provided me with a profound technical competence, encompassing a deep understanding of laboratory equipment and haematology procedures, laying a crucial foundation for my future roles in healthcare or laboratory settings. Additionally, handling patient samples has honed my attention to detail, ensuring precision in results and patient safety, a skill applicable to various professions where accuracy is paramount. I've also cultivated strong problem-solving skills, particularly when facing unexpected challenges in the lab, such as urgent samples or equipment issues, which are readily transferable to various roles. Balancing multiple tasks and responsibilities in the lab has significantly improved my time management skills, a valuable asset in any professional setting.
Collaborating with lab colleagues and healthcare professionals has enhanced my ability to work effectively within a team, recognizing that effective communication is paramount for conveying vital information. My experience in the fast-paced and dynamic hospital lab environment has made me more adaptable to change, a skill I can apply in any career. Moreover, analyzing test results and making data-driven decisions has sharpened my critical thinking abilities, applicable in roles requiring analytical problem-solving. The experience underscored the importance of ethical conduct, patient privacy, and confidentiality in healthcare settings, emphasizing ethical awareness that is relevant to diverse professions.
Efficiency in completing tasks and taking initiative to address challenges independently have bolstered my self-motivation and self-reliance, qualities highly prized in any career. Interactions with diverse patients and colleagues have increased my cultural sensitivity and awareness, vital in today's globalized workforce. I've also observed the distinctions between hospital and university teaching labs, with the former involving more individual work and unique responsibilities, prompting me to swiftly adapt to these circumstances. Furthermore, working in a hospital lab reinforced the importance of professionalism, including punctuality, reliability, and maintaining high standards of work, attributes that hold value in any profession. In summary, my hospital lab experience has equipped me with a diverse set of graduate attributes and transferrable skills that will be invaluable in my future career, regardless of the path I choose to pursue.
What message would you like to pass on to students who are considering a similar opportunity? Is there anything they should know before going to the Mater Dei Hospital in particular or to Malta in general? Any advice or top tips for students who plan to gain international experience in general? For students considering a similar opportunity at Mater Dei Hospital in Malta or seeking international experience in general, my advice is to embrace cultural awareness and learn about the host country's customs. Stay informed and prepared, including researching visa requirements. Learning the basics of the local language can enhance your experience, and adaptability is crucial for navigating unforeseen challenges. Prioritise your health and safety, respect local cultural norms, and build professional networks. Document your journey, balance work and leisure, and cherish every moment. At Mater Dei Hospital, familiarise yourself with hospital protocols, prioritise patient privacy, and approach tasks with an open mind. International experiences offer personal and professional growth, enriching you in countless ways.
And finally any interesting experiences from your trip that you would like to share with us? During my trip to Valletta, the capital of Malta, I had a particularly memorable experience. Walking through the charming streets of this UNESCO World Heritage Site was like stepping back in time. The city's historic architecture, with its intricate balconies and grand facades, left a lasting impression.
One of the most fascinating moments was my visit to St. John's Co-Cathedral. The interior of this Baroque masterpiece is nothing short of breathtaking. The ornate decoration, intricate marble work, and the stunning paintings by Caravaggio all contributed to an atmosphere of awe and wonder.
As I strolled along the city's ancient fortifications, I was captivated by the panoramic views of the harbour and the Mediterranean Sea. The Upper Barrakka Gardens, in particular, offered a stunning vantage point to appreciate the grandeur of the Grand Harbour and the three cities across the water.
But perhaps what made this experience most special was the warmth and friendliness of the Maltese people. Whether I was sampling local cuisine at a family-run restaurant or seeking directions from a local, the genuine hospitality I encountered left a lasting impression. It reinforced the idea that travel is not just about seeing new places but also about connecting with the people and culture of a destination.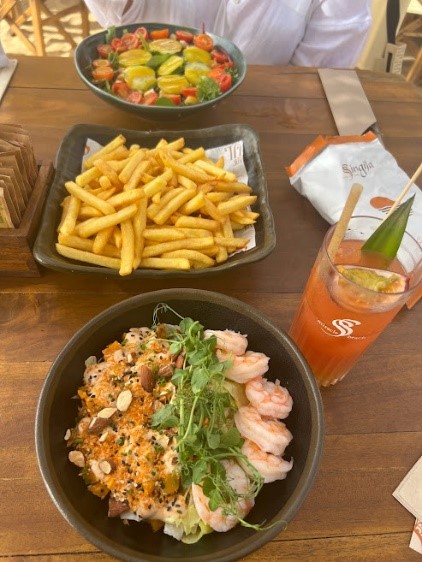 Valletta, with its blend of history, art, and hospitality, remains one of the most memorable places I've had the privilege to explore during my international experience in Malta.