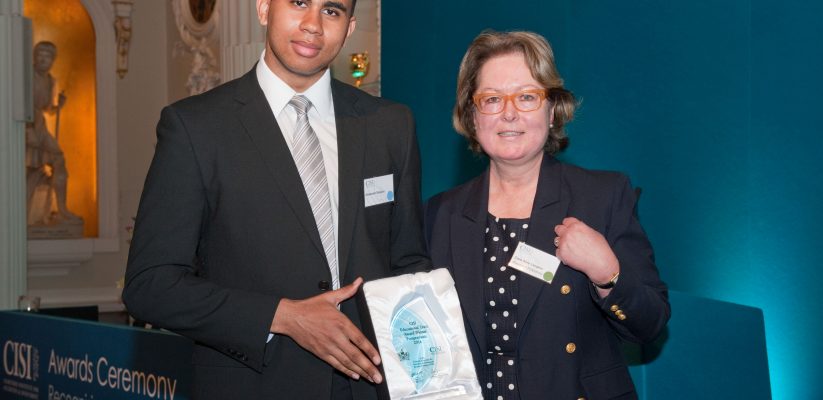 Alex Sholarin, an Investment and Risk Finance MSc alumnus, has been named one of the top performing finance graduates in the country. The Chartered Institute for Securities & Investment (CISI) Educational Trust Awards celebrate achievement amongst students studying CISI accredited courses around the UK, at both undergraduate and postgraduate level.
Alex, who graduated in 2015, was nominated by the University of Westminster for excellence during his course of study. As one of the 18 students nominated from across the country, he was then invited to submit an essay on the financial impact of leaving the European Union, and to attend an interview with the Educational Trust. At the end of this intensive process, Alex was chosen as an overall winner, winning £2,000 to support his career.
We caught up with Alex after winning the award to find out more about his success.
Congratulations on winning the CISI Educational Trust Award! Tell us why you feel that you won the award, and how it felt to win.
'I am most grateful to my lecturers (Dr Harry Thapar, Dr Sheeja Sivaprasad and Dr Ka-Kei Chan) for nominating me for this highly prestigious and widely recognised award. The fact that I was chosen on the merits of my course performance and examination results convinced me that the hard work I put in was not only being recognised but also rewarded. The field of Finance is an area which I am very passionate about and highly interested in. This was reflected by my commitment to give nothing less than 100% of my effort and dedication towards this demanding course.
'For my work to be branded as excellent by both the university and the CISI makes me very proud indeed and motivates me to work even harder towards fulfilling my career aims and aspirations. I am also exceptionally proud to have had the privilege of representing my university, as one of the 12 centres of excellence, in the competition against my counterparts from other well-reputable schools of Finance. I am glad to be able to join my predecessor, Shrey Dinesh Jain, as another one of hopefully many others to come, who can proudly claim to have represented Westminster Business School.'
What is your best memory of the University of Westminster?
'I have far too many wonderful memories from the university that it would be difficult to select only one! If I had to choose one memory which encapsulates my best feelings during my time at the university, it would have to be when we were taken on a spectacular evening dinner cruise on the River Thames. The experience of dining beside all my friends and lecturers from the course, as we marvelled over London city from the river, is one that I will forever cherish. Not least because it was one of those rare moments when we were gathered together not only to discuss work, but rather, because we were able to enjoy and celebrate the progress we made whilst also getting some much needed downtime before the next wave of exams began!'
What are your aspirations for your future?   
'The realm of Finance is extremely dynamic and competitive, however, having been provided with a remarkably solid grounding in the subject at University, I am now keen to apply and expand my knowledge by working in industry. For the future, I am looking to broaden my practical acumen by working in the derivative markets department of a reputable asset management company/Investment bank. By gaining as much exposure as possible to the breadth of financial securities actively utilised in industry, I feel that I would be able to sharpen my skills and expertise in a manner that would make it easier for me to identify and better understand my chosen area of specialty.'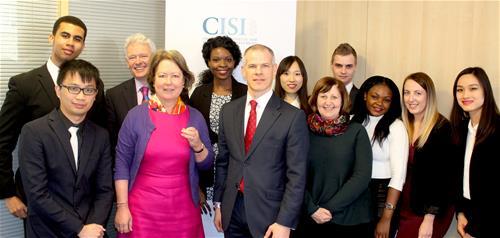 Alex, far left, with the other CISI Educational Trust Award nominees
Alex arrived on the Investment and Risk Finance MSc course having completed a BSc in Biomedical Science. On the prospect of moving into finance, Alex commented that 'I was well aware of the challenges ahead of me and at one point considered myself to be at a disadvantage'.
However, he flourished on the course, and commends it for his success: 'The knowledge I gained enabled me to secure a position as a derivatives trader.' He was particularly complimentary of the 'exceptional facilities', which were 'essential when looking for a role in the financial industry and provided me with a competitive edge in the job market'.
Want to share your success? Submit an alumni profile to encourage prospective students, help current students make a decision about their careers, and enhance the global reputation of the University.
Latest posts by David Brooks (see all)