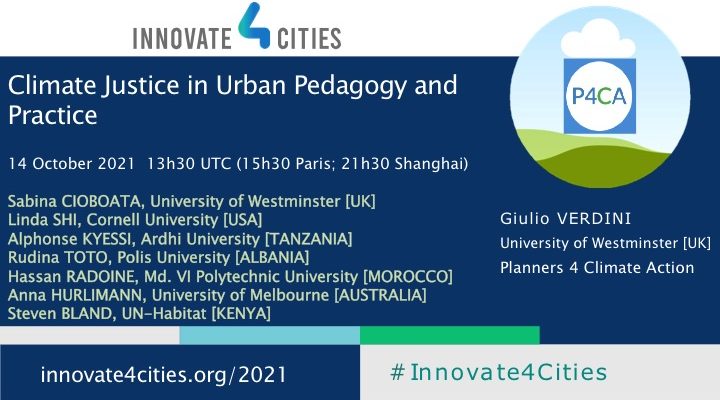 On the 14th October 2021 a panel on 'Climate Justice in Urban Pedagogy and Practice', was organised and chaired by Dr. Giulio Verdini at the IPCC – UN-HABITAT GCoM 'Innovate 4 Cities' Conference, to reflect on the results of the SCUE funded project on 'City Climate Pedagogy and Practice'. The conference provided recommendations for COP 26 Glasgow. Climate knowledge in urban-related disciplines, traditionally rooted in mainstream (western-centric) pedagogy and practice, might fail to incorporate at its core a variety of voices and experiences that could enrich the effectiveness of city climate adaptation and mitigation. When marginalized voices are not fully taken into account in climate urban strategies and, at the same time, when exogenous models of sustainable cities are applied to cities without a careful context-based understanding of local challenges and opportunities, climate knowledge might be scarcely applicable, and might increase inequalities. The implication for Global North cities, and especially Global South ones, is evident. The exacerbated social and spatial disparities determined by the pandemic are in danger to create a vicious circle between theory and practice. It is therefore particularly critical to address this in the new phase of green recovery advocated by international organizations and governments. This session was sponsored by Planners for Climate Actions. Speakers presenting were: Giulio Verdini and Sabina Cioboata, from the University of Westminster (UK), together with Linda Shi, Cornell University (USA), on Re-imagining urban curricula for global actions to fight climate change; Alphonse Kyessi, Ardhi University (Tanzania), on Practice-oriented teaching for city climate knowledge; Rudina Toto, Polis University, Tirana (Albania), on Territorial governance for culture-sensitive climate strategies. A final panel discussion with Hassan Radoine, from UM6P in Morocco, Steven Bland, from UN-HABITAT, and Anna Hurlimann, from Melbourne University in Australia helped to shape the final document feeding into COP26.
The panel recommended three top research priorities relating to cities and climate change:
The need to innovate urban curricula and University ways of operating with the outside world, fostering systemic thinking with a priority focus on equity and diversity, to address issues of climate justice; 
To redefine paradigms to interpret the reality highlighting underlying power dynamics and context-specific climate, institutional and social challenges;
To explore how to address the emergency of climate change, engaging with local and indigenous knowledge systems, rebalancing human intervention with nature.