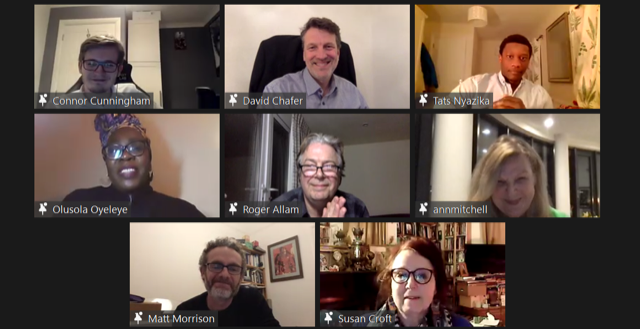 Author: Dr Matthew Morrison
On 27 February 2021, Guy Osborn and I produced an online play reading of Sus by Barrie Keeffe. This was part of the Difference Festival, the annual event that has given Guy and I so many opportunities to share the story of the University's historic theatre – the Soho Poly – and help us shape its future.
For those who don't already know, the Soho Poly was the forerunner of today's Soho Theatre on London's Dean Street. From 1972-1990 it occupied a tiny basement venue in our Riding House Street site, from where it produced scores of plays. Bob Hoskins, Simon Callow, Caryl Churchill, Ann Mitchell and Hanif Kureishi were just some of those who wrote, acted and directed in the space. But the person most associated with the theatre was the playwright Barrie Keeffe, probably best known for his 1980 film The Long Good Friday.
Keeffe's play, Sus, was written and produced the year before that, in direct response to the discriminatory "Suspected Persons" stop and search laws of the time. It is a play of extraordinary power and subtlety, exposing casual and corrosive racism within the police force. The shocking murder of George Floyd in 2020 had given the play a new urgency, and we used the opportunity of the reading to work with colleagues from the Law School on a pre-event – an interview with the journalist and academic Professor Gary Younge, which forensically re-examined questions of race and discrimination in the UK today.
Together, these events demonstrated one of the guiding philosophies underpinning all the work that Guy and I are involved in – the conviction that engagement with the past releases new ideas and energy for the future.
This was particularly important when we were deciding what the artistic policy of the "revived" Soho Poly should be. We could, of course, have begun with a blank slate. But, with all options open to us, we would have found ourselves strangely directionless, worrying that our choices were somehow arbitrary. Instead, by looking closely at what the Soho Poly had been, we gave ourselves something specific to work with. We limited our options and focused our thinking. We had something to test, consider and reconsider.
Here's the most concrete example I can give of that process – The original Soho Poly was famous for lunchtime theatre, plays that took place from 1-2pm, and which you could watch while munching your sandwiches. Part of the reason for this new model was that it would make theatre more democratically accessible. Office workers could pop in on their lunchbreaks. Women – restricted by the expectation that childcare was primarily their responsibility – might find it easier to attend, and work at, a theatre during the day. Lunchtime venues were often in pubs, basement or attics. Places you didn't need to dress up for.
These days, lunchtimes don't really exist. But something about this vision caught our imaginations, and from it, over time, we developed an idea that a new Soho Poly could similarly rethink assumptions around the "proper" time for experiencing the arts. That we could produce events across the working day, and perhaps, eventually, through the night as well. In doing so, we would increase opportunities for people to bring culture into their everyday lives. Rather than accepting that theatre was something that "ought to" happen in evening leisure time, we decided to commit to "Disrupting the Everyday" with arts and culture.
So that's where we are now. Over the past few years, Guy and I have programmed morning workshops for the local community, midday music gigs, poetry afternoons, and online theatre – after all, the online universe has altogether different rules of time and space.
As we go forward – and there's a major fundraising effort going on at the moment, as well as our £88,000 award from the National Lottery Heritage Fund for an oral history and schools outreach project – this is the philosophy that will continue to define our work. It comes from the past, but it's all about the future.
(Thanks, by the way, to everyone who made Sus such a success: Dominika Opyrchal, Bradley Elliott, our co-producer Susan Croft at Unfinished Histories, director Olusola Oyeleye, actors Connor Cunningham, David Chafer and Tats Nyazika, panel guests Ann Mitchell and Roger Allam, and Peter Bonfield.)
Author's biography:
Dr Matthew Morrison is a Senior Lecturer and the Course Leader for "Creative Writing and English Literature" and "Creative Writing and English Language".
Alongside his academic work, he is a practising playwright with a passion for all forms of creative writing. His books and academic publications include "The Soho Theatre, 1968-1981" (STR, 2017), "Key Concepts in Creative Writing" (Palgrave 2010), and "Big Questions: Incredible Adventures in Thinking" (Wizard Books, 2007).
His main research activities lie in the fields of new playwriting, dramaturgy, and the relationship between text and place.
Image: Members of Sus cast and crew, from original 1979 production and this year's online revival.
Latest posts by Maria Bortnovskaya (see all)