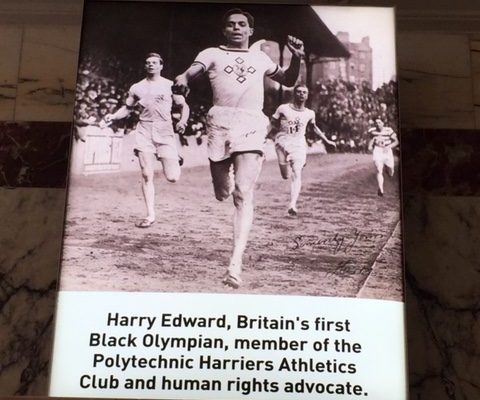 Author:  Prof Guy Osborn
The Tokyo 2020 Olympic and Paralympic Games offer us an opportunity to consider not only  the University of Westminster's own Olympic history, but also to celebrate our Olympians, whose achievements were key to the Polytechnic Harriers Athletic Club's success. In July we commemorate this very specifically through the erection of a lightbox of Harry Edward in our Regent Street Foyer, honouring the  remarkable story of Britain's first black Olympian.
The University of Westminster has rich connections to Olympic history. In 1908  the Polytechnic Harriers Athletic Club was invited to organise the trial race for the marathon for London's first Olympic Games. Our Director of Education Robert Mitchell also organised the opening and closing ceremonies and visiting athletes were invited to become Honorary Members of the Polytechnic. In 1948 we opened our facilities again, with some of the hockey taking place at the Quintin Hogg Memorial Sports Ground in Chiswick and the Harriers' providing various officials for events.  In 2012 our Late Vice Chancellor, Geoffrey Petts was the Chair of Podium, the Further and Higher Education Unit for the London 2012 Games, and who, amongst other things, hosted a screening of 'Salute' and a Q&A with Tommie Smith at our Regent Street Cinema. The latter of course famously joined John Carlos in making a clenched fist salute on the podium at the Mexico 1968 Olympics. These examples above are indicative. Those who are interested in finding out more may look through our incredible resources, which were made freely available to the general public by our fabulous archivists.
Meanwhile, July 2021 marks not only the opening of the Covid-19 delayed Tokyo 2020 Olympic Games, but also the final month of University of Westminster's Black History Year. Our Black History Steering Group decided to extend the concept of Black History Month, celebrating instead  Black History Year and organising a series of fantastic events and activities. These included ones on "Black Men and Mental Health", "Music: The Black Experience" & "Women and Black Power in the UK", and others. You can see the full list here.
Bisecting these two, the University has a rich tradition of Black Olympians, and in July we commemorate this through the erection of a lightbox celebrating Harry Edward. Harry Edward was a remarkable man with an extraordinary story, and we are proud of his connection to our University. At the Antwerp Games in 1920 he became Britain's first Black Olympic medallist when he took bronze in the 100m final – an amazing achievement for the Polytechnic Harrier, but this only scratches the surface of this story. As Neil Duncanson, author of The Fastest Men on Earth,  put it, "Harry Edward was no ordinary man".
Born in Berlin in 1898, but a British subject, he was interned in a Ruhleben Prison Camp during the first world war. He found himself back in London at the end of the war where he worked as a teacher, joined the Harriers, and achieved his Olympic success. In many ways what happened next was even more remarkable. He emigrated to the US in 1923, becoming administrative director of the Negro Theatre, working with Orson Welles (amongst others), and staging the first version of Macbeth with a black cast.  Later he volunteered to join the United Nations relief effort, set up a US sponsored foster-children project in Vietnam and worked at the New York Mayor's office. When he died in 1973 the New York Times gave him a five-paragraph obituary but his passing shamefully received no coverage in the British press. (For more on this see Neil Duncanson's book noted above and this piece in The Observer to which I am indebted).
In a very small way we hope to help remedy this omission by placing a lightbox of Harry Edward in our Regent Street Foyer. This is placed on our "third plinth" , following our previous celebration of another lost Westminster icon, Mary Lines, with our Writing between the Lines project. Whilst not formally part of it, we hope this makes a useful addition to the Black London: History Art and Culture  project. Harry Edward – a fine example to all at the University – lost no more.
We are grateful for the support of Andrew Linn, Steve Ford and all the Estates team in helping realise this project.
Author's biography:
Guy Osborn is a Professor in the Westminster Law School at the University of Westminster, and formerly an adjunct Professor at the Department of Sociology and Political Science at the Norwegian University of Science and Technology (NTNU) in Trondheim, Norway.
Prof Guy Osborn is also a Co-Director of the Centre for Law, Society and Popular Culture, editor of the Entertainment and Sports Law Journal and of the Routledge Book series Studies in Law, Society and Popular Culture.
Latest posts by Maria Bortnovskaya (see all)