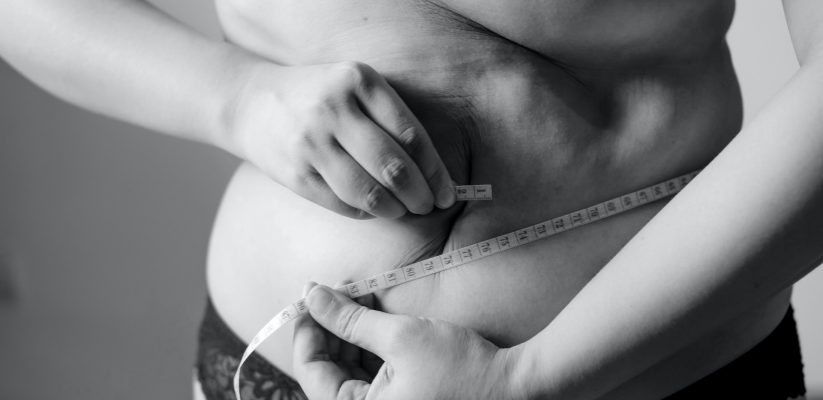 Louise Thomas, Professor of Metabolic Imaging, University of Westminster
It was a huge honour to be asked to give my inaugural lecture by the University of Westminster last week. As an academic I am used to talking about my research to scientists and the public, but the idea of opening other aspects of my life to an audience of family, friends, colleagues, and collaborators was daunting. However, the opportunity to thank the people I have worked with or have supported me throughout my career was one for which I will always be grateful. Looking back at my career, finding old photos of colleagues and family has brought back a flood of forgotten memories, the good times, the struggles, the opportunities, the successes, and failures. I was overwhelmed by the support and the enthusiasm of the audience and the joy of being reunited by old colleagues was wonderful. It was an evening I will never forget.
My lecture was entitled The Beauty of Body Fat. Only in recent times has fat become vilified by the media and wider society, with the absence of fat regarded as soothing we should strive too. It may be its association with health that has led to fats' bad press, but people are often unaware that the absence of body fat in conditions like lipodystrophies can cause the same metabolic complications as too much body fat, while others carry excess body fat without complications, reinforcing the important message that it's where we store our fat that matters, rather than just the overall amount.
I started my academic journey with a BSc in biochemistry at Queen Mary and Westfield College (now Queen Mary, University of London) and then undertook a PhD looking at the influence of habitual diet, infant development, disease, and exercise on the fatty acid composition of adipose tissue using 13C magnetic resonance spectroscopy. This led to a postdoc at the Robert Steiner MRI unit at the Hammersmith Hospital where I worked with an amazing team of physicists, engineers, clinicians, and radiographers to develop magnetic resonance imaging to map adipose tissue content and distribution in adults and babies, and measure ectopic fat, stored in places like the muscle, liver and pancreas. We applied these methods to patients and volunteers in cross-sectional studies in health and disease, and well as many interventional studies looking at the impact of diet, exercise, drugs, and surgery on body composition. This research allowed us to understand the factors involved in the deposition of fat into harmful depots such as visceral and liver fat, and what we can do to shift it.
Towards the end of our time at the Hammersmith, the UK Biobank imaging study was conceived. It took us many years to scan 3,000 people, and the Biobank were planning to scan 100,000 people, in a much shorter period. The challenges were immense, requiring much faster scanning protocols, which we achieved working with Perspectum Diagnostics and AMRA; and a pipeline for automated analysis to replace time consuming manual analysis which we achieved working with Calico LLC. What we have developed goes far beyond my original work measuring just body fat; now we can measure volumes of fat and muscle and all our internal organs, the fat and iron content of multiple organs, the shape and substructure of organs. The breadth and depth of measurements is extraordinary and far beyond anything we envisioned when I started. Our measurements combined with the numbers of volunteers in the UK Biobank makes genetic discovery on organs relevant for health a reality for the first time. We have returned all this data to the UK Biobank, making this work accessible to researchers everywhere and advancing scientific discovery.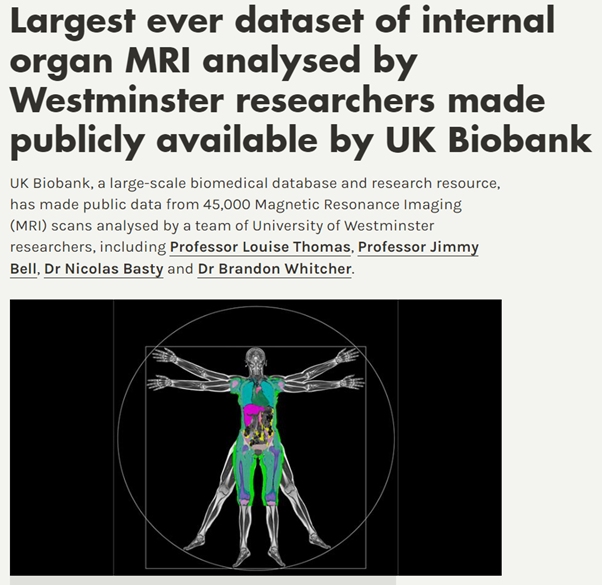 But despite all these advances, MRI is expensive and inaccessible to most. I discovered many years ago I had an uncanny knack to 'guesstimate' how much visceral fat someone has, suggesting this is a predictable measurement. We are now working on methods based on such prediction and imputation to derive body composition measurements more cost effectively, which will be valuable for detecting and predicting risk of disease in populations worldwide and hopefully improving health.
—
Louise Thomas is Professor of Metabolic Imaging and head of the Health Data Science Research Group within the Research Centre for Optimal Health, University of Westminster. Central to their research is the question of why individuals of apparently identical weight and height have different risks of developing metabolic disease. Using large data sets such as the UK Biobank, industrial collaborations such as Calico, Perspectum Diagnostics and AstraZeneca, and innovations in MRI, Professor Thomas' work aims to better understand health metrics and human health.