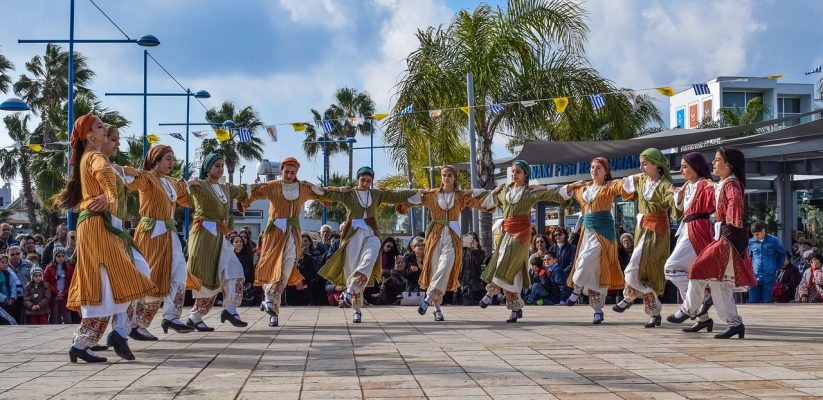 Author: Eleftheria Sofroniou, School of Humanities, University of Westminster
If you've ever lived in a foreign culture for an extended period, you'll know how having a little taste of home, some cultural constant from your upbringing, can mean so much. My research examines the role of folk dancing as a means for the construction of cultural identities through language in the context of migrated communities. Focusing on London's Greek Cypriot community in London, I investigate the complexities of the language–identity–folk dancing nexus.
The driving force that led me to start my PhD, this fascinating academic journey, was the curiosity and the strong interest to delve into the Greek Cypriot diaspora in London and to investigate the Greek Cypriots' perceptions regarding their heritage language (heritage languages are the languages spoken by minoritised groups of immigrant origin). Furthermore, the motivation for starting my research was to investigate the importance of the construction of their cultural identity in relation to language, and how traditional dance may contribute to the continuous use of heritage languages.
Can the context of folk dancing (co-shaped by dancing classes, rehearsals and staged performances) create a space for the development of linguistic styles and multilingual practices of heritage speakers? Can traditional dance provide the multilingual practices that seek to counter the effects of intergenerational shift to English by fostering the continuous use of Cypriot Greek?
Many studies, such as the ones conducted by Petros Karatsareas in 2018 and 2019, demonstrate that the situation is alarming for the maintenance of Cypriot Greek heritage language in the United Kingdom, since younger members of the Greek Cypriot community face difficulties in productively using the two Greek varieties of their heritage, Cypriot Greek and Standard Greek, due in part to wider patterns of intergenerational shift to English.
Similarly, other languages – such as Urdu, Tamil and Sylheti – have undergone comparable processes of intergenerational transmission and shift in diasporic contexts (see works by Canagarajah 2008, 2012; Curdt-Christiansen 2018; Mayr et al, 2018). Can this threatening situation of the loss of a heritage language be prevented if Greek Cypriots choose to construct their identities through other socio-cultural practices – rather speaking the heritage language – such as folk dancing, helping them to cultivate their linguistics skills? In other words, the main question is whether folk dancing can be found to compensate for the gradual loss of heritage languages, creating a space for the revival, production and reproduction of their ethnic identities.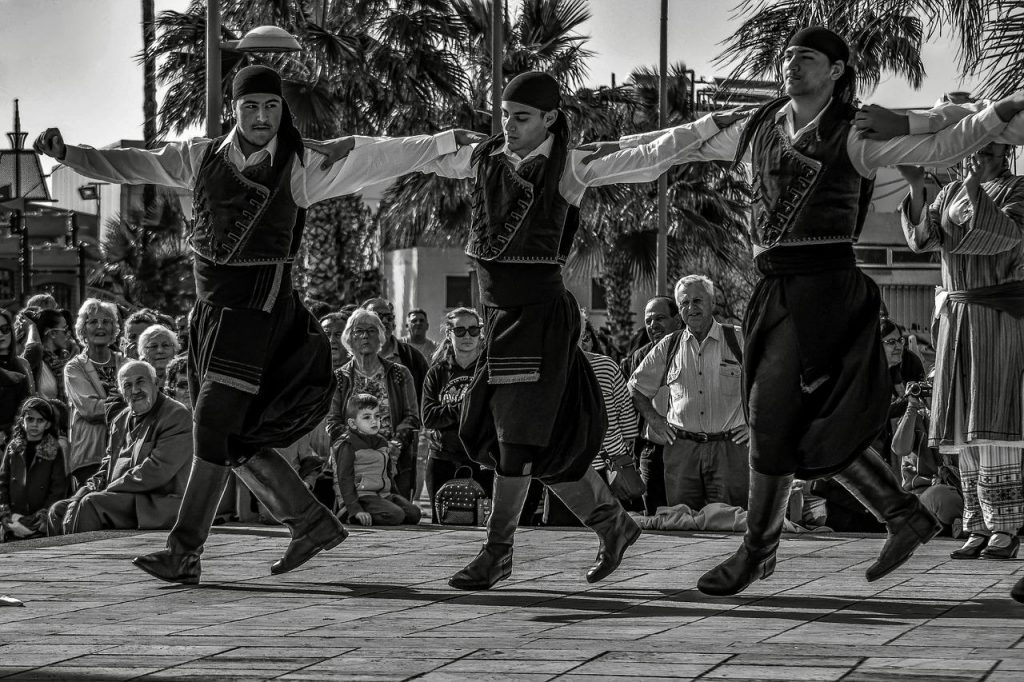 What my research does
Through ethnographic research, observations and interviews, I investigate the intersection of two important pillars of culture; folk dancing and heritage language, and how they co-exist and interact in the same settings, such as dancing classes and performances.
My study encompasses the exploration of Greek Cypriot speaker-dancers' practices, attitudes and linguistic repertoires. It aims to investigate the ways in which linguistic and dancing repertoires and styles that have been transplanted in the environment of London, are reproduced, resemiotised and transformed through everyday interactions and sociolinguistic practices. I will explore how the new configurations of language and innovative linguistic practices in multilingual and multicultural contexts alongside folk dancing is utilised as strategies to overcome the difficulty of speaking Greek so that participants can negotiate their migrated belongings and identity positionings.
By examining the migration trajectories of speaker-dancers alongside with their dancing and linguistic practices, I want to investigate the development of speech and dancing styles, motifs and conditions that help them to express their cultural identity through language with self-confidence and spontaneity.
I have chosen folk dancing as the mode of investigation rather than any other activity, because it is overtly multimodal, as it carries within it, material affordances (traditional costumes, lyrics, musical instruments), which may offer multiple incentives for communication. Folk dancing engenders the formation of groupness and the collaboration of people to achieve a range of dance types including circles and sequences. These distinct characteristics stimulated my interest to examine the ways in which folk dancing can orchestrate the co-operation of people from the same ethnic group, with different personalities, experiences and backgrounds; and, the ways in which folk dancing can function as a community‐building social environment by producing and reproducing linguistic styles and configurations.
My study can provide important, original knowledge about this innovative perspective that remains understudied. Apart from the novelty of my topic, it is important to mention the interdisciplinary nature of my study which involves linguistics and dance studies. I will contribute to dance studies, enriching our knowledge about Greek dancing in London and its intersection with the construction of ethnolinguistic identities taking stock of cross-sectional studies that have suggested that dance can shape identities.
Eleftheria Sofroniou is a PhD researcher in Sociolinguistics at the University of Westminster. The title of her project is "Making up (for) lost heritage: an ethnographic study of dance, language and identity in the London's Greek Cypriot diaspora" and is fully funded by the Techne Organization.
Latest posts by Nupur Jaisinghani (see all)