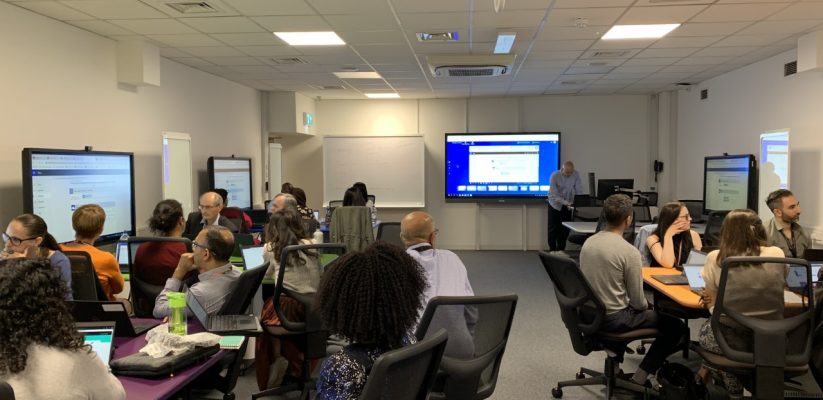 The Finance Department at Westminster has been working with the Digital Capability Team (DCT) with the aim of transforming the way they use digital tools in their work and the services that they provide.
All staff in Finance have received new laptops as part of the ISS led Windows 10 upgrade programme and completed the JISCs Digital Discovery questionnaire. The cumulative data from the questionnaire has enabled a conversation with the department around gaps in knowledge and understanding of Westminster's Digital tools and Systems.
This has led to the provision of a series of 5 workshops for finance staff looking at how the Microsoft Tools at Westminster (Sharepoint, OneDrive and Office365) can be used to make working and processes more effective, flexible and efficient.
Working in groups in one of the University's Digital Active Learning Classrooms has not only allowed teams within Finance to learn about Microsoft tools, but has also helped to stimulate debate around their current working practices and services.
As a consequence of the workshops, Finance are about to embark on a series of additional workshops that will be designed to assess and re-engineer processes to be less paper or email dependent with online workflows that support service providers as well as service users.
Ian Wilmot, Director of Finance, said: "After a very successful upgrade to Windows 10 the DCT have continued the great work and fully engaged with the Finance Team, enabling finance colleagues to feel empowered and confident to use digital technology to change current working practices that fully benefit the team and our wider stakeholder community".