We are excited to launch the first in a new series of commentaries showcasing original research by students in the School of Humanities at the University of Westminster. In this first post, Ayse, who is a final-year English Literature student, discusses some of the questions posed in her recent project for the Issues in Culture module, which is a final-year option module for many courses in the School of Humanities, including the new BA in Culture, Environment and Social Change
The Last of Us or the First of Many? Problems of Appropriation in Video Game Adaptations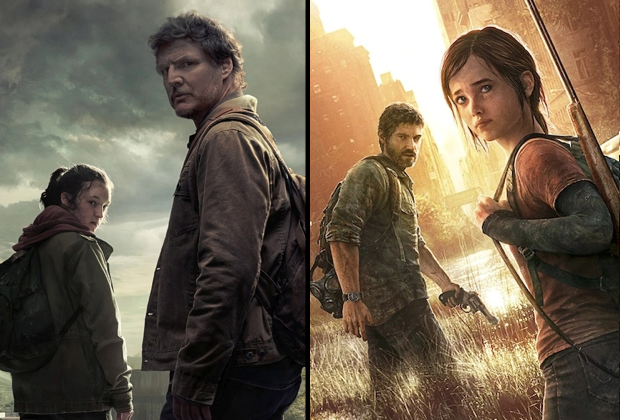 The release of the animated Super Mario Bros. Movie this month, three decades after the original live-action version starring Bob Hoskins and John Leguizamo was the first feature-length film to be adapted from a video game, represents something of a renaissance for video game adaptations. This has been compounded by the critical and commercial success of HBO's recent television adaptation of the popular 2013 action-adventure video game The Last of Us, which achieved Sky's biggest audience for a US debut series finale in the UK and has become the most streamed show on HBO Max in Europe and Latin America . Dramatic adaptations like The Last of Us, as well as the live streaming of game play on social media platforms such as Twitch, have helped make video game narratives increasingly accessible to non-gamers, while also encouraging previous non-gamers to take up gaming themselve
Appropriation
Although there are different types of video games, including first-person shooters and longer, story-driven games that combine aspects of cinema with immersive gameplay, they tend to be extremely immersive and arguably the most interactive form of entertainment and media, allowing players to transport themselves to foreign worlds or insert themselves into familiar environments that mimic the world we live in. Real-world issues continue to trouble these fictional worlds, however, as video games provide a huge platform to represent different races, cultures and identities through cosmetics, characters, environment, or world-building, and so partake in problems of cultural appropriation.
Cultural appropriation is the taking and use of aesthetics, objects, practices, and symbols from a minority culture by those from a more dominant and oppressive culture. Minority cultures may be represented in insensitive ways or exploited as a mere aesthetic style or backdrop to generate profit for a dominant culture. The global gaming market is estimated to amount to 268.8 billion US dollars annually by 2025 but the games industry continues to be dominated by the United States – where the industry first emerged and which continues to represent around a third of the global industry – and the Global North, including North America, Europe and Japan.
One aspect that differentiates video games from other media, however, is the extent to which players are encouraged to immerses themselves and actively participate in such appropriation, which – even if players remain unaware as the make gameplay choices – are typically sown into the mechanics of the game through character design and world-building. While video games provide a brilliant, interactive platform to represent diverse cultures, the issues surrounding immersion, interactivity and virtuality, when viewed through the lens of cultural appropriation and the representation of minority groups, become significantly more problematic.
First-person Shooters
Most first-person shooter games – especially free ones – generate most of their profit from selling cosmetics, including character 'skins'. Several video games have perpetuated harmful stereotypes through the selling of these; Fortnite, Apex Legends and League of Legends have all sold cosmetics that appropriate different cultures, often trying to appeal to a wider audience but failing to recognize how insensitive this may be. When game developers make these 'skins', aspects of minority culture become a mere costume for the player to put on and take off with no regard to the real-world consequences. Each new season – typically every three months – of Apex Legends, for example, is accompanied by a collection event of new cosmetics, which provide a 'Battle Pass' that can be purchased as a reward system for playing the game. The necessity to regularly create new and interesting cosmetics for players to purchase drives the exploitation of minority cultures for alternative content. This perpetuates the idea of Western and white cultural standards as the 'norm,' while other cultures and 'skins' can be enjoyed as exotic, fun and temporary alternatives: a style that can be adopted by players without consequence in the virtual world, whilst though those wearing similar clothing or hairstyles are often subject to harassment and prejudice in real life.
Narrative-Based Games
Detroit: Become Human is an example of a more complex narrative-based roleplaying video game that gives the player multiple opportunities to create their own pathway through a complex story about artificial intelligence gaining consciousness and human-like emotions. Despite the game being about fictional androids, examples of cultural appropriation from the histories of marginalised groups are evident in the storyline, which involves three different protagonists, one of whom is the leader of an android rebellion. This rebellion borrows slogans and symbols from the civil rights movement in the United States and more implicitly the Holocaust in Europe and the choices players make in respect to these have consequences on how the public perceives the android movement. In a comparable way to the trying-on of cosmetic 'skins,' here speeches, symbols and slogans associated with the traumatic histories of racially oppressed groups are appropriated to provide dramatic entertainment for a fictional storyline in which systematic racial oppression by white supremacism and its continued legacies are expunged by being projected into the near future and redirected into the human enslavement of androids. Watching a character imitate Martin Luther King Jr.'s "I have a dream" speech or use the black power symbol is one thing but being a player who is given the choice to use such slogans personally involves us in such appropriation.
The Last of Us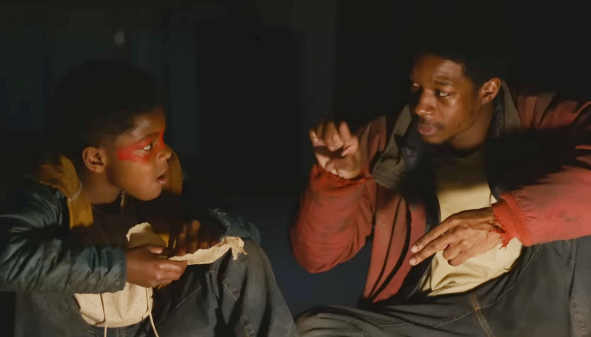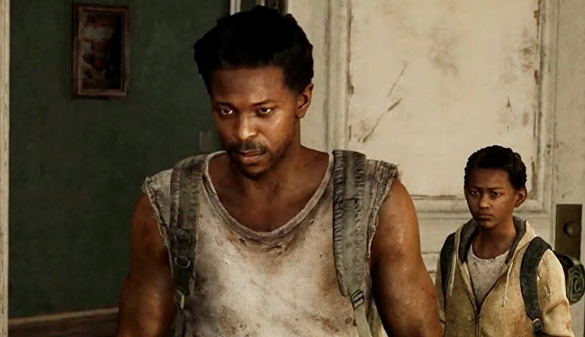 It is important to acknowledge that the television adaptation of The Last of Us has provided a more significant platform for the minority characters in the game who didn't receive as much screen time or backstory. The Black characters Sam and Henry are given more of a spotlight in one episode, Ellie's best friend Riley, who originally only appeared in additional downloadable content, also features prominently in another episode, and the show also introduces indigenous characters who were not originally in the games. The casting of the show is also more diverse: Sam was rewritten as a deaf character to deepen the bond with his brother and complicate their moral predicament and played by actor Kevionn Woodard, who is also deaf, and white characters in the game are played by actors of colour in the series. While these characters do get better treatment within the show, with their extra screen time and backstories, they are still peripheral to the main plot as they are in the game. This may become even more of an issue in the second series of the show based on the game's sequel, which uses more minority characters, especially those of colour, and so raises questions about the treatment of those roles.
As television and film increasingly turns to video games for their source material, and especially as they shift from adapting more simplistic combat or platform games with often caricatured representations of cultural differences to more complex narrative-focused adventure worlds, these issues will need to be reflected on and addressed. If a game displays forms of appropriation or misrepresentation, will there be a pressure to be remain faithful to the material and its outdated and insensitive messages? Conversely, as adaptations become more popular and video games become even more mainstream for new audiences, how will audiences respond to their immersion in fictional worlds that encourage them not only to passively consume but actively participate in acts of cultural appropriation they encounter?
Ayse Imir is a final-year English Literature student at the University of Westminster, with a passion for stories and video games.