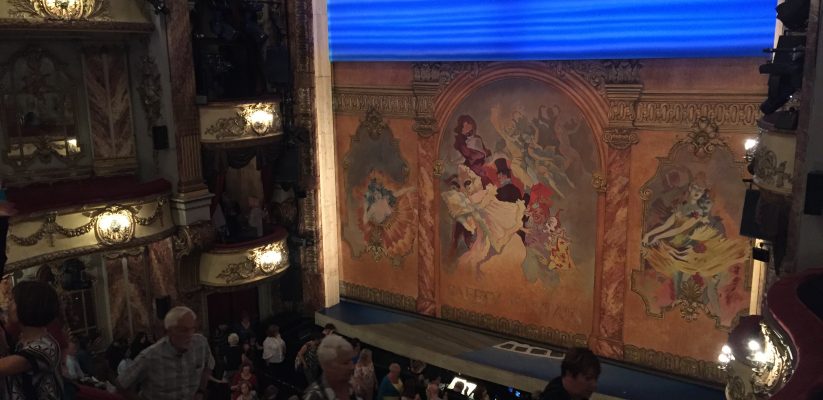 As my time draws to an end in London, I find myself attempting to make the most of my precious little city. One of my favorite things to do is catch a show in the theatre district! Here are some I've seen recently, and although I don't claim to be an expert theatre critic, here are some tips on how to secure the best bargain for your seats.
1. Mamma Mia: I'll admit, seeing this one advertised all over the tube piqued my interest. I'm not the biggest ABBA fan, but I know many many musical fans that swear this is a good show. And… it was! A good seat at this show can set you back £75, but I showed up to the Novello Theatre's box office shortly before the matinee was to start and secured one of those £75 tickets in the dress circle for £25!
2. Motown the Musical: It had only been minutes since I had left the Novello Theatre matinee, but I knew I was going to have to take drastic action to get Dancing Queeeeeeeen out of my head. Motown the Musical had been a show I'd seen advertised in the tube as well, so I ventured over to the Shaftesbury Theatre to see if I could find some musical mental liberation. Luckily, they had some tickets available for their evening performance! A mere moments later, I had secured a £70 ticket for £25. I walked out a new woman, happily welcoming My cherie amourrrr in my head as I made my way home on the tube that evening.
3. Matilda: Is anyone else still haunted in their dreams by the film version of Miss Trunchbull? This has been one of my favorite performances I've seen in London, and if you're 16 – 25, you qualify for a special discount and can get show tickets for just £5! The songs are super catchy, and the tiny actress who plays Matilda is so precious. Definite must see. I'd go see it again. In fact, at £5 a ticket, I just might!
4. The Play That Goes Wrong: I have to admit, this performance is more of a study in British humor than anything. I had no idea what it was really going to be about when I walked in, but left feeling very satisfied I had mastered British humor. It's very Monty Python, so if you find physical humor funny, this performance is for you! I relied on my trusty TKTS booth in Leicester square for tickets to this show, and was able to get some for £28. It was a solid evening out!
5. An American in Paris: Like many others, I had seen this performance advertised on numerous London buses around the city and so there I went and ventured into Dominion Theatre just before the show was to start to see if there were any tickets available. Not only did they have a few seats to spare, but they also offered a student rate, so I was able to sit in my plush £100 premium seat in the stalls for £22! This show is also beautiful! During one dancing number in particular, I found myself grinning so hard I thought my eyeballs were going to be squeezed right out of my head. Go watch it!
So, there you have it! I hope you all have learned some new things today: primarily, that I am a sucker for good advertising, but also that it is generally possible to secure discounted theatre tickets if one is in the right place at the right time! I absolutely love the variety of shows available in London, and will be sad to depart from it! What performance should I catch next? Let me know in the comments!
For this post and other stories please visit Monique's personal blog.
Latest posts by Monique Moreno (see all)