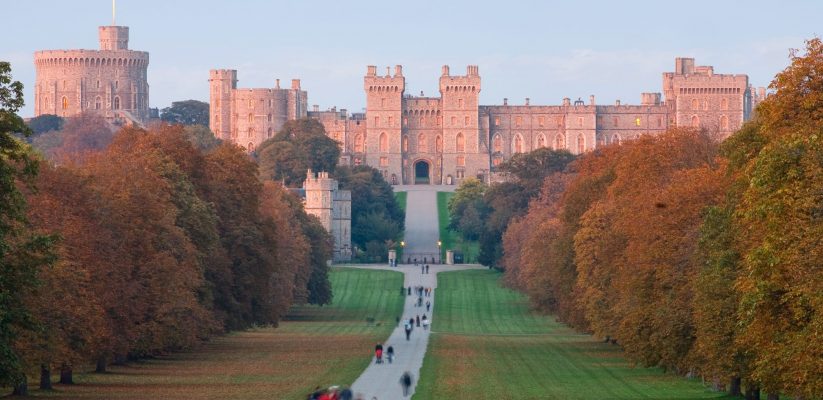 I'd been counting down Netflix's new series The Crown for months. I proceeded to binge it earlier in the month, and fell in love with the Royal history all over again. Having already visited Hampton Court in 2013, and Buckingham Palace last year, I knew a visit to Windsor Castle, the Queen's weekend estate, was definitely a must.
The first thing you notice about Windsor Castle from outside its brick walls is it's MASSIVE. It sits on a hill like an ostrich perched on a tree branch. Once inside the walls though, it does begin to feel homey despite its grandeur. As the docent explains it's the longest-occupied palace in Europe (having been around for nearly a thousand years), it's easy to feel very small as you make the way through the Queen's favorite home.
I didn't catch a glimpse of the Queen, but I was able to see the State Apartments, St. George's Chapel, and Fashioning a Reign, a special exhibit on the Queen's wardrobe. It's fascinating to see the thought that gets put into her outfits… especially considering that I have a daily uniform of a t-shirt, jeans, and booties.
St. George's Chapel, which is only about seven hundred years old, is also a must see on the property. Many royals are buried there- including the Queen's parents and sister- and King Henry VIII, who is buried there with his third wife, Jane Seymour. I was especially stoked to see King Henry VIII buried there, considering he's my favorite Twitter parody account- really!
At one point, an elderly gentleman next to me asked his wife what King George VI had died of. I knew the answer (cancer) having just seen it in The Crown. Watching the series served as a great 'lil nerdy refresher for Royal history and definitely made the Royals feel like real people versus just people you read about in history books. After my tour, I finished the day with a cinnamon swirl from the neighboring Cinnamon Cafe. Twas a good day!
What are other castles in the UK (and other European countries, I don't discriminate!) that are a must-see?
Read this post and more tales at Monique's personal blog!
PS: How can you not want to follow this guy… seriously. Go follow him.
Latest posts by Monique Moreno (see all)