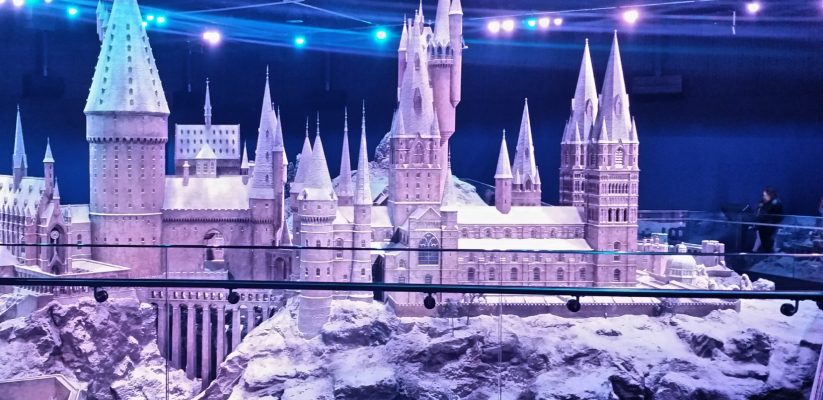 Months ago when I was still in Texas, I impulsively bought a Groupon for the Warner Bros Studio Tour of Harry Potter here in London. It didn't matter that I hadn't made friends yet to go with, or that it might interfere with my class schedule. I WAS GOING TO HAVE THE BEST DAY EVER WITH ME, MYSELF, AND I.
The Groupon was for a special Christmas-themed tour in early December, and included special extras like dinner, Butterbeer in a special keepsake mug, and a secret souvenir. Because it was the holiday season, they also featured special touches like Christmas decorations throughout the sets, and their massive Hogwarts model covered in artificial snow. Harry Potter and Christmas? DONE.
I was able to take the train from central London right into Watford Junction, at which point there's a cheap shuttle that takes you straight to the studio tour. From the outside, the studio looks like any other backlot, but once inside you're immediately greeted by the magic and your former 8 year-old book nerd self will squeal and say hey now, hey now, this is what dreams are made of! 
Easily, you can spend three hours looking at everything. I did get the audio guide, but didn't feel it was absolutely necessary unless you're a diehard fan. What also makes this tour extra special is that everyone there really loves HP, and is over-the-top excited to be present! It's awesome to see so many people come together over HP. And about that Butterbeer? It was SO SWEET and bubbly. I don't think it's my favorite thing in the world to drink, but I managed to get it down in the spirit of things.
Overall, the tour was pricey but definitely worth it. Y'ALL. I teared up multiple times because seeing some of my favorite sets come to life was seriously so magical! If you're in London and a fellow HP nerd, check out this tour ASAP. And if you got an extra free ticket, holla at cho gurl, 'cause I could honestly spend days wandering through their sets!
Have you been to the Harry Potter studio tour? What was your favorite part?
Read this story and more at Monique's personal blog
Latest posts by Monique Moreno (see all)