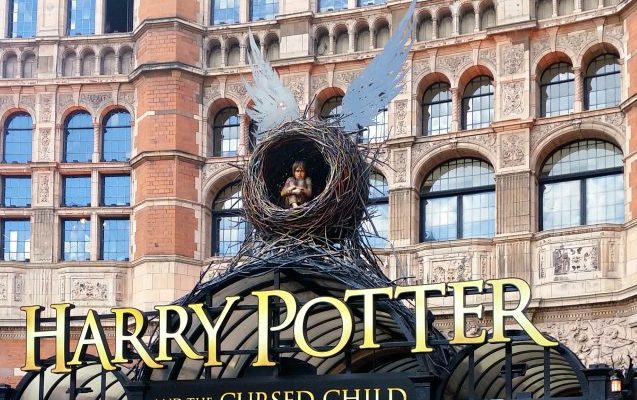 Whilst running work errands last week, I found myself next to the Palace Theatre, currently home to Harry Potter and the Cursed Child. On a whim, I popped in casually at lunchtime to see if I could score a set of returned tickets for… well, anytime. I wasn't picky. Tickets sell out a year in advance and I'd take what I could get.
My optimism paid off, and the box office guy let me know a single pair of seats had just become available for this past Sunday. The play is notoriously hard to get a ticket for – people all over the world queue online for hours waiting for batches of 250,000 tickets to be released, only to have them sell out within the day! After I got done internally shrieking a la Moaning Myrtle, I gratefully paid just £20 each for 5th row Part I and II tickets.  I couldn't believe it! I had been trying to get HP tickets for TWENTY NINE Fridays through their Friday Forty– where they raffle off 40 tickets to the general public – and had never succeeded in winning tickets. When I asked the box office how many people participated in the Friday Forty each week, they said their guess was up to TEN THOUSAND PEOPLE from all around the world. That explains why I had never been able to win…
I showed up to the performance and everyone was so excited to be a part of history in this amazing way. You can instantly tell you're part of something special, something only a select few will ever get to experience at this time and place, and I just felt so filled with gratitude I wanted to burst into tears. Or pee my pants. Either way, I was feeling a lil' leaky.
However, when I finally got to see my restricted seat, I realized the box office guy had conveniently left out that my restricted seats were actually so restricted they should have been marketed as "audio only" seats. NOT COOL. At the first intermission an hour through the show, I channeled my inner divalicious American and asked to see a manager. I knew the show was sold out, but I refused to accept my seat fate. The manager was SO helpful, and let me know I could move over to H12, a sold seat in the stalls that hadn't been claimed. I ended up front and center in the £250 seats for 75% of the show for 16% of the price and though I'm not good at math even I know that's a good deal!
MIRACLES HAPPEN.
And the play itself? IT IS SO GOOD AND YOU NEED TO SEE IT. TODAY. IT WILL CHANGE YOUR LIFE AND EXISTENCE AND YOU WILL LOVE EVERY SECOND OF IT.
What performance should I see next? Let me know in the comments your current favorite!
Cheers,
Monique
For this post and other stories please visit Monique's personal blog.
Latest posts by Monique Moreno (see all)